Trying to figure out how to have an affordable destination wedding? Even more specifically – an affordable beach destination wedding? Soft sand at your toes, warm sun kissing your skin, and a stunning sunset backdrop for all your wedding photos? Destination weddings can be daunting and expensive to plan, but they don't have to be! Plan a fun, romantic and unforgettable destination wedding in Florida that you and your guests can actually afford to enjoy.
Lined with sunny shores and world-class beaches, the Florida Gulf Coast is home to the best affordable destination wedding resorts at a variety of beach wedding ceremony locations. Celebrate your Florida beach wedding on the award-winning beaches of Siesta Key, the soft sands of Venice, or the intimate privacy of Nokomis. You can't go wrong hosting your destination wedding in Florida, and here are a few reasons why:
Reason 1: The Ultimate Affordable Destination Wedding Location
There's no need to leave the United States to enjoy a luxurious beach destination wedding on a budget. Florida offers you an affordable destination wedding location alternative without any compromise. You and your guests will be grateful for the reduced travel and lodging costs, when compared to expensive international destination weddings. Not to mention, U.S. residents won't need a passport to join your wedding celebration.
Plus, Florida Sun Weddings offers all-inclusive, affordable beach wedding ceremony packages that make planning your wedding even easier. Just pick your favorite wedding design, and let our team of experienced beach wedding planners in Sarasota handle the rest. Our beach wedding ceremony packages include:
Arch and aisle decoration of your choice
White resin garden chairs for your seated guests, with colored sashes of your choice
Professional Wedding Officiant
Sand Ceremony with a decorated table and small keepsake bottle or Blessing Shell Ceremony
Filing of the marriage license after the ceremony
Custom music playlist for your ceremony
Couple's first dance after the ceremony
Delivery, set up and break down
Personal day-of wedding coordinator on site for your ceremony
Customize your destination wedding ceremony design with colors and decorations of your choice, to make your beach wedding in Florida feel truly unique.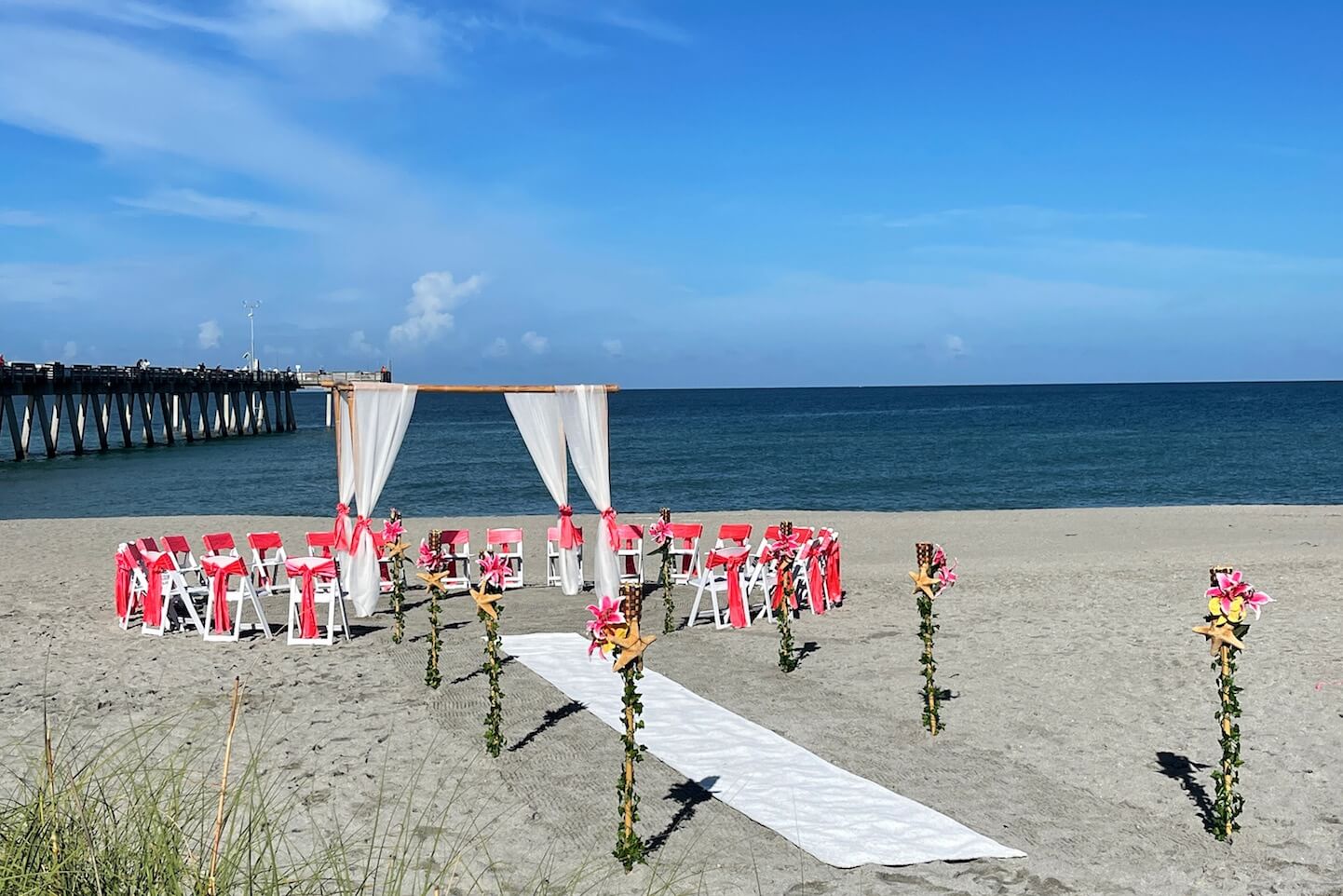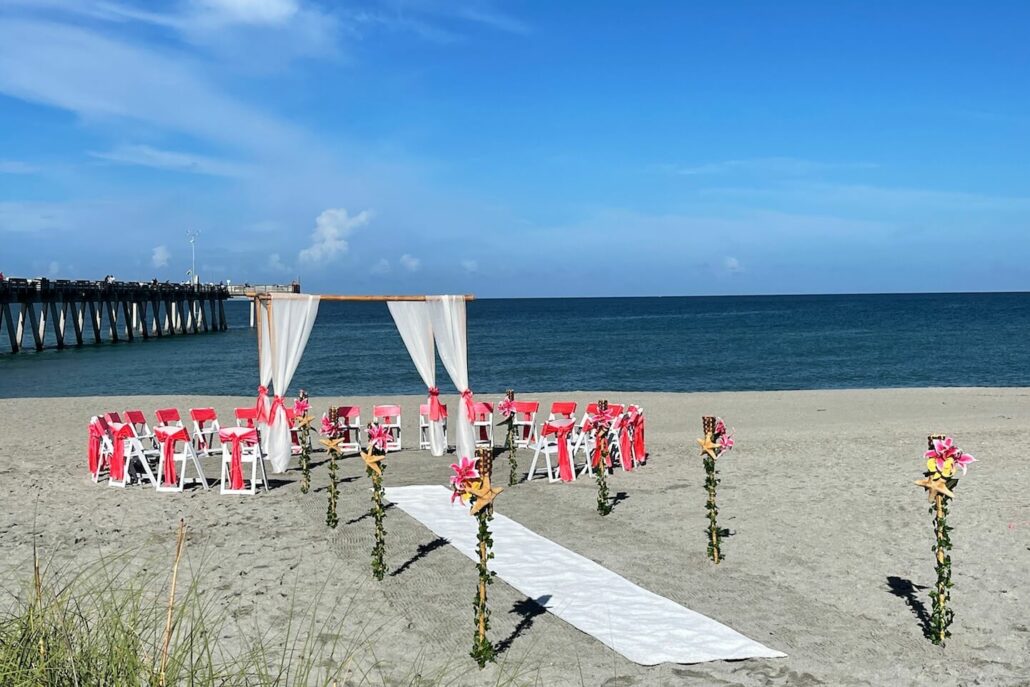 Reason 2: Beautiful Sunsets & Year-Round Warm Weather
There are many advantages to planning a destination wedding in Florida, but our year-round warm weather is definitely near the top of the list. Warm, sunny weather and a stunning sunset are the expectation for a beach wedding for the comfort and enjoyment of you and your guests. Your destination wedding will be unforgettable not just for the beautiful ceremony, but for the fun memories made during your wedding vacation in Florida. Enjoy beach days before and after the ceremony; basking in the sun, swimming in the ocean and making lifelong memories with your family, friends and loved one.
With that in mind, there are better times of the year to plan your destination wedding in Florida. Learn about when to plan your Florida beach wedding >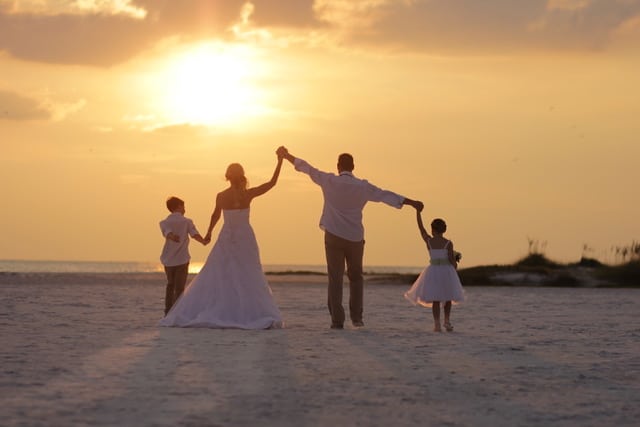 Reason 3: Florida Attractions And Things To Do Near Sarasota
Worried about entertaining your guests before and after your affordable destination wedding? There are plenty of world-class attractions near Sarasota, Florida, including theme parks, museums and, of course, beaches. For smaller wedding parties, you may choose to plan an itinerary for a wedding vacation the whole family will enjoy. For larger parties, we recommend providing them with a list of recommendations before they make their travel arrangements.
Disney fanatics can plan a day or two in Orlando after your beach wedding in Sarasota. Thrill ride lovers can easily drive over to Busch Gardens Tampa Bay. Beach lovers and outdoor enthusiasts can relish in the sun on any of Sarasota's beaches, rent kayaks or paddle boards, go parasailing and more. Your wedding party could also rent a charter boat for a day of deep sea fishing in the Gulf of Mexico. With so many options, your guests can customize their trip for your beach wedding in Florida and you can start your honeymoon right away!
From the moment you decide to host your destination wedding in Florida, our team of wedding planners is here to make the process easy.
Let's Start Planning
Choose from Florida's largest selection of beach ceremony packages, then contact us for exact pricing and proposal details.
Contact Us
See All Packages
Let's Start Planning
Choose from Florida's largest selection of beach ceremony packages, then contact us for exact pricing and proposal details.
Contact Us
Call Now