The Florida gulf coast in Sarasota and Venice offers several unique beach wedding ceremony locations to consider for your wedding day. From the powdery soft sands of Siesta Key to the romantic seclusion of Nokomis Beach, Florida Sun Weddings can plan your perfect dream destination wedding ceremony down to the last detail. Once you have selected your ideal Beach Wedding Ceremony Package, our experienced wedding planners will help you choose the best ceremony location based on your needs. Below are some of the best Florida beach wedding ceremony locations for our customers. Please note that our services are NOT limited to these locations. If you have another Florida gulf coast beach in mind for your wedding ceremony, please let us know.
To start planning your Florida destination beach wedding, call us at 941-320-3364 or fill out the Contact Us form.
JUMP TO: Siesta Key | Venice Beach | Sharky's Annex (Venice) | Lido Key | Nokomis Beach | Longboat Key | Turtle Beach
Siesta Key Beach
Ranked as the #1 beach in the United States, Siesta Key beaches offer some of the finest locations for a beach wedding. With sand like sugar, warm gulf waters, and renowned sunsets, Siesta Key Beach is our most loved beach wedding location. It has consistently been in the top 5 beaches in the world and received the 2017 Traveler's Choice Award by TripAdvisor for the #1 beach in the United States! As you can see in the map below, there are a few different location options on Siesta Key beach, all near parking and the Gulf Wave Pavilion.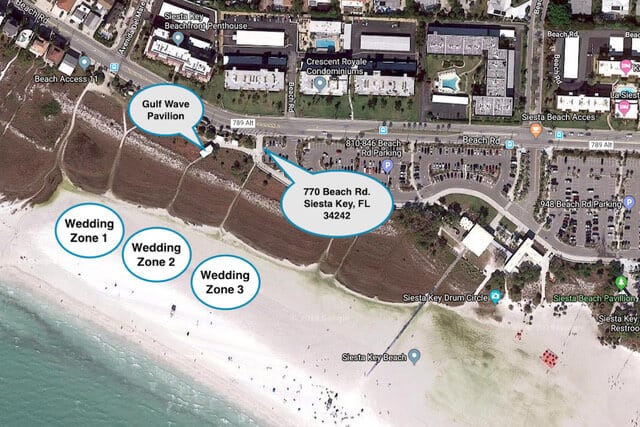 Venice Beach
"The biggest little city on Florida's gulf coast", Venice in Florida is known for its romantic atmosphere and blue ocean water. If you're searching for a beach that will give you an intimate setting with a sea shell shoreline, you've came to the right place! However, with shoreline stretching for miles, we'll also be able to set-up an intimate ceremony in the sands that everyone loves to dig their toes into.
Learn more about Venice, Florida >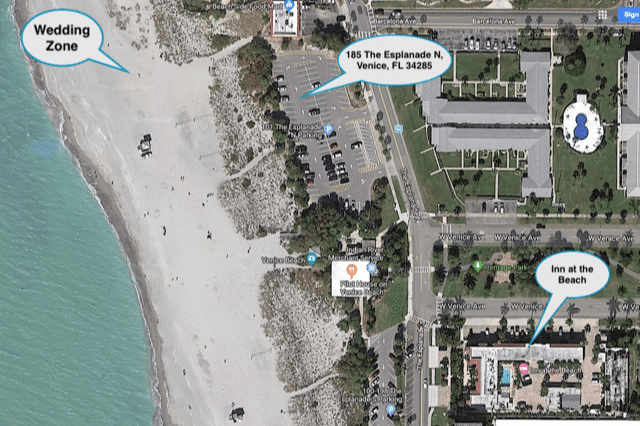 Sharky's Annex in Venice
An extension of the beautiful Venice Beach in Florida and famous Sharky's On The Pier Restaurant, this Annex offers a beautiful ocean view right off the natural shoreline it is most known for. Another great location to catch a colorful sunset, let Florida Sun Weddings make your day one to remember at this top 3 Florida beach wedding location. As you can see in the map below, you can also have your wedding ceremony near the Maxine Barritt pavillion just South of Sharky's Restaurant.
Learn more about Venice, Florida >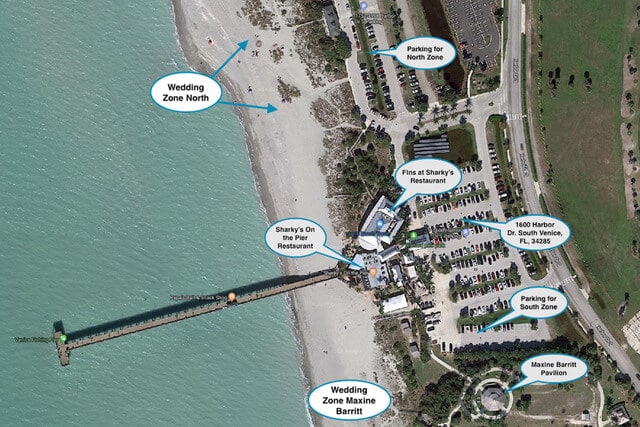 Lido Key Beach
Another scenic escape that you and your visitors will love is the Lido Key Beach location. Generally less crowded than most beaches, it's beautiful waterway channel that leads out into the Gulf of Mexico and it's open water is a gorgeous view. It's a beautiful waterway to behold as the white sand of the shore gently slopes and dissolves into the blue of the water. The beach ceremony location is near the Holiday Inn and a short driving distance from restaurants like Tommy Bahama and Daiquiri Deck.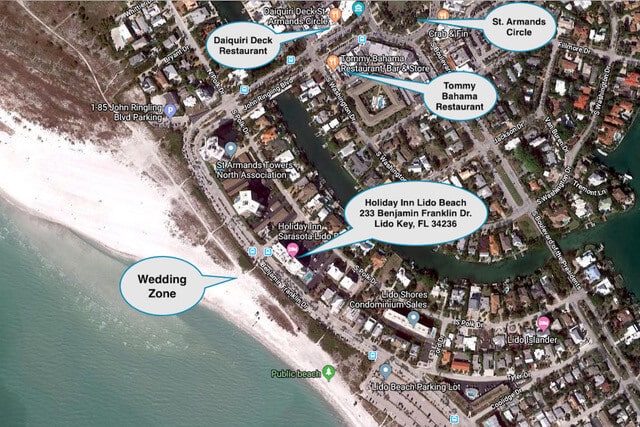 Nokomis Beach
Located in Sarasota County, just south of Siesta Key, Nokomis Beach is quiet, laid back, and perfect for nature lovers with its abundance of sea shells and a natural landscape. Many famous names now own multi-million dollar properties on the barrier island of Casey Key, which is bounded by the Intracoastal Waterway on one side and the calm Gulf of Mexico on the other. If you're searching for seclusion and a gorgeous scenic atmosphere, Nokomis Beach is your ideal wedding location!
Longboat Key Beach
No matter where you look in this quaint beach town you'll find natural landscapes and some of the most beautiful sunsets on the Gulf Coast. Another perfect location for couples that are searching for a quiet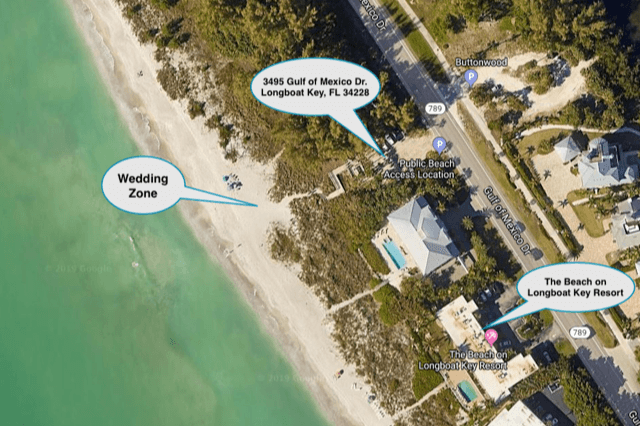 Turtle Beach
Turtle Beach is located at the southern end of Siesta Key in Sarasota. Its uniqueness comes from it's narrow and naturalistic shoreline and deep blue ocean view. Another quiet area to select if you're searching for more seclusion and a romantic atmosphere for your dream beach wedding on Florida's Gulf Coast.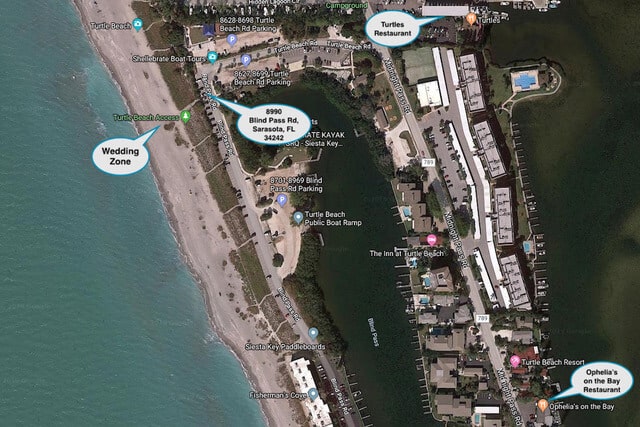 For additional information on choosing your Florida beach wedding location, please call us at 941-320-3364 or fill out the Contact Us form.