Once you have chosen your beach wedding package and design theme, you can customize your ceremony with the unique beach wedding decoration options below (pricing may vary). Choose the color for your trellis fabric and chair sashes, and select from a variety of themed aisle decorations. Jump to: Trellis Fabric | Chair Sashes | Aisle Runners | Aisle Decorations
Trellis Fabric
If your selected wedding design includes a fabric-covered trellis, you can choose from the variety of fabric color options below.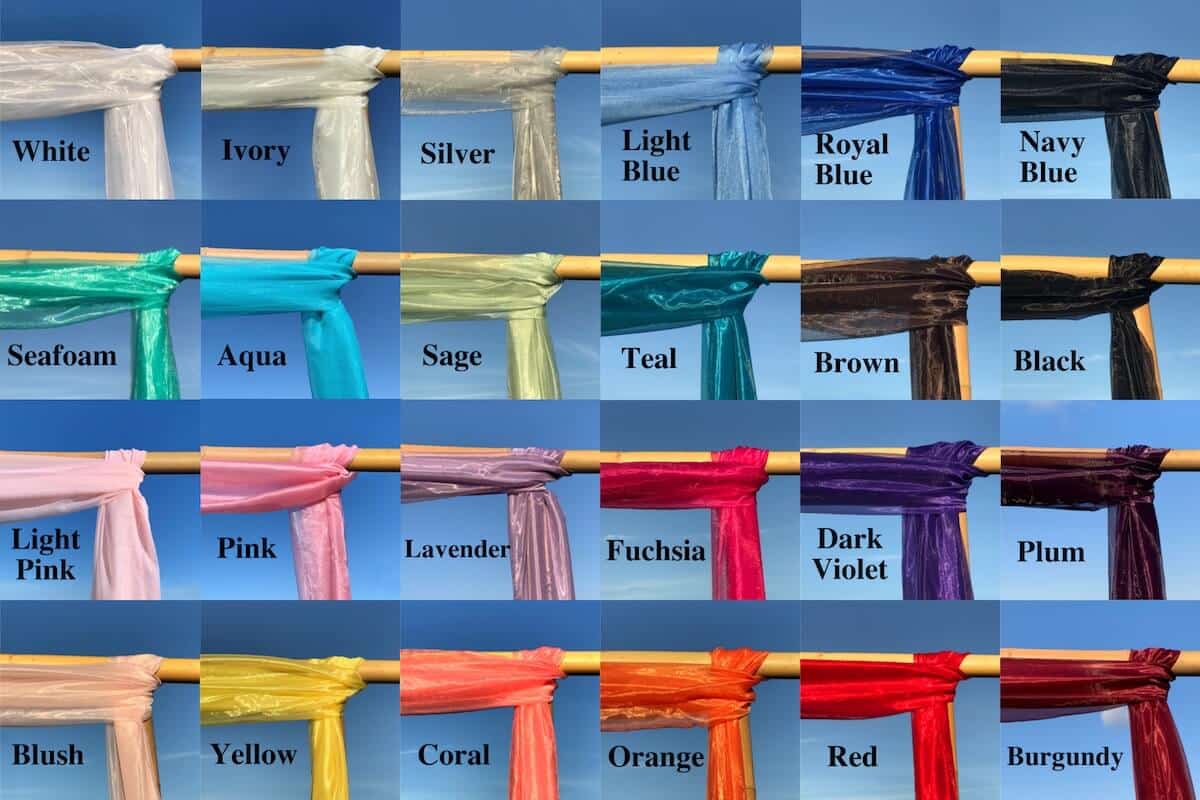 Please note that the following wedding packages have limited fabric color options: Ocean Waves, Sea of Love and Siesta Dreams.
Chair Sashes
Our beach wedding ceremony packages include white resin garden chairs for your seated guests. Chairs are decorated with a sash in the color of your choice.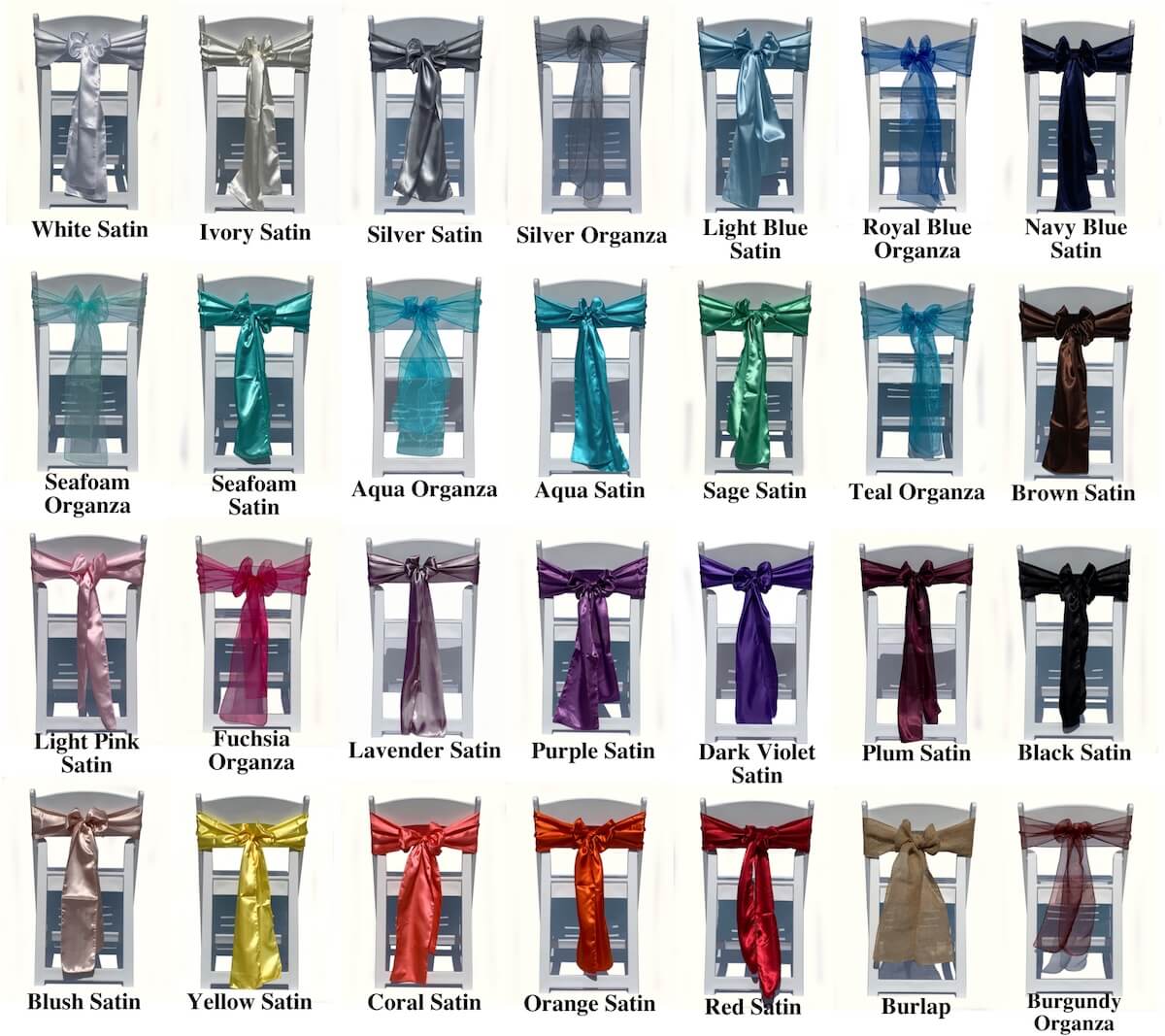 Aisle Runners
At your beach wedding ceremony, you can choose to walk through the natural soft sand or along a white, pink or purple carpet runner. Options vary based on design theme.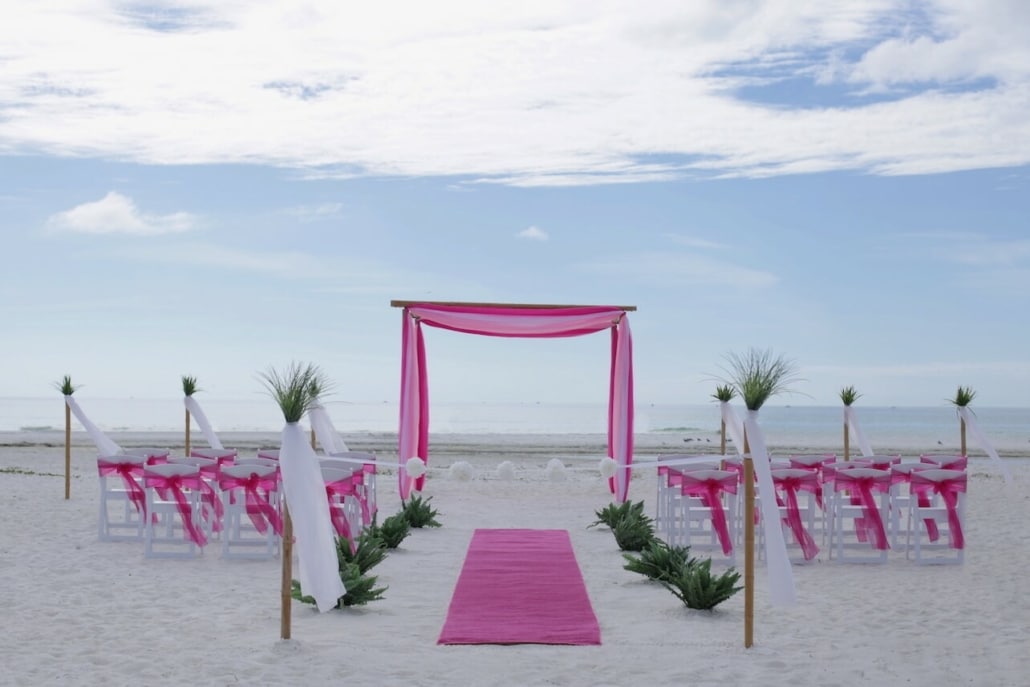 Aisle Decorations
Adorn the aisle with themed beach wedding decorations. From elegant white lanterns or kissing balls to tropical ivory shell lanterns or starfish with raffia, we have a variety of decoration options to make your ceremony even more special. Florida Sun Wedding Ceremony Packages include at least 1 aisle decoration of your choosing (unless otherwise noted). Additional aisle decorations are available for $75 each.                    
Black Lanterns with Candles on Shepherd's Hooks (carpet and silk rose petals are an additional fee):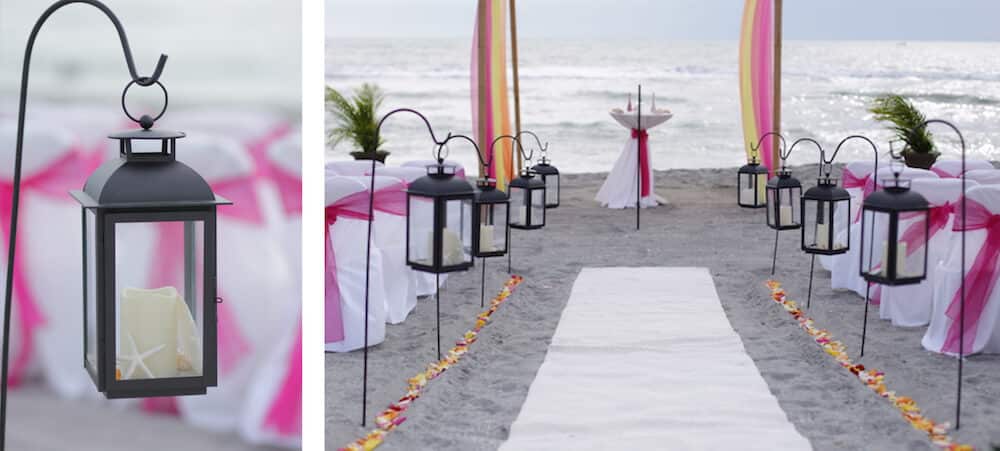 White Lanterns with Candles and Greenery on Shepherd's Hooks: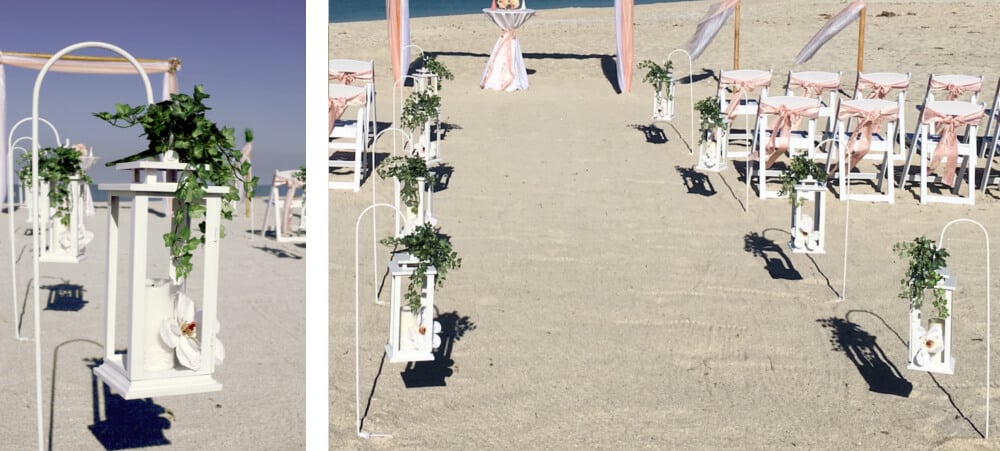 Bamboo, Chrome and Ivory Shell Lanterns on Shepherd's Hooks: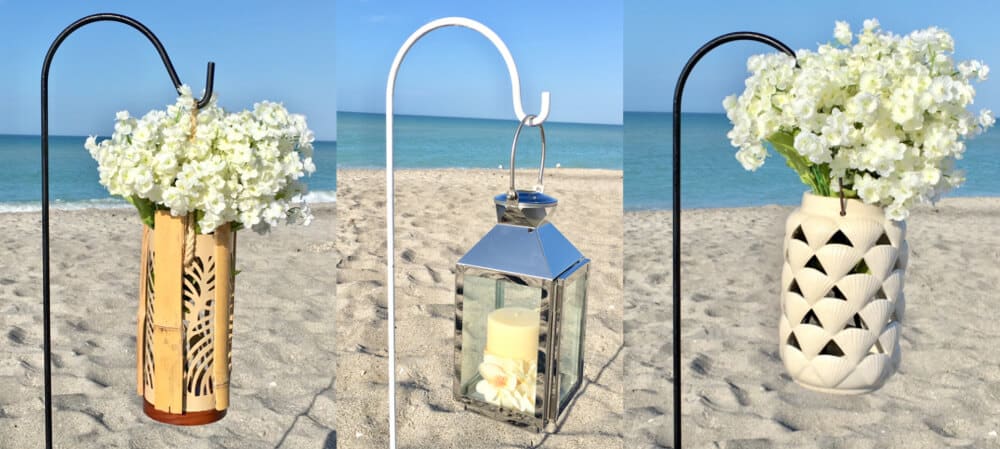 Mason Jars with Shells and Flowers on Shepherd's Hooks (carpet and fresh-cut greenery are an additional fee):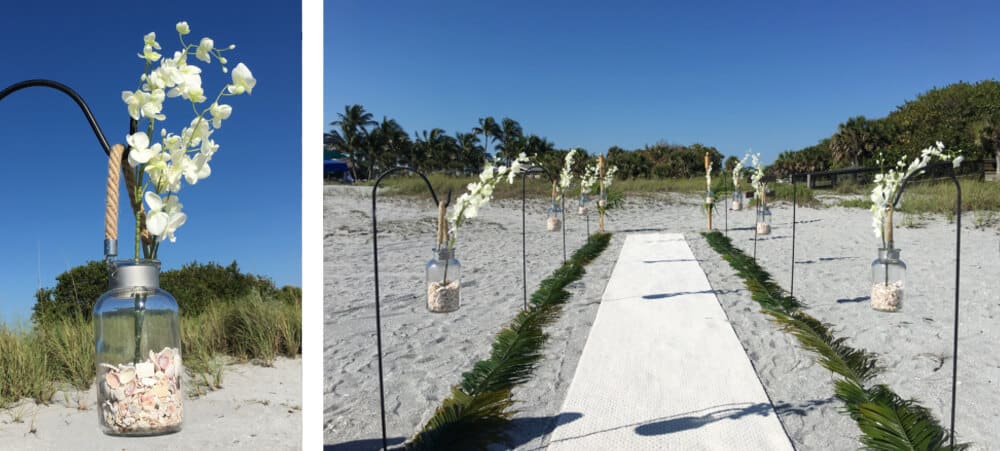 White Kissing Balls on Shepherd's Hooks (silk ferns are an additional fee):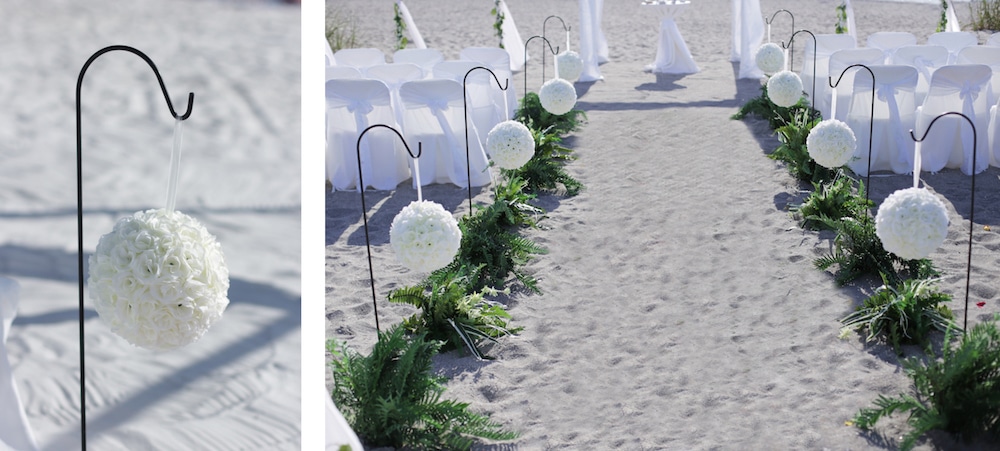 Wooden Markers with French Flower Buckets: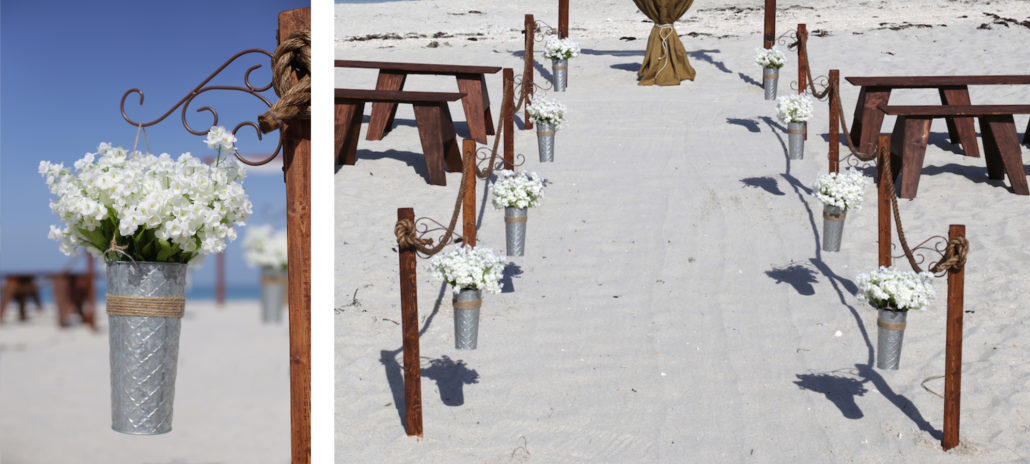 Bamboo Markers with Manila Rope and Dune Grass: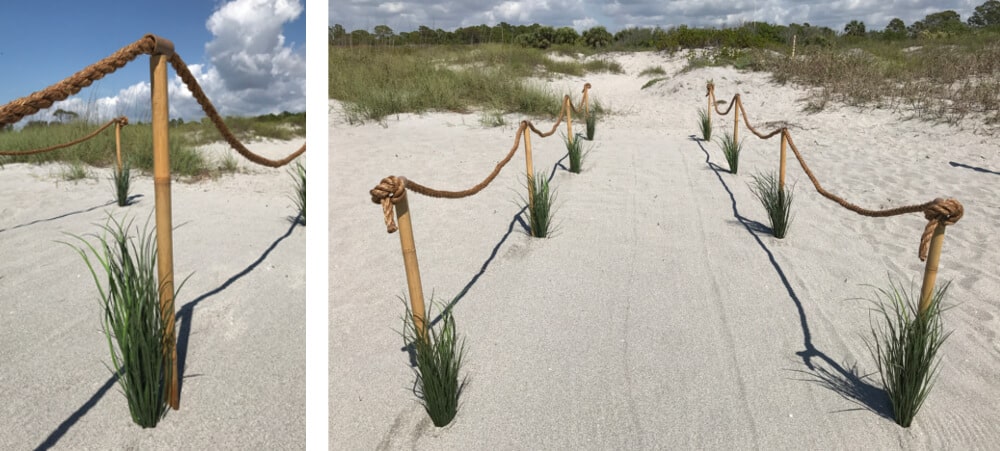 Starfish with Strands of Raffia on Chairs: