Tina and her staff at FL Sun Weddings handled our destination wedding flawlessly. We had 100+ people fly in from Ohio and Texas for a beach wedding at our Condominium complex, and Tina made the planning and execution an absolute breeze for my wife and I. The logistics of being from out of town should have been a challenge; however, not in this case. Communication was frequent and any all concerns and questions were addressed, checked, and then double and triple checked. In addition, the wedding was 7/1/21 at 5pm; however, we had to play musical chairs with afternoon storms, and Tina and her staff were able to pivot from a 5pm start to a 7pm start which worked well with sunset, dodged the weather, and was actually a better time. I rate 5 of 5 stars, and would highly recommend. Thanks again Tina and staff! The pics, videos, drone footage, and overall feedback is 110%+. Well done, and thank you!Julia & Kevin | Ohio

My husband and I got married on Sept 12th, 2020. Prior to the wedding, due to Covid my nerves about the possibilities of having to cancel were so high. Tina was my sanity the entire time. We would talk often since my husband and I reside in another state, we had no idea how Florida was truly doing as the media blows everything out of proportion! Tina would give me updates regularly. She would call me just to calm my nerves because she knew I was stressed about the day. She came up with plans just in case. When we got closer to the day, the entire Florida Sun Weddings team was amazing. Weather was somewhat rough since we were in the rainy season. Tina watched the radar like a hawk down to the very minute. It was raining all morning so she adjusted the time slightly which wasn't a problem for me if it meant no rain. Tina literally timed it perfectly! Somehow the sky's cleared and I walked down the aisle to blue sky's with zero rain! She helped make the wedding so unforgettable with all my favorite colors and timed everything perfectly to the music. You can tell that the entire team genuinely care about their customers and will do everything possible to make that day perfect and special. The team did so much and even came up with a backup plan in case it did rain! I can't thank FSW enough for making our day perfect! Tina, I can honestly say I couldn't have done this without you! You are amazing with customers and after all this I consider you a friend! You have been absolutely amazing and I am so glad we went with Florida Sun Weddings for making our special day possible!Danielle and Timothy | Illinois

Florida Sun Weddings (FSW) is a family owned wedding planning team. Mark, Tina, and Cristina were all a pleasure to deal with from start to finish. They are knowledgeable which allowed my wife and I to have a stress free wedding day. They were flexible which allowed us to have a unique experience. They were professional, responsive, accommodating…I can't say enough about them. After my wife and I had to postpone our local wedding twice we decided to elope in Venice, Florida. We worked with FSW to have a sunset wedding that went beautifully. FSW met all deadlines and were always professional. Tina recommended the place where we made our dinner reservations after our ceremony. They are well known in the community. Tell any vendor that you are working with Tina and you are instantly treated like family! Tina kept in contact with me from the time we got off the plane. She helped to make sure we didn't forget rings and explained the marriage license process. She made sure she stayed up to date on COVID restrictions and rules. Mark helped make my wife and I feel comfortable. He was willing to throw flower petals when asked on the spot to make a great photo. Cristina is a talented photographer and really understands the sun and lighting. She worked with us from our first look until the sun went down. Her shots are dramatic and really capture the moment. You cannot go wrong with FSW. We and glad we did!Jen and Jim | Virginia

There is a reason you won't find anything below a 5-star review with this team. Every aspect of everything they do is perfection. We got engaged almost two years before our wedding date, and they were in constant contact with us – suggesting vendors that were well trusted, helping us with any questions we had, and all around easing our minds. They were always quick to reply and happy to help. I used someone from every category they suggested – from hair and make-up to reception, to flowers – and was equally impressed by those as well. We were able to be at ease for our wedding day knowing it was in excellent hands with this extremely professional group. If we renew our vows down the road, I know exactly where we will be going!! If you're looking around and debating, my suggestion is to look no further. I'm sure you will be 100% thrilled just like we were. Only wonderful things with this team! THANK YOU, FSW!!! You made us very happy!Danielle and Kellen | Ohio

Our experience with Florida Sun Weddings was amazing! From the beginning, they answered any and all questions and accommodated our every need. Tina, answered every email and text message, quickly and always had a solution readily available. Her attention to detail was impeccable. Mark, was wonderful as well, he would also help with any questions and made our wedding day stress free, even when we had a couple of things come up that made it difficult for them. They took it in stride and didn't miss a beat. Sigrid was an amazing help. We had a unique situation, where we were doing a double wedding and my husband's brother's wedding was first, so I didn't want to wear my dress for their wedding. Sigrid, found me a clean area to change and helped carry all my belongings back to where I would be walking down the aisle. I honestly, can't say enough great things about the team at Florida Sun Weddings. They recommended wonderful vendors for us, that also exceeded our expectations. Florida Sun Weddings team is truly in the business of making wedding days beautiful and enjoyable. We highly recommend them and their vendors, for any and all wedding needs. Beyond thrilled with our experience!!!Lindsay and Zach | Indiana

We live in another state, so I was unsure as to how to go about having a beach wedding in Florida. FSW did practically EVERYTHING for us! They needed only the songs and our marriage license! They had someone do my hair and makeup, picked the perfect location on the beach for my style, and the ceremony was set up beautifully and simply! It was so easy and stress-free! Thank you so much, FSW! This KY girl had the wedding she always dreamed of!Michelle and Brian | Kentucky

We absolutely LOVED our experience with Florida Sun Weddings! Tina was phenomenal from start to finish. She answered our calls and questions any time as we planned our January wedding from Missouri. It was beyond impressive how the Florida Sun Weddings Team could take our ideas and turn them into a picture perfect ceremony. We can't put into words the remarkable service and friendliness from everyone. Our wedding was truthfully the greatest day of our lives and we thank you all from the bottom of our hearts. You made it better than any of our dreams!Amy and Mike | Missouri

The Florida Sun Weddings Team are masters of their craft. They've been in the business a long time and they run like a well-oiled machine. They are always available and promptly responsive. Every single detail is held in mind and coordinated with every other detail with an ease that only comes from years of experience and a genuine dedication to excellence. Hours before our wedding ceremony, the public beach site flooded from the Hurricane Nate storm surge. FSW extracted our 100 chairs plus archway etc. from the inundated sand, ferried it all for many yards across a growing 2-foot deep pool, packed and drove it down the key, and got us set up for an on-time ceremony at another site further down the beach. If that's not a miracle, I don't know what is. Thank you Florida Sun Weddings!Jessica and Travis | Massachusetts

Competence, Reliability, Punctuality, Prompt Communication, Extraordinary Organization, Empathy, the list simply is never ending and these folks are simply amazing in every aspect. They did my wedding in Siesta Key last month and having Tina there made me feel like I was taken care of. This company is like no other, and I would love to get married all over again! Thanks Florida Sun Weddings for being there on one of the most important days of my life.Maria and Ulises | Florida

Jose and I had to plan our wedding in 4 to 3 months due to my father being very ill and put in hospice at home… My dream wedding was to have it at the beach. I contacted a few beach wedding planners but when I spoke to Tina and Mark I had no reason to look at other planners… Tina has been an amazing person without knowing me, with her support, dedication and most of all the care she showed me and still showing me… My wedding could not be more perfect due to the outstanding service. From keeping track of the weather days ahead, the beach set up, the music, the location they pic for pictures, they are Amazing, Mark is AWESOME. He keeps you posted the day before, they have options just in case it rains. When you say you want RELIABLE, EFFICIENCY, COORDINATION, SET UP, MUSIC, GUIDANCE, PRICE AND CARE YOU HAVE IT ALL AT FLORIDASUNWEDDINDS WITH TINA AND MARK. THEY ARE AMAZING PEOPLE WHO REALLY CARE. I am so HAPPY and I thank god I had them do my wedding. IT IS UNBELIEVABLE OF HOW MANY LIKES AND HOW MY WEDDING PICTURES ARE ALL OVER SOCIAL MEDIA BECAUSE OF HOW BEAUTIFUL MY WEDDING WAS… IT WAS A BRIDE'S AND GROOM'S DREAM COME TRUE… I LOVE THEM AND I CAN NOT THANK THEM ENOUGH. My family and friends are amazed, IT WAS STUNNING!Rosie and Jose | Florida

When my fiance and I finally decided on Siesta Key as our wedding destination, I was convinced we could plan the whole thing alone from Ohio. With two months to go until wedding day, I was feeling overwhelmed. The details of the wedding we envisioned just weren't coming together. My fiance contacted the Chamber of Commerce and they recommended a few wedding planners. I was very skeptical, but after talking to a couple of planners, I KNEW I had to hire Tina and her team. She put my mind and heart at ease. She assured me that our unique wedding ideas would be executed just like we had envisioned over the past 6 months, and that she would personally make sure of it. She made herself available via text, phone, or email. Text worked best for me because I could shoot one over to her in the middle of my work day, and she responded nearly instantly. The day before our wedding, we delivered a bunch of ceremony "props" and she didn't even flinch. She assured me it would get done and it was going to look beautiful. We pulled up on our big day, and everything was PERFECT! After coming home and watching the video, we realized that Mark (Tina's brother), tried so hard to make sure this one last detail was in place, but the wind just wasn't cooperating. But seeing that video and the multiple times he tried to set the detail in place, solidified how detail oriented the team is, as well as customer satisfaction is their priority. We loved them, and we HIGHLY recommend them to help you plan your wedding. I could NOT have executed the final details without Tina.Kristen and Tom | Ohio

I don't even know where to start and hopefully I can write this without crying?? This was the most beautiful yet stressful experience of my life. I was online trying to find event promo jobs for my god daughter in Florida and this advertisement popped up saying "heeey get married in Florida!" I had already been looking for a location and everything that was nice in New York was so expensive! So I figured why not save a tremendous amount of money and have a wedding slash mini honey moon in Florida. I made my list of companies and called… all of them rude and then I ran across Mrs. Tina?? such a beautiful heart and professional angel! She help me from start to finish, she'd text me to see how everything was coming along and if I need to add or take away anything. And even when my own Pastor canceled on me 3 hours before the wedding and my photographer never showed she stepped in and found 2 more angles to complete the task: their own pastor, Don and photographer Cristina Gebel. Once the music started and I began to walk on the sand to toward the love of my life everything was PERFECT! I couldn't of asked for Tina to add anything else or do anything else. She worked to hard and made sure everything was so, so while i was crying my eyes out! My husband and I thank her from the bottom of our hearts for making our fairytale come true. ~ Many blessing's to you, your family and the business ???? Theresa S. JonesTheresa and Troy | New York

My husband and I cannot say enough great things about Florida Sun Weddings! Communication was very thorough and everyone was so quick to respond to any and all questions we had. This was a destination wedding for us so we were anxious as to how everything would come together; however, the planning by the FSW team was beyond exceptional! They had everything in place and made our wedding day a breeze! We can't say thank you enough for helping make our wedding day so beautiful!Amanda and Jacques | Maryland
I have sincerely never written a review before. However, the team (Sigrid, Tina, and Mark) deserve so much more, then my time and thoughts. I have to share with the world how truly blessed my wife and I have been to have had them be a part of our day. They sincerely treated us as if we were the most important wedding they have ever been a part of. As if we were family. First impression, professional passionate full of purpose and as classy as they come. With a sense of humble confidence that set us at ease. As we developed a relationship with them. They certainly made my Bride feel at ease, and gave me the feeling as if I wasn't up against everything on my own. They have relationships with only the most upstanding vendors in the business, and extend their resources to u with no pressure but as a comfort to know you will be in good hands. Sun Weddings, Ana and I are humbled and gracious for you. We only regret we will have limited contact with you now that are day is over. From our two hearts that are now as one. We thank you?? Sincerely David and Ana Mills…Ana and David | Florida

I chose Florida Sun Weddings for my ceremony on Siesta Key Beach – and I'm so glad I did! Tina, Sigrid and team did a WONDERFUL job! I got engaged in December 2015 and my now husband and I knew we wanted to have our wedding in the summer. Once we decided on Florida (I have family in Sarasota) I did a lot of research on places for ceremonies, different companies for wedding packages and when I landed on Sun Weddings, I had a feeling their team was my best choice – and I was right! Tina was very responsive and genuinely cared about my planning process and decisions from day one. Before I had even signed anything or gave them a deposit Tina was there to answer all of my questions. I live in Los Angeles and my sister (Matron of Honor) and my mother live in Sarasota. They met with Tina and went through the décor choices, set-up, timing and everything. (We chose"White Elegance") Every week leading up to the wedding day Tina and Sigrid made sure everything was taken care of and reminding us of all the details – getting our marriage license, our guests, transportation, etc. On our wedding day, July 29, 2016, it was storming in Sarasota. Of course, I was nervous because our ceremony was going to be on Siesta Key Beach. My sister called Tina, and of course Sun Weddings was on top of it, watching the weather and reassured us that it was going to be clear on the beach. Once I arrived in the limo, Tina was there waiting, jumped in the limo with a big smile, and let me know how and what was about to take place. She sent my Matron of Honor down the sandy aisle. When I got out of the limo, and I saw my guests and the set-up, (and my husband to be) it took my breath away. Everything was gorgeous! It looked like a magazine photoshoot! Tina was right there by my side!Sarabeth and Gideon | California

Words cannot express how happy we were with Florida Sun Weddings! I planned our wedding 1,000 miles away from Sarasota and am a bit of a control freak. Sun Weddings was VERY quick with their responses throughout the entire experience! Tina even repaired a chandelier that I had mailed to them for the ceremony! Everything went very smoothly and the communication was amazing! I would HIGHLY recommend Sun Weddings to anyone!!Jessica and Jason | Missouri

Florida Sun Weddings staff, Thank you so much for everything. Our beach wedding was more than we ever dreamed of. Without your direction and assistance we wouldn't have had such a beautiful ceremony. Thank you again for everything. We will definitely recommend you to everyone. Maychee and Douglas | Georgia

Tina, Sigrid and their team are priceless! Their attention to detail, quick and quality of communication, as well as their final product can't be rated high enough! We enjoyed working with Tina to plan our wedding from over 1,000 miles away, she answered my questions in a timely manner and never overwhelmed me with information. She was very flexible in the package I chose for our ceremony and graciously let me pick and choose pieces. The Sun Weddings team ensured the smoothness of our ceremony, pictures taking, and most importantly a moment to freshen up before hitting the party! I also choose to use her sister-in-law as our photographer and can't tell you how impressed I was that she came up for before pictures, took numerous creative photos, photos that I requested, as well as some reception pictures after. They truly went above and beyond and we will remember them and our perfect day forever!!Ashley and Doug | Indiana

This family team is truly fantastic to work with! After initially contacting a few different planners they were quickly number one based on their responsiveness, knowledge and willingness to work with our needs from my very first point of contact. I worked with them over nearly four months from Ohio for our Florida beach wedding; for every contact and question they responded immediately, and always had a solution or suggestion. We were lucky enough to meet them in person when we were in the area about 6 weeks prior to our big day, and that only assured me I had made the correct decision. Each one of the team – Sigrid, Tina, Mark, and Cristina, our photographer, were so very pleasant and accommodating every single step of the way. They provided a wonderful officiant (Dr. Don Nations) whom we were also able to contact ahead of time. He solicited information from us and customized the ceremony to make it unique for us and our family. When we had issues with the amount of beach at our chosen location they checked ahead of time, and we decided to move it just in case. However, the day of the wedding they were gracious enough to check our first choice location one more time …. because they knew the spot was special to us. They determined it was possible and were able to set up exactly where and how we initially desired. Our intimate and memorable wedding could not have been more perfect thanks to this extremely talented and professional team and if it is at all in their power, they will make your request a reality. That they are a family team just made it a bit more special to us since that is something we value so highly. Truly kind, classy, and professional people. You simply cannot go wrong choosing this team!Diane and Ray | Ohio

They truly made my day special. They are extremely professional and I did not have to stress or worry about ANYTHING. They took care of it all for me and took my idea and turned it into reality. I would recommend their services to anyone wanting stress free wedding on the beach! Elizabeth and Raphael | Miami, Florida
Sun Wedding was great to work with and affordable for my destination wedding. I am a Michigan resident and I have family living in Venice, Florida. I contacted Tina about her company and I received a quick response every time. She was very helpful to recommend wedding vendors that I needed for the day. All the vendors, and even the courthouse spoke very highly of Tina and her company Sun Weddings. I am so glad they hosted my special day; the scenery package was so beautiful and they had many others packages to choose from. All of Sun Weddings' staff was very friendly, easy to work with, and had high standards for making my wedding day perfect. The minister was provided but Sun Weddings, Dr. Don, who make the ceremony fun and comfortable for me and my guests. Sun Weddings organized my day allowing me to stress less and enjoy every moment from the planning to the wedding day its self. Allison and Jonathon | Michigan
I thought I would just post the email I sent to thank Florida Sun Weddings as it is as truthful as a review gets. They really are wonderful to work with!

"I just want to thank you all, an incredible family of planners that make things happen, for your hand in the best night of our lives. The wedding was beyond perfect and it wouldn't have happened without your direction, assistance and impeccable skills. Chris and I can't thank you enough for the hard work and time you invested to ensure our day was wonderful. From the bottom of our hearts, thank you! You have no idea how much I truly appreciate it We will forever recommend you! Thank you again for making our wedding so flawless and memorable!!!" Megan and Chris | Colorado

Excellent service, well worth the money. They are the best around and went above and beyond to make sure our wedding day went perfectly. Thanks again! Erin and Travis | Tennessee
My husband and I used Sun Weddings to plan our wedding, which took place on June 20th, 2015. We started working with Tina in September of 2014. From the beginning, she was always a sweet person to talk too. Tina consistently reminded us that this was our day and we could incorporate whatever our hearts desired. When things came up, such as construction on the Siesta Key parking lot, we were immediately notified and provided with an immediate alternative

with colored maps and detailed instructions. When we requested to make changes to the number of chairs and the original ceremony setup, Tina was very understanding, considerate and accommodating. Our wedding went off without a hitch from the planning to the ceremony setup, and even the hospitality of the ladies at Sun Weddings. Great benefits: * If you can't reach the wedding planner at the office you can always reach them at home using their cell phone number they provided. * You can pay for your wedding in installment with a small deposit. * The wedding planners will bend over backward and go above and beyond for you on your special day. * Sun Weddings will recommend other vendors * Sun Weddings will download your wedding music for you. It was such a pleasure working with you ladies. Thank you again for all you did to make my day special. Stephanie and Lucas | Indiana
What can I say, from the start of thinking of getting married, Sigrid and Tina were amazing! Their communication was outstanding. I live in the UK and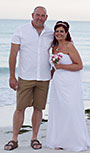 emailed them regularly and they responded straight away. We met up with them when we arrived in Sarasota and it was very straightforward, very organized.  We used Christina as our photographer and she was amazing! She took some fantastic pictures. I am so happy with everything Florida SunWeddings did for us to make it a very special day. Kate and Tony | UK

What an amazing wedding planner!! Sigrid did everything for us. Not only did she always answer our e-mails, day, night, holidays and so on, but she really made us feel so special. She had an answer to all our questions and a solution to our "problems"/challenges. We really felt like she saw us, and she truly made our wedding OURS!! We couldn't have asked for a better wedding planner!!! Thank you! Marvin and Grethe | Norway / UK

Hello Sun Wedding team! First of all I want to thank all the people involved in the process of planning and organization of my wedding (Sigrid, Tina, Cristina, Linda, Scott, etc.) That was so fantastic! I'll keep it in memory for all my life like one of the most wonderful days! You so professional, kind and well organized! I ready to recommend you to all my friends. Andrew and Olga | Russia
My mother and I were certain we could plan and execute my beach wedding on our own. We're both no fuss ladies and since our venue was all-inclusive we thought it'd be easy. All I needed was a florist, a DJ, and a photographer! My fiancé presented to us the team at Sun Weddings and though Mom was against initially, I couldn't be happier with our decision to hire Tina and Sigrid. There are so many things

necessary to host a successful wedding event outside of hiring vendors that I was really clueless about, or thought, "oh, that can wait…" But with their vast knowledge and experience guiding me, the Sun Weddings team helped me take care of all those details long before the big day arrived and nothing was left undone. Tina and Sigrid led the way without being pushy, guided us into every decision with confidence, and I really was the most relaxed I could've been on my wedding day; it was a dream trusting these two ladies to be in charge and I wasn't bothered by anything. We had such a fabulous time at our ceremony and reception, and can tell you my husband and I would've had ZERO fun if Sun Weddings hadn't been there to coordinate it all. Tina and Sigrid are really top notch; we were able to enjoy the party, visit with our guests, and seamlessly steal away to get all those 'must have' shots with the photographer, and jump right back into celebrating! Justin and I were able to really be present in every moment of our wedding day and are left with the most incredible memories- it wasn't the blur you so often hear about, and I know Tina and Sigrid are entirely responsible for that. In the short time we worked with them, I feel like we had known them forever and am so grateful to count them among our friends now. Thank you once again for an unforgettable beach wedding! Justin and April | Palm Beach Resort, Florida
Sigrid & Tina – Thank You, Thank You, Thank You! When my fiancé and I decided to get married in Venice, FL, the other side of the state for us, we were very apprehensive about how we would handle all of the details. We knew we wanted to have a beach wedding and initially had no intentions whatsoever to hire a Wedding Planner. While doing some research, we came across Florida Sun Weddings' site and decided to meet with them during a visit to Venice with
my parents. From our first meeting with Sigrid & Tina we knew we had to work with them. During our initial meeting, they walked us through a planning checklist, recommended vendors they have worked with in the past, shared photos of the many weddings they had planned to help with ideas and even offered many suggestions on areas we could save money. We left the meeting so excited. Each of the vendors they recommended was outstanding. Each said, "Sigrid said we should be expecting you" when we first met. We felt as though we were receiving special treatment, and we were. Communication with Sigrid and Tina was the best I've experienced in dealing with any company. If we had a question, a response would come immediately. And it was not uncommon for them to check in with us to make sure we were on track with various tasks. People talk about their wedding day being a blur. Ours was not, and it was because of all the planning & coordinating Sigrid and Tina had done. Experience counts! My wife and I actually got to enjoy our wedding day and spend time with our families and guests. If you are considering whether or not to hire a wedding planner, you should. It is a wise investment. Once you decide to, hiring Sigrid & Tina and their team is the easy decision. That is a promise we are willing to stake our reputations on. Peter and Ann Marie | Deerfield Beach, FL
Tina and Sigrid did and amazing job with our wedding. The minute we met them we knew these were the people we wanted to do our wedding on siesta key beach. They are great to work with and did an amazing job. Their photographer Cristina was amazing and knew exactly what we wanted. I can truly say our wedding was flawless and we are so happy. They referred us to Kat who helped set up our food and did everything and anything we asked for, she was so professional. Everyone was lovely to work with. Thank you, Sun Weddings!!! Megan and Mike
Sigrid did an amazing job organizing our wedding. She is a true professional. I was a little nervous about organizing a wedding in Florida from Ireland but as soon as Sigrid and I started corresponding I felt secure in the knowledge that she would take care of everything. The whole Sun Weddings team are so easy to work with and they have great attention to detail. Sigrid seamlessly reorganized everything when we had to push the wedding forward by a day because of concerns over the weather. We had the wedding of our dreams yesterday and I can't thank Sigrid, Tina, Cristina and Mark enough – if you book with Sun Weddings you will be in safe and experienced hands! Yvonne and Patrick | Ireland
Emma said… Planning a Florida beach wedding from England seemed like a daunting task, but some amazing vendors in Sarasota made it easy, and Sun Weddings were one of them. There are no words for just how professional and friendly Sigrid and Tina are. I have no doubt that my wedding was absolutely perfect thanks to these two ladies. They were so responsive to all of my ideas and we emailed back and forth countless times to ensure we stayed in touch over my year of wedding planning from another country! They even worked with my groom on a surprise sand castle which they managed to keep under wraps from me – Absolutely flawless planning at every step of our journey together 🙂 I cannot recommend Sun Weddings highly enough. They were a pleasure to work with and I will never forget my amazing experience with them. Emma and Kevin | UK

The team of Florida Sun Weddings did an awesome job!!! They answered all our emails as quick as possible (maximum a few hours – even with the time shift to Switzerland), absolutely professional! For all of our questions and requests, they had an answer or a clue that was just how we wanted it. They were absolutely flexible in every step of the planning process and the realization!! All the other vendors they recommended to us (wedding dinner, flowers, hair/makeup and limousines) were perfect too. Great job!!! All over the entire wedding process, it was the best decision of my wife and me to choose Florida Sun Weddings as our wedding planner!!!! Thanks, Florida Sun Weddings to make our special day absolutely perfect!! Corina and Jurg | Switzerland
Let me start by saying that my husband and I were quite nervous about letting a company from a place we had never visited arrange our destination 
wedding. It was scheduled at Lido Beach Resort near Sarasota FL, a place we did not have a chance to visit before the wedding. We were skeptical, depending on this company to prepare our most special day, site unseen. If they were a fake, we would have been devastated. Well, we were pleasantly surprised. They are for real!!! They provided everything they promised and then some. We never had a moment when we could not reach the Sun Weddings team, including after-hours, there was really no such thing. When we met Sigrid on our wedding day, I immediately loved her! She was so demure and we knew who was in charge when she stepped into the room. She kept everyone milling around me at bay. I felt like a celebrity! My guests later told me how she effortlessly managed the beach set up, swift and beautiful. Some told me 'I like her style'! There were numerous beach ceremony packages available to choose from. My chosen venue looked even better in person than on the web-site! It was so tasteful, sturdy, absolutely stunning. I could not have asked for anything more. Very satisfied customer. Tiffany and Alan
Tina and Sigrid did an amazing job. They were always available leading up to the wedding and quickly answered any and all of our questions. We were from out of town and they made the ceremony completely stress free. I would strongly recommend them to anyone! Katie and Sam
If you are looking to work with professional people -> Sun Weddings is the right address. They did an amazing job for our Wedding. Emails
get answered immediately and they simply give you a good feeling that things get done in a timely manner. Sigrid and Tina are a great team and being able to speak to them in your own mother language (German) is just priceless! I would recommend the Sun Weddings team to my very best friends because I know they take great care of every single wish and request. Miss the two classy ladies already! Ellen and Kevin | Switzerland
PROFESSIONAL!!!!!! THE nicest and most reassuring company!!! I had originally booked my wedding with another company. Approximately a month and a
half before my BIG day I had to fire the OTHER company due to lack of communication and reassurance. With that said …… Sun Weddings stepped in and made OUR wedding day on Siesta Key Beach picture perfect!!! I HIGHLY recommend Tina Gebel, Sigrid, my photographer Cristina Gebel, and my officiant Don Nations!!!!!!!! Kelley and Kevin
I would definitely recommend Sun Weddings to anyone! They were absolutely wonderful, and I know that if it weren't for Sigrid and her son Mark, my
wedding would never have happened! Let's just say my husband and I got married on the rainiest day of the year in Florida, on the beach, oh yeah with tornado warnings and all! Sigrid and Mark truly went above and beyond to make sure that I was able to get married on the beach that day!! Words can not express how thankful I am to the both of them for what they did for us! My ceremony turned out to be so beautiful thanks to all of the hard work that Mark put into it. I actually sent a picture of how I wanted the trellis to be decorated and it looked exactly like the picture. They even went out and bought special fabric to make this look for me. Like I said before, they went above and beyond for my big day, for that I am very thankful! Lauren and Andrew
We loved Sun Weddings! Tina, Sigrid and the rest of their team did an amazing job for our wedding. They were so on top of things the whole time. They were
very helpful with the entire process, including giving us suggestions for other vendors and our wedding planning. Every time I called or emailed I got almost an immediate response which is very helpful when you're on a timeline. Tina really new what she was doing, and helped keep things organized. Their whole team was extremely professional and easy to work with. We had a beach wedding on Lido Key beach and the set came out beautifully. They made the set exactly how I wanted it. Tina was so pleasant and kept me calm through the whole process! Thanks for being amazing!! We highly recommend Sun Weddings. Kristen and Brent
Want to talk about the best, well I had the BEST wedding planners possible. I am so grateful that I was led to you. All the questions I had along the way
 they answered, as soon as I sent an email they responded back, it did not matter what day or time, they got back to me. I had questions that were not wedding related and they still helped every step of the way. I am in PA and they made this wedding planning so easy and not stressful at all. Every time we flew down to FL they always made time to meet with us. My photographer, DJ, Hair and make-up, reception venue, trolley company, and cake company they all recommended to me. And there again, they recommended the BEST. The set up on the beach was just amazing. The minute we got there we were made to feel like family. I loved working with them. And I can't thank them enough. The most friendly people I ever met were them and everybody they recommended to me. Thank you so much for making my wedding day PERFECT!!!!!!!!! Gina and Kyle | Pennsylvania
Sun Weddings was absolutely perfect! Trying to plan a wedding in Florida from Iowa seemed really overwhelming until I found Sun Weddings with Tina, Sigrid and Cristina!! They were all quick to respond to any and all my questions from my very first email. I felt comfortable right from the beginning working with them. Tina worked with us for our entire planning of the wedding, Tina met with us even to went to the courthouse to get our marriage license! Sigrid and Tina were there the night of the ceremony and they were amazing. Cristina took our pictures and they were breathtaking! Our wedding day was way beyond I could have imagined! It was absolutely perfect! Above and beyond everything we could have ever hoped for! Jackie and John | Iowa
I came all the way from SD and really wanted a beach wedding. The forecast showed rain on my wedding day. Sun Weddings was willing to change the date and location and time of my wedding just to make me happy. They were also very helpful in giving me step by step instruction of what to do before the wedding and on the day of. Their website is easy to navigate to find additional vendors. They also were helpful in making recommendations. Julie and Patrick | South Dakota
Sigrid & Tina with Florida Sun Weddings were amazing and so easy to work with from the very beginning until the end. I could not have asked for a better company to go through for my wedding. They ensured that everything went beautifully and were readily available for any questions or concerns I may have had along the way. I would definitely HIGHLY recommend Sun Weddings to any and everyone interested in getting married on the beaches of Florida. Elizabeth and Brent | New Jersey
I can't not praise the Sun Weddings team enough. Tina and Sigrid were there every step of the way helping us make our dream beach wedding a reality, always a quick email or phone call away. Cristina our photographer captured every moment of the day. Thank you for making it so relaxed and beautiful and a perfect ceremony. Laura and Greg | New York and UK
Hi Sigrid, you married myself and my husband Andrew back in March 2004.  We have just had our 10 year wedding anniversary and wanted to say hi and thank you very much for our gorgeous wedding. We regularly look at the photos and talk about how much we enjoyed our holiday/wedding on Venice Beach with yourself.  We have looked at your website and it is fantastic to see how your business has grown, you are totally deserving and you could not have helped myself and my husband enough at the time, even inviting us into your wonderful home. We now have two beautiful children and our lives have changed dramatically for the best. Lots of love to yourself and your family! Laura and Andrew Speake 10 Year Anniversary!!!
Words can't describe how easy and flawless our wedding was because of Sun Weddings. The entire team is both professional and knowledgeable. I would highly recommend them. The day was everything we hoped for and so much more because of them. Thank you very much!!
Amanda and Steve | Sarasota, Florida
I'm beyond blessed that I have met Tina. She was perfect in every way! I loved her help and her creativity in making my day go so perfect! Thank you so much! Katie and Michael | California
The Sun Weddings team are awesome! They exceeded our every expectation and we had the wedding of our dreams! Thank you Sigrid, Christina and 
Mark for making our special day unforgettable. I was a little nervous planning a wedding abroad since I was not in control of anything (I'm such an organizer and control freak!), but Sigrid is fantastic – absolutely well organized, reliable and professional. She answered all my emails within minutes and planned everything exactly the way we requested it. And she always calmed me down when I started worrying. The set up on Siesta Beach was amazing and the atmosphere was magical. Sigrid and Christina are very detail oriented and thoughtful. Christina is a highly talented photographer – our photos are breathtaking. Scott, our officiant, is the best! He created the most wonderful ceremony and his words touched our hearts. We couldn't be happier. Our standards are very high and we rarely give recommendations, but we would recommend Sun Weddings to anyone who asked. Hiring Sun Weddings was the best decision. They are fabulous. Thank you! Indra and Martin | Germany
Sun Weddings! Tina y su grupo de trabajo hizo excelente trabajo! le doy las gracias, todo quedo super bonito. Muy responsables y puntuales en todo! 
Dispuestas ayudar en todo. Le estare agradecida siempre, sin ellas habria sido imposible tener la ceremonia que siempre soñe! Todo quedo como siempre lo soñe. Gracias a ellas todo quedo perfecto. Definitivamente escoji las personas perfectas para realizar la ceremonia que siempre quize. Mil GRACIAS por todo Tina.
Translation: Sun Weddings! Tina and her working group did excellent work! I thank you all for being so nice. Very responsible and punctual at all times! Willing to help at all times. I'll be grateful forever, without them it would have been impossible to have the ceremony I've always dreamed! Everything turned out as I've always pictured. Thanks to them all for being perfect. Definitely the perfect people to perform the ceremony. Many thanks for everything Tina. Angie and Eli
Tina made my sisters wedding unbelievably special!
When we walked out onto the beach we were all spellbound. The atmosphere was out of this world, totally magical. Tina was there reassuring and supporting during the entire event and made us feel at ease. She made sure the music, flowers, photographer etc were situated and she coordinated with all of them. Tina was accommodating to our requests and always made us feel that we could rely on her. Thank you from the bottom of our hearts for everything, this is a day we will never forget. Kim (sister of bride) Colleen and Thomas | South Africa
Sun Weddings provided an excellent service and went above and beyond to make sure our day went smoothly. The events organizer, Tina, even met us and personally took us to the courthouse, making the experience a little less daunting. I would definitely recommend and use them again for our wedding renewal one day. I can't think of any negatives at all, very happy, thanks guys, or should I say, girls 🙂 Lynsey and Marc | United Kingdom
The Sun Weddings Team are wonderful! I don't know what else I can say! From the moment I contacted Sigrid and the team at Sun Weddings I was so 
pleased with how quickly they responded to all of my questions, the way they knew the answers pretty much straight away, and put my mind at ease when I was worried. Organizing a wedding in the US from England, I thought was going to be quite hard, but the Sun Weddings team made it hassle free! They even contacted some of the other vendors on my behalf and made sure everyone was doing what they were supposed to be doing, at the right time. The set up on the beach was amazing too, it just looked the way I had always pictured it in my mind. Besides all of that, they are extremely friendly and can't do enough for you. I really can't praise them enough. If you're looking at planning your Wedding in Florida… go to Sun Weddings. I'm so glad I did! Jodie and Ben | United Kingdon
When I first decided that I wanted to do a destination wedding, I was very worried since I had no control being in Wisconsin and the wedding being in Florida. I sent out a few emails to wedding planners and Tina and I touched base on the phone for a good 45 minutes and right then and there I knew that she was the one. During the year of planning, she was always willing to help me through the planning. If you would all know me, I am a very organized and such a planner….so I would send random emails to Tina at random hours of the night and she would always reply first in the morning. I always felt like I was her number one bride even though I knew that she had numerous ones that she was dealing with. She makes you feel so comfortable and puts your mind at ease. The day of our wedding, I can honestly say that I was not worried at all about the ceremony. I knew that we were in the best hands in Florida and that it was going to go amazing and that it did. When I came up over the hill on the beach, it was breathtaking!!!! It was a dream come true and we owe it all to Tina and her team!!!! Thank you!!!!!! Kendall and Jason | Wisconsin
I worked with Sun Weddings on my cousin's wedding. I have been with The Ritz-Carlton for 10 years where I was a Sr. Admin and also did event planning for 3 conferences per year. I am accustomed to "anticipating needs!" I was overwhelmed by the level of customer service Tina (and Sigrid) provided us. The 3-month preparations were intense, but we always got a response within a few hours. The beach wedding ceremony could not have gone smoother. Our personal music system equipment worked great the day before but on the night of the ceremony, the wind shifted and we had only about 20% volume. Out of nowhere, Tina grabbed a speaker system! It was over the top! The officiant they work with, Scott was professional yet personal. The photographer, Christina was professional and creative and the additional staff worked quietly and quickly careful not to interrupt our celebration even after it was over! I can't say enough, and I do this for a living! Thank you, Tina and the team. You created a special day that none of us, besides the bride & groom, will EVER forget! You more than exceeded our expectations 100 times! Tammy and David (Ronelle)
We could not have asked for a better experience! Sun Weddings exceeded our every expectation and we had the wedding of our dreams! Not only were they professional and extremely helpful in all aspects, their referrals for hair & makeup (A Victorian Bride), Linda did a phenomenal job with all of our hair & my makeup and I was so excited!! She was personable & created true masterpieces for each of us. I cannot say enough about how great she was! Our photographer (Cristina Gebel) and flowers (Beneva Florist) were also truly amazing!! Scott, our officiant, did a wonderful job with the ceremony so please thank him again for us. It was a perfect night and we couldn't be happier! Thank you again for everything!! Rene and Chad | Texas
Hello Tina!!!! I just wanted to extend a HUGE thank you for all that you have done for Jason and I the last year. I was a little nervous planning a destination wedding since I was not in control of anything. Then I touched base with you, and I knew that Jason and I were in great hands. You helped me through the planning process, which I thought was going to be a nightmare, but it was flawless. No matter what time of day it was when I had a random question, you were always there for me!!!! The ceremony was amazing Tina. It was seriously everything I expected and more!!! When I was walking up the path to the beach with my father in law and saw the decorations once I hit the top, the tears began. It was breath taking!!! Again, thank you so much for everything that you did!!! You made my wedding weekend amazing and a dream come true. Thank you!!!!
Kendall and Jason | Wisconsin
Свадьба на пляже Флориды Что делать со свадьбой? Мы решили, что у нас будет оригинальная, более того красивая свадьба на пляже Флориды. Подготовка своей свадьбы процесс сложный, а тем более свадьбы на пляже, да еще и за границей. И мы обратились в Sun Weddings. Тина, Сигрид и Кристин были великолепны! Мы счастливы, что обратились именно к ним. Они решили абсолютно все вопросы. Получение
свадебных документов, свадебная прическа и свадебный макияж, определение времени для свадебной церемонии (наша свадьба на пляже была на закате), фотографии и прочее и прочее, обо всех этих хлопотах позаботились Тина, Сигрид и Кристин. Огромное им русское спасибо!!! Мы с большой радостью и уверенностью будем рекомендовать их всем желающим организовать свадьбу на пляже во Флориде.
Ирина и Дмитрий | Москва, Россия
Translation: Our beach Weddings in Florida You're getting married, what do you do? We decided to have an original, more beautiful wedding on the beach in Florida. Planning your wedding is a complex process, especially a wedding on the beach, and even more difficult, abroad. We turned to Sun Weddings: Tina, Sigrid, and Christina were great! We are so happy that we chose them. They helped with absolutely everything. Getting the wedding documents, wedding hairstyle and makeup, the timing for the wedding ceremony (our wedding was on Siesta Key beach at sunset), photos, etc., etc., all these details were taken care of by Tina, Sigrid and Christina. We thank them very much! It is with great joy and confidence that we recommend Sun Weddings to all who wish to organize a wedding on the beach in Florida!
Irina and Dmitry | Moscow, Russia
Tina and Sigrid were complete rock stars for us and we don't know how we could have pulled it off without them. Extremely friendly, responsive and helpful in every way possible. The ceremony was absolutely beautiful and Tina made sure everything went PERFECT. Definitely took a lot of the stress off of us. We had a dream come true ceremony and we owe it all to them. Definitely the best event coordinators we could recommend.
Danielle and David | Florida
Tina, Sigrid, and Christina were absolutely wonderful. We enlisted their help with our destination wedding ceremony. They were absolutely fabulous with attending to every detail of our big day. Nothing was too big or too small to handle. Responsiveness to emails and phone messages happened within hours or even minutes. They showed nothing but professionalism with heart. If they recommended a service to you they made sure you were able to get a hold of them or they took care of it themselves. We are still amazed at how well they were able 
to predict the weather to ensure that we got our outdoor beach wedding as we desired. When we arrived on Wednesday I touched based with Tina to verify everything was good and she informed us of the possible rain heading our way for Thursday evening. She pointed out our options if the rain arrived at sunset and allowed us to make the decision. On Thursday, it was decided to move the wedding time up as opposed to switching the day entirely. It downpoured within 1 minute after we retreated to our room. Our officiant was Scott Clark and he was absolutely wonderful. He did a great job and arranged the ceremony as we requested. He even met up with us again on Friday at the last minute to resolve a small issue that I created myself. Our photos have turned out great and we could not be more happy with the decision to use Christina. The pictures were natural looking while capturing our true smiles. They are completely us and exactly what we wanted. Our experience with Sun Weddings, LLC was top notch. I would highly recommend using them for all your event planning. We will definitely be recommending them to anyone we hear heading to Siesta Key Florida for their wedding.
Tanya and Franz | Michigan
Sun Weddings exceeded all of my expectations with their exceptional service, responsiveness, and attention to detail. Sigrid, Tina, and their team of professionals did an outstanding job throughout the entire wedding planning process. I, as many brides may say, did not have the easiest time at the beginning of planning our wedding. As soon as I found Sun Weddings and had my initial contact with Tina, I knew I was in good hands. They responded to emails and phone calls within minutes and were always there to reassure me that things will work out. They were very knowledgeable in the business and referred me to amazing vendors as needed. On the day of our wedding, it rained in the morning, causing a large lake to form on the beach which we had to walk through. They notified me of this prior to my arrival and assured me it would be perfect. Tina and Sigrid joined us at our small dinner/reception to also be sure things ran smoothly and that I did not have to worry about a thing. In the end, they made me, my husband, and bridal party feel so comfortable. We did not have to worry about anything as we knew they were taking care of business. I would recommend Sun Weddings to anyone who asked. I feel blessed to have found them to help me with my wedding and will never forget what they did for my husband and me during one of the most important days of our lives. Thank you, Sigrid, Tina, and Sun Weddings Ali and Jarod | Florida
I would highly recommend Sun Weddings! They were amazing! I was in Ohio and they were in Florida and everything was just perfect .. Communication .. Ceremony .. Video .. and on top of that they were right there whenever I needed them! By far it was the best day of my life and it was even better than I could have imagined!! Thank you so much 🙂 Kassy and Alex | Ohio Sigrid and Tina were amazing to work with! Planning a destination wedding is stressful, but they always responded to my emails in a timely manner and had all of the answers! They were so helpful! I couldn't have picked a better vendor to help plan my beautiful beach wedding! You can tell that they are very experienced in what they do. They were so professional! The day of the wedding went so smoothly! We had a little rehearsal the night before so we knew exactly what to expect, which was SO helpful! Sun Weddings recommended awesome vendors! I took a few of their recommendations, and I couldn't be happier with their services! Morgan and Dustin | Ohio Sun Weddings helped me plan a wedding on the beach in Florida with me residing in Chicago! I was really searching for a stress-free experience, and Sun Weddings was the perfect fit for me to achieve this. Tina and Sigrid were available just about 24/7! Communication via email was my preference given my busy schedule and I never had to wait long for a response. On top of providing me with a beautiful ceremony, the ladies also referred me to wonderful vendors for styling, photography, and music. Tina made sure that any tiny request I had was addressed and problem solved if need be. I have not one tiny complaint about my ceremony – Tina took care of everything! I swear, she was probably the one who ensured it was sunny and beautiful by 6pm as well! Thanks for making our amazing day one that none of us, including our guests, will ever forget! Ashley and Roger | Illinois July 2013
Sun Weddings were brilliant – we are from the UK and needed lots of help – they were there for us every step of the way. All recommended suppliers were superb and they found a gap in the bad weather for our dream wedding on the beach. Our wedding was perfect! Jane and Tom | United Kingdom My husband and I decided to have a destination wedding on Venice Beach in FL (We are from MA). I googled beach weddings for the area and found Sun Weddings. From the first inquiry, they were very helpful and got back to me with information quick. They have many options for beach set ups – there is something for everyone. Since they provide the officiant and pull the permit for the wedding and set everything up it is great for the destination wedding bride. The officiant Scott is awesome, I had not met him besides emailing back and forth before the big day and I felt as if I knew him when I was standing "at the altar" with him! Tina and Sigrid are also awesome and think of everything. On my wedding day I had the worst luck there could be and a giant rain storm came in with strong winds. There was no break in the rain all day. The ladies were in contact with me all day as to what to do and dealt with me professionally as I was crying on the phone. They tried their hardest to get my ceremony to happen on the beach, but the weather would not let it. They had a back-up plan and secured Pelican Point country club for me to have the ceremony at. The set up was exactly the same just not in the sand. Everything still looked beautiful and the day went on. The only bummer is that if you do end up needing to switch locations it is going to cost you more money. However, in a situation such as this the show must go on – and it was worth it! Sun Weddings is a must if you are planning a beach wedding and I hope someday I can try again with them and actually get my "beach wedding"!!! Ginelle and Jay | Florida
Tina, Sigrid, and Christina from Sun Weddings were extremely helpful from the very first email all the way through the wedding ceremony to having our marriage license filed with the court house. I could not have asked for a more beautiful, stress free wedding and I am extremely pleased with their services, and would highly recommend them to any couple looking to get married in the Sarasota area of Florida. Sun Weddings also provided our wedding officiant, Scott Clark, he too is awesome! Tracy and Andrew | North Carolina Florida Sun Weddings is by far the absolute best wedding planner in the Florida area!! I couldn't thank them enough for all the hard work & determination they put into our special day!! Meagan and Adam | North Carolina The best decision I made (after saying YES of course) was to hire Sun Weddings! Like many of these reviewers, I initially contacted a few different vendors. They were all very nice, but something about that first call with Tina was just so reassuring. I knew we would be in good hands – and we were! Tina & Sigrid were so helpful and responsive to all of our questions and were such a pleasure to work with! Sigrid was our "day of" coordinator and handled every moment with ease. The décor exceeded my expectations and the officiant was outstanding! He took the time to get to know us and incorporated personality into the ceremony. If you are looking for a low-stress beach wedding that is still classy and elegant, then you need Tina and Sigrid! I would recommend Florida Sun Weddings in a heartbeat. Sandi and Mark | Colorado
Sun Weddings did a great job for my wedding, everything turned out great, especially the pictures taken by Christina. Any time I had a question, they responded quickly, also very professional. I would recommend! Katie and Nick | Illinois
I started my wedding preparations with contacting several vendors. Most never got back to me or couldn't work in my price range. Then I received a super quick response from Tina at Sun Weddings. Every time I had a question, she was very helpful and quick to respond. Tina and Sigrid are very friendly and did so much for my wedding. It was everything I asked for and more. The ceremony was beautiful and I couldn't have been happier. I would suggest going with this company if you want a smooth and amazing ceremony. The photographer was great and the pictures came out fantastic, even though it was a cloudy day. They guided me step by step which made it much less stressful. If I ever hear anyone talking about getting married on the beach, I will 100% recommend Sun Weddings. Did not have one problem or complication and everything was nearly perfect. Candace and Rick | Florida
Sun Weddings were absolutely fantastic! Right from the first email Tina and the team were so helpful and responded very quickly to every email (even with the UK-USA time difference!). Tina has been nothing but helpful throughout the whole process even allowing us to move the wedding a day forward due to bad weather. The wedding set was beautiful and offered great value for money. All recommended vendors were perfect and I will be highly recommending them all myself. Thank you Sun Weddings, we couldn't have asked for a more perfect day!
Hannah and Dale | United Kingdom
Sun Weddings is FABULOUS!! I originally met with Tina and did some preliminaries. She knew all the best sites for me to visit and knew 
all the right people for me to see. They recommend the perfect florist and bakery. Everything was very smooth. Sigrid picked right up, and contacted all the vendors, got balances due, and educated me on how things should proceed. She was there for rehearsal and kept us all calm and in the know! We are a crazy mix of latinos from different countries and she handled us with charm, grace and humor, while keeping us all on schedule! The wedding went off without a hitch, and Sigrid once again kept us all calm and on schedule. She was more than excellent! She stayed by my side when needed, and faded into the back when the time was right. She had all my gifts to my bridal suite like magic. It was absolutely perfect. I can't say enough about Sun Weddings! The pricing is excellent, they are extremely knowledgeable and they will exceed your expectations 🙂 Many, many heartfelt thanks to Tina & Sigrid <3 Carly and Joaquin | Florida When we decided that we wanted to have a destination wedding in Florida, we searched online to determine our options. Of all the wedding planners that we came across, Sun Weddings stood out the most. We were drawn in because of their well put together website and amazing photos, and that they were family operated. They were also within our budget and appeared to have pricing that was comparable to other planners. After meeting with 
Tina for the first time, we knew we had made the right choice. She was professional but also made us feel like family, we were instantly comfortable and felt like we were in good hands. In the year that we spent planning for our wedding, Tina and Sigrid were amazing, they guided us through everything and were available every time we had questions, we always had a response from them right away. They were familiar with so many resources and vendors in the area and were able to give us great referrals to fit our planning needs. When it came time for our wedding and the weather refused to cooperate, Sun Weddings was one step ahead and had already ensured that there was a plan B in place, we didn't have to worry about a thing! Even though we didn't get to have our wedding on the beach, the indoor space they prepared was beautiful! They made sure everything was perfect and that everything flowed smoothly. They made sure all of our vendors and everyone involved was on the same page. Cristina was equally as amazing as our photographer, she even went out of her way to make sure we had beach photos after our beach wedding was moved inside, meeting us on another day. They took care of the processing of our marriage certificate and provided us with the official copy and several certified copies within two days. We were also able to get our photos back before we left Florida, and they were amazing! We cannot say enough wonderful things about Sun Weddings and would highly recommend them! Christa and Tony
When I first decided to do a destination wedding, I was a little nervous about having to hire people that I wouldn't be able to meet ahead of time, so I put my full trust in wedding website reviews. After reading about Sun Weddings, I knew they would be a good choice. I found everything that others said to be absolutely true. They respond very quickly and thoroughly to all inquiries and took the worry out of everything for me. When we decided to change the time of my ceremony on the day before the wedding, they contacted all of my vendors for me and made sure everyone was on the same page. I couldn't imagine my wedding going any better with anyone else. Thanks ladies! Kelly and Mike
Sigrid and Tina are true professionals. They found me the perfect vendors for our 36 year Wedding Renewal. They were there to calm me down when the weather did not cooperate and were always available to answer any questions that I had. I have had wedding planners for my four children's weddings and they did not compare to Sigrid and Tina. They were devoted to every single detail. I truly could not have had the beautiful renewal if it were not for them. They are a great mother/daughter team. You could look anywhere and pay any price and would never find anyone that can make your event just what you want … and more. Thank you, Sigrid and Tina – it has been an honor working with you!!! Miss you!! Brenda and David | Ohio
Sun Weddings did an such an amazing job, everything was set up so beautifully I could not have asked for a better wedding than what these ladies gave to me. It literally took my breathe away as I was walking down the aisle. They are always there for you, they respond quickly to every question whether it be email or text or phone call. And most of all they make the BRIDE comfortable that everything is going to be ok and just enjoy your day, and they did just that. I wish I had another occasion to have them help me with 🙂 Kristin and Daniel We were married on the beach in Venice, FL on Dec 27, 2012. Sun Weddings help us organize our wedding and they were wonderful!!! We had a very small wedding but Tina and Sigrid never treated it like it was no big deal. The set up was beautiful and everything was perfect. Special thanks to Pastor Scott, he was great. I would recommend Sun Weddings to anyone thinking about a destination wedding in Florida. Thank you so much for making our day so special. Mr and Mrs Joe Armstrong (Yolonda Granato)
I have received the photos via mail and we absolutely love them! They are beautiful and I would like to THANK YOU ALL so much for the wonderful event that you have organized. You made this day very special for all of us. GREAT JOB. Everyone in Poland could not believe how simple and stress-free this happened and without you guys we would not make it! Cheers, Ana and Jacob I cannot express enough how special Tina and the Sun Weddings team made my day!! I was petrified to engage in business strictly over email, texting 
and phone. I took a leap of faith after reading the reviews on the site, and decided to have the Sun Wedding team plan my perfect day! And did they ever!!! I never once felt like a stranger, and as it was just us eloping, I found it comforting to know that Tina, Christina and the rest of my adopted family were there for me!! Tina is the most attentive person I have ever met and even when I was hysterical at the airport due to flight delays and such, she was the ONLY person who could calm me down and get me through my panic! Thank you, Tina!! I would be remiss if I didn't mention Christina!! She is incredible and my pictures came out absolutely beautiful! She spent so much time with us and made us feel so comfortable! If you are looking for event planning…this is your team! Look no further…you have found yourself an amazing venue with amazing people who treat you like family!! I really cannot thank you all enough! Thank you for always! Kristyn and Dustin
Hi girls!!!
We hope things are well with all of you!  We look back at our pictures and think what a beautiful job all of you did to make our day so special J  You are all amazing!! We just celebrated our first anniversary on the 7th, we can't believe it has been a year already.  We were going to try and come back for our anniversary, but maybe next year and we will be sure to call you for a glass of wine! Howard and Kristi
Tina and the Sun Weddings Team are the best you will find. Working for The Walt Disney Company for many years has taught me to recognize great customer service or often times poor customer service. The Sun Weddings Team delivers amazing service. If you are the bride who wants to plan every detail and ask a ton of questions, they will respond immediately and make things happen. If you are the bride who only wants to consult on a few items, they will create an amazing event for you based on your initial conversations. After my first conversations with Tina and The Sun Weddings Team, I knew I had made the right decision choosing them to plan my special day, however, what I didn't know then was that I had made lifelong friends.
Jamie and Chase
My now husband and I live in central Indiana but we decided to get married in Florida. I did all my research and planning online and Sun Weddings was very good at email correspondence. They were very flexible with the package details and even offered to switch our venue site the day before the wedding (had we wanted to). I would definitely use Sun Weddings again (only this time, for a vow renewal ceremony instead of a wedding). Thank you so much Sun Weddings for making our special day so beautiful! Melissa and Cameron October 2012
Thanks to the team at Sun Weddings our special day was amazing and one we will remember for the rest of our lives. The organization was akin to a military campaign but at no point were we made to feel uncomfortable even when the pressure mounted. They were very personable and all of our worries were taken away by their absolute professionalism. Thank-you for giving us such great memories of our wedding day. Adam and Janette September 2012
The Sun Weddings team were a dream come true to me. I live out of state and was worried about planning a destination wedding. Sigrid and Tina not only helped me plan, but made me feel so comfortable and calm about the entire process. They feel like family after 5 minutes of meeting them. I couldn't be happier with the wedding experience I had with them, and plan on renewing our vows just for the opportunity to work with them again. I would highly recommend them to everyone! I promise you will NOT be disappointed. They made all our wedding dreams come true. : )
Victoria and Ryan September 2012
Tina, You were amazing!!!! I thank you for everything you did for me and my new husband!!!! Everything turned out beautiful:) With all that you did for us it made our weddings much easier… I was able to relax and enjoy my time…. You're the best!!!!!
Mr. and Mrs. Regina (Kavanaugh) Jones June 2012
Hi Tina! Now, that I have settled in and adjusting to married life, I wanted to take a moment and say thank you to you and your mom so very much for your 
professionalism, outstanding customer service, but most importantly making our wedding day dreams come true! You and your mom were AWESOME!!! I couldn't ask for a better team! Sun Weddings made everything perfect! From our first encounter I felt that Eric and I were in good hands! You all made us feel very comfortable with your ability to coordinate a wedding! You answered all our questions, responded expeditiously to our emails and phone calls! On our special day you all were wonderful! Our guests were very impressed and gave many many compliments to your business. Words can not express my gratitude for your ideas, suggestions, planning and implementation! I felt like a queen through our entire journey of planning the wedding and our wedding day! It was just magical and I get teary eyed every time I think of our special day. Eric and I are so grateful for everything you all did for us! We thank God for you all and pray continued success for your company!! We highly recommend your services to anyone getting married in the Florida area! We were married in Sarasota, Florida and it was the most beautiful day a bride could dream of! Thank you and blessings, Robin and Eric May 2012
We were planning our wedding that was held in Sarasota, FL but we live in Idaho. So immediately we knew that we would need to hire a wedding planner. We spoke with Tina then decided to go with a different planner instead. Well that was a HUGE mistake, it all fell apart about a month or two 
before our wedding. So in a tizzy I called Tina to see if there was anything she could do to help. Right away it was no problem, she got off the phone with me, and in 15 mins had called me back to let me know she had locked down our ceremony site and that all would be fine. Then our photographer fell through for personal reasons. Not only did Tina and her team find a new photographer (Cristina who is apart of the Sun Weddings team and took gorgeous photos… I just love them!) but Tina let me cry and scream about the personal issues in my life and gave me her always helpful and listening ear. This is obviously not her job as my wedding planner, but it didn't matter to Tina, she was there! The day we were supposed to get our wedding license (a day before our wedding) we were running late because of traffic. Tina directed us to her office. Then we followed her to the court house. She knew everyone there so we didn't have to wait around for anything, they just got right threw before they closed. Hey it helps to know people, right? On our wedding day the beach parking lot was packed, so she had my guests pull to the curb and one of her team members parked cars so everyone would be to the ceremony on time. The ceremony was PERFECT and GORGEOUS. It's hard to put your trust in someone halfway across the country, but it was never hard with Sun Weddings they always made us feel comfortable. In 5 years we plan to go back to Florida and renew our vows. Florida Sun Weddings will be the first team we call to help us make it magical AGAIN! Thank you Tina, Sigird, Cristina! Idaho loves you all!
Christine and Aaron | Idaho May 2012
Tina, Cristina, and Sigrid:
Now that we are back in Ohio and Anne and Andrew are on their honeymoon, I have a moment to reflect and process the past week.  As the mother of the bride, I just want to thank you all for your help and services in planning the wedding this past week-end at Venice Beach.  You made having a destination wedding doable and removed the stress!  The setting was lovely, as we knew it would be, but having all of your recommendations for music, flowers, hair, cake, photographer, and reception was well worth the money.  You steered us in the right direction and we were totally happy with EVERYTHING!  We were especially pleased with Scott (the officiant) and his attention to the actual wedding ceremony itself; his words of encouragement to the bride and groom were "right on."  Pelican Point was a beautiful place for the wedding dinner and their consideration to our needs was over-the-top, not to mention the delicious food. Tina, thanks for taking all of our calls this past month and answering many questions.  Cristina, thanks for your calm, cool, and collected demeanor on the day of the wedding; you directed each and every person and had us where we needed to be.  Sun Weddings is TOP KNOTCH and we are grateful to all of you. With kindest regards and many thanks, Christa A. Beach (mother of the bride)
Ann and Andrew | Bryan, Ohio February 2012
Tina with Sun Weddings did a fabulous job from answering all of my MANY questions, to the set up of our special day which was absolutely beautiful! The Officiate performed a beautiful ceremony and had a great personality. Our wedding was set up on Venice Beach and this was THE PERFECT beach for a quite wedding setting on a beautiful white-sand beach. The ceremony was right up on the water and the walking distance from parking lot to wedding site was perfect! Wedding coordinator Tina was very accommodating to our special request for the sand ceremony which was just amazing in itself….. Photographer Cristina did an amazing job with capturing our special day and took so many pictures, and all were great!!!!! I can't express enough how glad I am that I picked this organization to handle my special day….. They were very prompt in getting our marriage license filed and our photo CD was in our possession within days of our wedding day…………..
Sherry and Michael August 2012
I dealt with miss Tina from the first phone call to the actual wedding, and keep in mind, it was all within 8 weeks. They not only worked with Jen and I on a date that worked out but financially we felt comfortable using her. She was actually the one who organized my best friends wedding 6 years ago!!! Wouldn't have had it any other way. Thx Tina!!!
Jennifer and Randy | Florida July 2012
Hi Tina, I think we are all still floating on cloud nine! We had such a remarkable experience and it all started with you and Sun Weddings!  We would never have had such a beautiful event had it not been for your team. You really have gathered the best of the best when it comes to all the different vendors. Tibor's photography is amazing.  Amy feels as if he really captured the day in a story form. He made her feel so comfortable too. I can see why you feel so strongly about Mattison's.  They are superb!  Everyone raved about the food and service.  They were good in every way imaginable.  I spent all my time communicating with Sally who was terrific. Tina, we cannot thank you enough for giving us all the right steps to take. Scott was amazing too and Amy was just so pleased about how everything went so smoothly.  She felt as if her wedding day was perfect.  What more could a mother want for her daughter.  Thank you from the bottom of our heart from our first phone call to May 10th! Loads of love, Jacque (mother of bride) Amy and Kevin May 2012
Hands down the best! Very knowledgeable of the area and provided great referrals to any services we required. A trustworthy team that will handle anything you need them to. Randi and Justin | Mount Ephraim, NJ May 2012
Tina and Sigrid from Sun Weddings were absolutely fabulous from start to finish. They were a stunning example of professionalism and made the whole process fun for me. I am extremely detail oriented and was concerned that I might expect too much from my wedding vendors. I was pleasantly surprised when Tina and Sigrid were able to take over all the details and just let me lead them in the right direction during our initial discussions to the point where I didn't have to worry about anything on my wedding day. They kept everything on schedule and running smoothly while coordinating with many other vendors and our reception site. They are truly amazing and I loved working with them. For any bride who is unsure of hiring a planner, they are worth every penny! To be honest, as perfect as they were, I would have paid double after getting the experience I did. I very highly recommend! Jennifer and Joshua | West Chester, PA May 2012
Hi ladies! I just wanted to say thank you so much for the beautiful wedding! It far exceeded all of my expectations. You guys were great to work with and made my special day even more special. I will never forget you and the kindness you showed! Terry and I thank you from the bottom of our hearts!! Thank you,
Jennifer and Terry | Indianapolis, IN May 2012
Tina, Sigrid, and Cristina were so wonderful to work with. Everything was perfect for my ceremony all because I had them with me the whole way. Kristine and James June 2012 I just wanted to let you know how wonderful Tina @ Florida Sun Weddings was during the entire planning process & event of making our wedding day absolutely perfect on Siesta Key Beach! Tina was very quick to respond to all of my questions & concerns & she had very timely follow up. During the entire event planning process, she was patient, kind, dependable & she made sure that everything came together on our wedding day as planned. All of her vendor recommendations were absolutely fabulous & I would highly recommend her & her team's services to everyone! Holly and Chris | June 2012 Tina, you were amazing!!!! I thank you for everything you did for me and my new husband!!!! Everything turned out beautiful:) With all that you did for us it made our wedding much easier… I was able to relax and enjoy my time…. You're the best!!!!! Mr. and Mrs. Regina (Kavanaugh) Jones June 2012
Hi Tina, THANK YOU THANK YOU sooooooo much for everything that you all did, truly amazing team! You are such a wonderful leader as well, it all looked so 
beautiful, I could not have asked for more. Except maybe a little longer for no rain, lol. I am so happy you got me out the door, or we would not have had the time to get as many pictures as we did. I enjoyed every moment of it all as well as our honeymoon. If I ever move back to the coast and need another partner, I just might have to reach out, as I was so impressed and miss the event side of everything I use to do in radio. The wedding really brought it back and getting to marry the man of my dream in the middle of it all 🙂  Be sure to keep in touch, and once I get all settled with work, I plan to add my pictures to a couple wedding websites and as long as you approve of us including you all, I will be sure to share what great work you all do!! THANK YOU, THANK YOU!! Xo Kirsten and David | Jacksonville, FL April 2012 Our daughter was married on Lido Beach in April and we are so glad that we chose Sun Weddings as our long distance wedding planner! Tina's prompt response to any phone calls or emails concerning arrangements was amazing! We even had a last minute change the day of the wedding, but thanks to Sun Weddings, everything was still perfect. You can tell that Tina and Sigrid love what they do – I highly recommend them to anyone who is looking for a professional, organized, and caring wedding planner! Kristy and Tom | Charlotte, NC April 2012
Tina, You are amazing…. At your job, but most importantly as a woman! Right from the start, that very first phone call, we knew you were going to help 
make our wedding exactly what we dreamed of. I still remember that call. Not only were we getting the A-team wedding team but gaining a forever friend. Jeff and I became so close with you, and you made EVERY SINGLE request possible, no matter what! I still believe in my head that we had this amazing connection and you knew exactly what we wanted at all times, but in reality it's just that you are so good at your job!! I will never forget seeing you at Bonefish, the anticipation of finally meeting you was great, and there stood our Beautiful wedding coordinator! Thank you for making Jeff and I feel so special… Our wedding day was more than we ever dreamed of… It was pure perfection. Thank you for making our day as smooth as possible, even with some of my crazy family 🙂 Christina – you are a little beauty, and for being so little, you can definitely get in there and get the job done and we thank you for that! You guys truly work as a TEAM! Here comes my only regret, I never met Mark… I heard he was "the guy with the hat on" who set things up. Mark, it would have been a pleasure and honor to shake your hand or give you a hug. Thank you for helping to make our day amazing. Tina…this is not goodbye, it's only "see you soon" because that we will do! Until then, may God bless you all and may you continue to make other couples' dreams come true, as you did for us! XOXO, Nina & Jeff Nelson
Nina and Jeff | Chicago, IL April 2012
Tina was most helpful in arranging our last minute wedding. She made us feel totally comfortable. We are so pleased with their service and glad that we could include them in our special day. We wouldn't change a thing!
Sheana and Matt | Nashville, TN April 2012
"THANK YOU SO MUCH FOR HELPING TO GIVE US THE BEST WEDDING EVER!!!"
Everything was so perfect. Your experience, professionalism, and confidence was able to help me put my worries at ease and allow me to let you all make our wedding day great. I've been referring to the wedding as my "fairy-tale" wedding because it was even more beautiful than I ever dreamed. Also, the pictures were great. Christina did a super-fantastic job. We've received so many compliments. Lastly, but certainly not least, is Pastor Scott…his wit surely kept the crowd entertained. It was a pleasure to have him officiate our wedding ceremony. You all are great! Take a look at the slideshow I created on YouTube with the pictures Cristina captured. I hope it's okay that I mentioned the Sun Weddings website…everyone was asking.
Tyrie and Jeff | Ft Wayne, IN April 2012
Sigrid and Tina were a fabulous team. From day one of hiring them they quickly responded to emails to help answer my questions or suggest vendors. They simply offered suggestions on which they know best but were not too pushy if I went in another direction. Starting a few weeks before the wedding they created a timeline of events and modified as I felt comfortable. They starting contacting all my vendors and set up a schedule with them as well. The day of the wedding they kept everyone in line and organized everything. I didn't have to worry where any of my vendors were, they worried for me. The day was so easy and smooth with them.
Heather and Jonathan | Baltimore, MD (full wedding planning) March 2012
Tina was wonderful!!!!!! We live in Ohio and planned our Siesta Key, Florida wedding via email & phone calls. She thought of things we didn't to ask and consider. On the big day, she was more helpful than I can say. Her recommendations and ideas helped make our day that much more special!!!
Barb and Ken | Hudson, OH March 2012
If you are looking for a wedding planner you must pick Sun Weddings!!! Absolutely LOVED working with them! We worked with Tina Gebel & she is such a sweet, genuine lady who wants to make your dream wedding come true!! She is very quick to reply, very professional but never stuffy, she listens & makes your dream wedding happen! I would definitely recommend Sun Weddings to all future brides! Tina made our day very special & memorable. We planned this for months with Tina long distance from KS. Thanks, Tina & the Sun Weddings group for giving us the best day of our lives!!!
Melanie and Tyler | Olathe, KS March 2012
Tina and the Sun Weddings Team were such a pleasure to work with! I truly give them a 5-star rating. I'm big on communication and was thoroughly impressed at the response times whenever I had questions or concerns. When we initially were searching for a wedding planner to assist us with our beach wedding we called many different vendors. Sun Weddings wasn't the cheapest we found, however, we felt after speaking with them that they were more professional and organized than others we had spoken to. Their services were worth every penny we paid!!! From the beginning, Tina and her team presented themselves in a very professional manner. We could tell they took their jobs seriously and were determined to make our special day very special!
Kristin and Brad | Gansevoort, NY January 2012
Dear Tina and the Sun Weddings staff, Planning a wedding across two time zones has its own set of challenges, but thanks to you and your staff, our day was everything we could have dreamed. Your professionalism and confidence made the usual wedding stress melt away and allowed for Mark and I to truly appreciate each other and our new lives together. Thank you for your attention to detail, and your careful planning which also made each moment better than the last. We're not quite sure how you arranged for that perfect sunset, but we are not surprised that you even made that happen for us. Thank you for making our dream come true!
Lee and Mark |Denver, CO December 2011
Our wedding was just beautiful and it was all thanks to everyone at Sun Weddings. They picked up where another planner left us in a bind and it all came together so smoothly and seemingly effortless on their part. We did not have to worry about a thing. I would highly recommend Sun Weddings to anyone planning to get married in the Siesta Key area. Tosha and Greg  December 2011
They provided a service beyond of what I expected, they answer all my questions, they stayed in touch with me, and the setting was beautiful. All of my guests are still talking about it. Thanks, Tina and Sigrid, you are the best!!!!! Adriana and Tim | Venice, FL October 2011
Cristina, We are speechless! This is such an AMAZING slide show, it brought tears to our eyes. We could not be more pleased with you and Sun Weddings and how perfect our day turned out to be. The weather was absolutely perfect and having you and Tina there to help share our day really is priceless! It's amazing what one can find by doing a simple google search for "Florida Beach Weddings", boy were we lucky to find you guys. We are SO SO very thankful that we chose you to capture our day and that Tina recommended you. Just by seeing the slide show we are extremely pleased with our photos and your talent. We've sent the link to family members and they are just amazed. We can't thank you enough. Lisa and Kris | La Plata, MD September 2011
Look no further for a Wedding Planner. I highly recommend Sun Weddings. Tina, Sigrid and your team….you are the bomb-diggity!!!! Your attention to detail, professionalism, wonderful warm personalities and not to mention your "right on" instincts regarding the weather made my niece's wedding a HUGE success. The vendors you recommended: Officiant, photographer, reception venue, transportation, flowers, cake, ceremony music and make-up were ALL absolutely fantastic! My niece chose the "White Elegance" package for the ceremony decoration…so beautiful! I'm glad I live locally so I can run into you again at another Siesta Key wedding! Helen Gercas (aunt of the bride) Rhonda and Joe | Chicago, IL September 2011
If you are looking for the VERY BEST in beach weddings, these are the guys to turn to! From the moment we met Sigrid and Tina Gebel, they set our minds at ease. We went to meet them with a folder full of information and questions to throw at them about what we had envisioned. Every last detail and inquiry were met without hesitation. They personally and delicately keep in touch with us every step of the way through our six months of planning, which was very important as this was a destination wedding and we could not be in town to hunt these services down. They had dozens of recommendations and resources available right at our fingertips for every aspect of our planning. Photo, video, florists, hair, make-up, hotels, transportation, cakes, dining, wedding priest/officiant; they have it ALL down. They offered the very best of each service, but also made it possible to get the very best at a wide range of different prices as to accommodate any income. At no point did we ever have to worry about our next step, because they were behind us every step of the way. We were even allowed to custom-arrange the scenery/decorations they offered and pick the exact beach location for the ceremony! As far as a "hands-on" team, they are number one!!! They have been referred to as the "Dream Team", and I for one can say in up most sincerity that does not even give them justice! They are well beyond professional, but still are so sweet, down to earth, and amazingly easy to talk to. Hugs are a must when around them!! We are more than pleased with Sun Weddings, and would highly recommend them to anyone with a dream of the world's most perfect wedding experience!!! We can't wait for our first, and each following wedding anniversary, as we plan on each year making a stop to personally thank Tina and Sigrid as well as the rest of the Sun Weddings staff with a HUGE hug to thank them for all they have done for us. Best of wishes and blessings, Jessica and Gaetano | Melbourne, FL September 2011
Thanks again FloridaSunweddings for all your hard work on our wedding. We were so blessed to have found such an amazing team to help us plan our wedding from 4 states away we love you guys! Amber and Nathan | Ohio July 2011 Hello,
Now that all the excitement is over, I personally wanted to thank you for everything you did to make my son's wedding "Just Perfect".  I have to confess that I was not happy at all that they wanted a beach wedding.  I am very old fashioned and wanted a church wedding right here in our hometown so that "Everyone" could see them get married, but, much to my delight, their wedding was just beautiful!  Much more than I expected it to be.  The venue, the set-up, the steel drum, the perfect orchestration.  It was awesome, and all thanks to you!  I have never seen my son, nor his bride, happier and that is all a Mother could ask for.  The minister/officiant made the ceremony so personal and I was very happy to have the words God and Family brought into it.  He did a wonderful job! Once again, thank you very much. Sincerely, Karen (Mother of the Groom) | Pennsylvania June 2011
Hey Tina,
You all were wonderful! I couldn't have asked for a better group of people to work with from Sun Weddings… Kim Dyer Photography… Scott Clark… Jorge (DJ)… Vincent… And thank you for recommending Inn at the beach and Quarterdeck condos. I know that everyone was extremely satisfied. I will tell you this… If someone wants to do a destination wedding… I will highly recommend Sun Weddings. I can not thank you enough. Just got back home from our honeymoon… It was a blast! Kallista and Blake | Oklahoma June 2011
Sun Weddings are amazing! From the moment we met them in March 2011, I knew our wedding preparations were in the safest of hands. We were leasing with them from the UK but I was so assured and happy with Sun Weddings planning my wedding. The ceremony was exactly as we imagined and more, it was beautiful and a moment that will be with us for the rest of our lives. Sun Weddings are very professional in every aspect, and affordable. We cannot recommend them enough.Thank you Sunweddings for making our day so special. Louise and Aaron | England May 2011
I just wanted to express my sincere gratitude for making our dream wedding for our daughter come true. I know in my mind and heart it would not have been the beautiful event it was, without the two of you. Your professionalism is unprecedented. I will be forever grateful, and will recommend you to the world. Warm Regards, Wendy May 2011
Dear Tina, Our wedding day was perfect. Thank you so much for all your hard work. I'll never forget how perfect our day was. It was amazing! Christin and Josh March 2011
Hi Tina and Team,
Hugo and I can't thank you all enough for being such a BIG part of our special day…I told everybody that from beginning to end you all were always there and that means a lot…it shows your dedication and commitment to your bride (and groom) at such a tender yet needy time… but also how you become "one" with the bride and groom… you all added such a personal touch to our special day… and we will definitely love to leave comments… about the service as well as the wonderful team of vendors you put together… Everyone was remarkable… and we couldn't have asked for a better day… better venue… or better team to make our day as special as it was… Thank you for sharing your emotional story about your Dad… It's never easy no matter how many years pass by… and to visualize that moment brings it all back… but as we both know… they are watching over us… and even celebrating how we connected. I'm so grateful that doing a "Google" search lead me to you… you are truly an amazing person… Hugo and I are truly appreciative for all you and the team did for us… Let's stay in touch… Send my love to the rest of the team… and we wish you all a HAPPY NEW YEAR! Shedena & Hugo | Sarasota, FL December 2010
Tina,
To you and all your staff, a huge thank you for making a long distance wedding a simple pleasure for me, Noel, the mother of the bride from S. C. and Meg, an over-worked, stressed out girl from N. C. The music man was perfect, the photographer was perfect, the set up on the beach perfect and I know you really weren't responsible for a perfect day to be fitted in between two freezing ones but weren't we all lucky that the sun came out at just the right time? I would give you the highest recommendation possible to anyone who wanted to contact me. I can't think of anything you suggested that was not the very best…flowers, cake, restaurant. Thank you for making it simple, easy, stress-free and as I said before perfect! All with a couple of E-mails and phone calls. Thank you so very much and best  wishes for a Happy New Year and continued success. Meg and Mike | Huntersville. N.C December 2010
Tina, I am SOOOO happy we went with you to coordinate our wedding!!!  The compliments we received on our wedding day were amazing and you guys got a huge THUMBS UP!  The set up was much more than I had ever imagined!  It was a dream come true!!!  We did not have a rehearsal and you made us feel very comfortable with what we needed to do.  The girls in my wedding went on about how great you were!  You are awesome at what you do and THANK YOU for making our day so special! Love, Shelley and John November 2010
Hi Tina, I believe I just had every little girls' fairytale wedding…it was amazing! I am so grateful to the people who made this day perfect for Steve and I and to the people who came to be here with us and celebrate…. Planning a destination wedding is never easy, but you and the vendors you recommended were excellent and made it all that we could have asked for.  The flowers were perfect and dinner at Mattison's was unforgettable. Brittany Wiard Kammeyer  November 2010
The Sun Weddings Team played such a crucial part in making our special day perfect. Mattisons 41 was wonderful, Flutterby Gardens and Beneva Flowers were also wonderful. But the most wonderful out of all of our experience was Sun Weddings. Our wedding would not have been the same without you. As for Tina, you went above and beyond and really took the time to make sure the Bride and Groom were happy and that you had done everything that you could to assist us. I would recommend you to anyone that asked my opinion! Sincerely, Brooke Brooks | Noblesville, Indiana September 2010
Hi Tina, Thanks so much for putting everything together for our wedding.  Because of your efforts and that of everyone at Sun Weddings, our special day went very smooth.  I would highly recommend your services to anyone in need of a wedding planner. Thanks again, Bryan and Yokaira September 2010
Steve and I would like to thank all of you for making our wedding day such a wonderful experience.  We both had such a wonderful time, and much of that goes to all of you. Linda – the hair and makeup was amazing.  I received so many wonderful comments and felt very "natural".   Thank you for taking the time to do Leslie and Hayley's hair as well. Horatio and Thomas –  thank you for being there and offering such wonderful suggestions on pictures and what to do.  I am so looking forward to seeing the pictures, especially the ones of Steve seeing me in the dress for the first time. Sigrid and Tina –  thank you for everything that you did not only during the months prior to the wedding but especially the day of.  I felt totally at ease and did not need to worry about a thing.  Having you both there to manage everything was great.  Every time I went to do something, you both had it covered.  I was so comfortable knowing that you both were there.  I received so many comments about the ceremony set up, the organization and how wonderful you both were. Scott – thank you for so much for a wonderful service.  You did such a wonderful job.  So many people commented on what a great ceremony it was.  Thank you for keeping Steve "in line".  We both laughed so hard about him trying to sneak in the kiss and how you "slowed" him down. The day would not have been what it is was without all of you.  Thank you! Steve and Katherine  | Windermere, FL August 2010
Liebe Sigrid, Nur mit deiner Hilfe wurde dieser Tag unvergesslich fuer uns. Wir danken Dir von ganzem Herzen fuer Deinen unermuedlichen Einsatz und wuenschen Dir und der ganzen "Sunweddings – crew" alles Gute fuer die Zukunft. Sarina und Brian | Netherlands September 2010
"If you are looking for a wedding planning team that is well organized, experienced, and truly cares about your special day Sun Weddings is YOUR team! These three beautiful women are amazing and will put every ounce of energy into your event! We planned our dream beach wedding all the way from Ohio and these ladies made planning so easy all while making us feel so special! They are dependable and always quick to respond!! They are truly Florida's finest wedding planners!! I wish that every bride could have these three special ladies as their wedding planners! Their passion for wedding planning is remarkable and their hearts are filled with the desire to serve brides how ever they can! I love the Sun Weddings team and I full heartedly recommend this team if you want to have an unforgettable wedding experience! It will be the best decision you will ever make!!!! The Sun Weddings team made us feel like family! We will forever be thankful for all of the love, support, and enthusiasm they put into our special day!!!" Jeremy and Ashley  | Ohio September 2010
Just wanted to say Thank you! You were the best, and I really appreciate all your help! Thank you again for being so great to us!  Hope all is well and I am sure we will see you again… FL is wonderful and we might have to make a place to meet every few years… and we should come back and say Hello! Thank you again for everything… You made it so comfortable for me… even without my family … I was great with you both! You're Forever with me!! Thank you! Jordin Giles  | Indianapolis, IN July 2010
The Sun Weddings team was superb! I felt completely at ease prior to the wedding and the day of our ceremony. I live in Cincinnati, Ohio and worked with Tina Gebel through email. Every time I contacted Tina she returned all emails immediately, all questions were answered and great recommendations were given for vendors. I would highly recommend Sun Weddings for any couple seeking a perfect wedding day! Thank you so much Tina and the Sun Wedding team!!! My wedding was everything I'd hoped for! April Balser Wickert | Cincinnati, OH June 2010
Sun Weddings did a fantastic job planning and executing our wedding! Our wedding was exactly how we had imagined and more. Tina, at Sun Weddings, was great to work with and went out of her way to make sure I wasn't stressed. I would highly recommend Sun Weddings to everyone planning their wedding! Thank you, Sun Weddings! Natalie and Jeremy June 2010
Sun Wedding is a top notched, family operated business that I can't say enough good things about. From the first time I spoke 
with Ms. Tina, she made me feel at ease about planning a wedding so many miles away from home. She made us (my daughter & I) feel as if we were the only people she was working with, which I know wasn't true because there were several weddings the week of ours. But one thing is for certain whatever we wanted she was determined to deliver, and deliver she did. The set up was absolutely gorgeous! My family had a lot of catastrophes take place right in the middle of the wedding planning, I never feared tho, because Ms. Tina just kicked it in high gear and took care of everything. I know my daughters wedding would NOT have been as beautiful had it not been for the team at Sun Wedding. If a destination wedding is what you want. Then make sure to include Sun Wedding in your destination! I promise they will make your special day the most amazing & memorable day of your life! It has truly been a pleasure working with Tina, Ms. Sigrid, and Christina. I may have hired a stranger, but I left with a life long friend! I am forever thankful! Kitty S. Mother of the bride Ashley and Will | Tennessee July 2010
Dear Sigrid, Tina, and Christina,
Rhondi and I would like to thank Sun Weddings for actually caring about us and our special day as if we were family. Tina and Sigrid did whatever it took to set our minds at ease and alleviate much of the stress around planning a destination wedding. Everything about our day was beautiful and these beautiful ladies were on top of things from the first time that I contacted them until our last hug goodbye a couple of days after our wedding. Every service that you provided was amazing. Your relationship with our vendors made our day pass as flawlessly and beautifully as we had dreamed it would. Whether it was a welcoming hug each time that we showed up at the office or the offer of a cold drink after a long day traveling you always made us feel at home and cared about. We can't thank you enough and will be sure to drop by and say hello next time we're in town.
Phil and Rhondi
Everyone at Sun Weddings is so nice! I wouldn't have made it without Tina's help! Tina was so patient and understanding and always reminding me that everything would be perfect – "no worries"! And it was! What a beautiful day. Thank you, Tina, for helping to make the most important day of my life so wonderful. You're a very special person and are soooo great at what you do. Thank you for everything!
Denise H.
I just wanted to write to thank Tina for doing such a wonderful job with my beach ceremony. From day one of talking with Tina, she was very helpful and was always there 24/7 if I ever had a question. Since I was a little girl I was dreamed of getting married on the beach. Needless to say, Tina made this dream come true for me!!!!! The beach set-up was Beautiful and the minister she provided for me did a WONDERFUL JOB during the ceremony! All my guest told me that the loved the set-up and said that whoever did it, did a wonderful job! Not only did Tina make sure I had the set-up of my dreams she came the day before to go over everything with everyone to ensure that everything would go smoothly (well probably more to make me feel like things would go smoothly)!!! On the wedding day, she helped out with everything, she even helped videotape the ceremony!!!!! In addition, during pre-ceremony she brought up champagne for my maid of honor and me, which helped me to relax a little bit because I was starting to get very nervous. Words cannot explain how thankful I am for everything Tina did for us, she truly made our Special Day Unforgettable for our guest and us!!!!!!!!!!! I would recommend Sun Weddings over and over again to anyone getting married down in Florida!!!!!!!!!!!!!!!!!!! Thank you again for everything!!!!!!!
Michelle and Zachary K.
We wanted to take a few minutes to tell you thank you for all the you have done for us.  You both helped make our special day even more special.  Plus it's a memory, LOL.  I will never forget how frustrated I was that we were running late to my own wedding.  (was raised to never be late) and here we were.  But Tina helped keep me calm and when we got there I never will forget when Tina ripped me out of the back seat of the car and said hurry we are losing sun. And then she ran after my mother and took my niece and gave her to whom needed to watch her.  If it wasn't for you doing all this, I don't think we would have had as nice of pictures from Andrew as we did.  I will forward some as well for you to keep or if you want to put us in your book to show off Andrew's work.  He was so great to work with as well.  I will always talk of you all and recommend you to others.  Thanks again Sooooo much we couldn't have done it without you all at Sun Weddings. Thanks, Rodney and Angela H.
Hi Tina, Yes..we are still on cloud nine..it was a wonderful week and beautiful wedding! Thank you so very much for making it so easy for us, I cannot imagine planning a destination wedding on our own! There have been so many details thus far, and being able to pretty much show up for the wedding was such a relief! Everything was perfect!Mark told me later that Nicole was so nervous minutes before the wedding when he was getting ready to walk her over the sand dune.But when they came over the dune and she saw the wedding site, she was so happy and loved the way everything looked. So thank you again for making our girl's day one of the happiest ever! Cathy C. | Dayton, Ohio
Ladies, I am not sure if you will remember me; my name is DeAnn Kenney-Garrett.  I just ran across my "wedding binder" from 2006.  It brought back memories of how lovely my/our wedding was almost 4 years ago..  Everything was so lovely and you kept my nerves at bay ~ I just wanted to thank you again for all of your help and support.  My friends and family that did attend our wedding still comment on how lovely everything was.  I am attaching a picture from that day as well as pictures of the two additions to our family since then (Sophia born 9/11/07 and Seth born 10/22/08).  Thanks again for everything!
DeAnn
They are awesome!  Previous to our wedding, our experience to Sarasota was limited to a week job and one trip to the area to help plan the wedding.  Tina and the team are wonderful, they helped introduce Siesta Keys and the Sarasota to us – great restaurants, wonderful lodging, and of course, an amazing wedding on the beach!  Sun Weddings exemplifies the standards for a great business: ethical, trustworthy, detailed oriented and very reliable. We had such a good time that we are already planning our 2010 trip to Sarasota, we just couldn't get enough of such a great place. Thanks, Bob and Blair Zenker | Maryland
SUN WEDDINGS was the first wedding planner we called. Tina made such a stunning first impression and was so easy to talk to we never even called another planner. Within minutes, we were feeling warmth, safety, and trust with Tina and Sigrid. Sigrid has a beautiful grace about her. Cristina has a wonderful, creative gift with her video talents. They treat you like a part of their family and you will feel like everything they do comes straight from their hearts. SUN WEDDINGS was more than quick to respond to our every need and questions. Every vendor they recommended was awesome and was just as quick as responsive. The compliments were ongoing all night from our friends and family about how much they enjoyed the wedding. Our families asked us on several occasions "where did you find your Wedding planners.They really are wonderful!" We feel very lucky to have found SUN WEDDINGS our wedding would not have been the same without them it truly was everything we imagined and more! My husband and I both remarked to each other how much fun we had with our ceremony and reception. We would recommend SUN WEDDINGS with our highest praise! We have nothing but so many thanks, praise, and respect for SUN WEDDINGS Sigrid, Tina, and Cristina, they will forever be considered a part of our family. Tammy and Mark | Virginia
Sun Weddings Planners provide absolutely phenomenal services. They give you constant attention, making you feel as though your wedding is as important to them as it is to you and they always keep you updated as to what is going on. They are extremely easy to talk to and completely understand the stress of putting a wedding together. They offer suggestions as to what vendors to use (they are not pushy at all, like other wedding planners that I spoke with) but I highly recommend using the vendors/people they suggest. Brides, they know their stuff! They got me an incredible makeup and hair stylist to come right to my honeymoon condo to do my hair and makeup before the wedding and I can't tell you how many compliments I got. Although Sun Wedding Planners are professional, they also make you feel like family, and they only want the best for their family. Trust me on this… they are a very close family that work incredibly well together and you will be amazed at what they can get done! I only had two weeks to pull my wedding together and it was gorgeous! I probably would have ended up getting married in a Court House instead of on Siesta Key Beach at sunset with an amazing photographer. They even arranged a driver for us with only two days notice! I am truly not one to give rave reviews. In fact, I am quite discriminating. But my experience with Sun Weddings was so incredible that I just had to share it. If you are planning a wedding in the Sarasota/Venice area, you simply have to get Sun Weddings. Their prices are extremely reasonable and their service is second to none. You will also never meet nicer people who will do anything in their power to make your day spectacular! Sincerely, Shawna and Jeremy | Virginia
I just wanted to take a few minutes of your time to tell you what a wonderful and beautiful job Tina and the Sun Wedding Team did on my ceremony back on September 9, 2009. My fiance and I had talked about getting married at sunset, on the Gulf, just the three of us (we have a 6-year-old daughter). We are from Michigan, so planning our ceremony became frustrating. I had found Florida Sun Weddings on-line, and was impressed with the beautiful beach set ups. I had contacted Tina. She was very nice and so willing to help me plan. After our conversation, I felt very confident in her and her team. For several months, we kept in contact. She was on top of everything. When we arrived on Siesta Key Beach, everything was perfect. The set up was absolutely breathtaking. Tina and her team did an outstanding job. We couldn't have been happier. Honestly, I was a little nervous about putting full trust in someone (who I've never met) to plan my wedding, several states away. Think about it, this is your big day and you are not here to sit down and talk with this person or physically see what they are doing and what they have in mind. For all I knew, I could have been taken advantage of, and had absolutely nothing when we arrived. You just don't know now-a-days. Anyway, Tina and the Sun Wedding Team were great. We can't thank them enough for making our wedding so memorable. Sincerely, Dianna and Eric | Michigan September 2009
Tina and the Sun Weddings Team were wonderful! They helped me plan a destination wedding that was beautiful! The quick and timely responses that I got back from them when I had a question, it showed that they were definitely on top of things. Tina kept everyone on track the day of the wedding. I would have been lost without her. They were kind to our guests and families, and were there to answer their questions when needed. They made our day special and one that we, along with our guest, will never forget! Whitney | Greenwood, IN Good Morning!
I just wanted to take time out to say, thank you, for all of you help. You were there through every tough trial and tribulation and even when I thought our wedding just wouldn't be able to go on – you were there with encouraging words and the infinite "plan B". I know you organize a lot of weddings but please know that I am so very grateful for you helping me to organize mine. Being that Kenneth and I have been best friends for 9 1/2 years and dating for the last 5 of those years, you can imagine we have been through a lot, more than you can even imagine but as I type this e-mail as Mrs. Evans I know that I owe the final chapter of our lives as "boyfriend and girlfriend" and the new chapter of our lives as truly being one to you. You are beautiful women with beautiful hearts because you didn't have to try so hard to help me – but you did – and I am grateful. Sincerely, Mrs. Sherika Brown – Evans 🙂 | Sarasota, FL
"As Marylanders, finding dedicated Wedding planners five states away wasn't to be an easy task. Or so we thought… My snow bird parents had fallen in love with the world-renowned quartz sands at Siesta Key Beach Sea Club V. After years of vacationing there, it truly became a sentimental location for my family. After my Father passed in September 2007, my Fiancee wanted to be joined in matrimony at a location to honor and include my Father. Hence, we elected to join our hearts on Siesta Key Beach in February 2008. Tina, Sigrid, and Cristina truly understood the emotional ties for us both & my family to include my Father in our day. They helped us remember my Father with a beautiful Dove Release (thru Sarasota Dove Release), unity sand ceremony, and surprise umbrellas to catch my Father's tears of joy as it down poured on our special day. Florida is the sunshine state – just not at 4:00 on our Wedding Day. However, realizing it's about the marriage, not the weather we weathered the rain, Take One Media filmed our vows and our guests cheered us on to the music of DJ Steve Warnchik! Even in the rain these ladies attended to every need with beautiful smiles, patience, and grace! Sun Weddings referred us Pastor Scott Clark who, while wet, spiritually and comically joined my Husband Dr. Stephen Synowski and I twice in God's love! (Once in the rain then again at our beautiful, dry reception site!) Our guests raved of Tina, Sigrid, and Cristina's detailed skills, love of family, and true desire to ensure all our wedding wishes were not just dreams! You know it's truly a family business when husbands and children of these beautiful ladies are there setting up in the rain and cheering our walk down the isle on with true spirit! Thank you, Tina, Sigrid, and Cristina for your heartfelt dedication, quality vendor referrals, and love of ensuring the Bride is relaxed and the Groom is smiling!! Truly YOU ladies were our sunshine on our blessed day – we would do it all over again – even in the rain!! We thank and love you much!! Much love & thanks, Dr Stephen Synowski & Maggie Griffin-Synowski | Annapolis, Maryland
Dear Sigrid, Tina and Cristina,
We can't thank you enough for the time and thoughtfulness you put into every aspect of our wedding. From our first conference call to our wedding and "weekend-long celebration" over a year later, you were there every step of the way. We looked forward to visiting Florida from New York for "wedding planning" – in part to see you! Your energy, passion and enthusiasm surrounding our wedding meant the world to us, and it will forever. We both imagined a picture perfect wedding day our entire lives and you helped make it a reality. You completely shared our vision and made it your own. You are lovely, professional and organized, and you went above and beyond to make sure that our day (and weekend) was magical. We were so incredibly impressed by your attention to detail! We knew that we were in good hands! We were (surprisingly) calm throughout the planning process, and throughout the wedding and weekend events, this is because of you. With you on our team, we knew it would be flawless. And it was! You are the "Dream Team!" The compliments from our wedding party and guests never ended. Working with you was the best decision that we made surrounding the wedding. You are fabulous and will be in our hearts forever! Again, thank you for making our dream a reality. Love, Sarah and Eric | New York, NY
Hi My Amazing Duo!!
Thank you both for being part of the most memorable day of my life. The ceremony was perfect, minus my forgetfulness, and the reception was so beautiful. I can't wait to see the pictures from Horatio, we will send you some too. We had a beautiful time in Key West and are heading back to Dallas tomorrow to get back to the "real world". I tell you if I could change it all, the one thing I would not undo is having you guys take care of me. What an amazing job you do and I honestly wish I could get married all over again just to experience what you gave me one more time. I will never forget you. Thank you for everything from the bottom of our hearts. Nikki and Tommy | Dallas, TX
We would like to extend our gratitude to Tina & Sigrid for everything that made our wedding day the extraordinary day that it was!! We live in WV and planned our destination wedding for November in Venice, FL…Not an easy task to accomplish, we thought…but, Tina & Sigrid eased that burden immensely. They had wonderful resources and recommendations to offer and were always ready with a kind word and a calming pep talk during the planning process. We could not have been happier with our wedding and how everything came together so perfectly on our wedding day!! Many of our guests have expressed that it was the BEST wedding that they had ever been to, some said including their own!! We enjoyed our wedding day so much and all of the wonderful details that were facilitated by them & brought together so eloquently are special memories we have to cherish forever!! Tina & Sigrid really care and will go the extra mile to ensure the bride and groom are happy, they really know their stuff and have many talents to share. We trusted them with our special day & they went above & beyond what we had anticipated!! We highly recommend them to plan the wedding or your dreams. Julie and Brian 🙂 🙂 | W. Virginia
Dear Sigrid and Tina,
David and I are back in NYC and we are still glowing. And it is not just from the beautiful Florida sunshine we had the week of our wedding (do we owe you anything extra for the wonderful weather?) I am not exaggerating when I say that our wedding day was the most wonderful day in my life. It could not have happened without the two of you. The decision to have a wedding coordinator, and then choosing your services, was the single best wedding planning decision we made. From the very start, your services went beyond our expectations. My desire for an elegant, but fun wedding, became a reality with your help. Throughout the entire process, and certainly on the day of, I was relaxed and at ease. (The well-timed martini didn't hurt any either!) I can truly say that I completely enjoyed my own wedding. I would do it all over again tomorrow. Thank you once again from the bottom of our hearts. We will definitely recommend you to other WCF brides without reservation, and if we ever decide to do it again, you'll be our first contact. David and Joyce | New York
Sigrid & Tina Gebel,
First let me start by thanking you SO MUCH for making Jeff & Jessica's dream come true. You went above and beyond your duties and for that all of us will be forever thankful. You delivered on everything promised and left not one stone unturned. Your kindness and friendship with everyone was and still is so greatly appreciated. Everything was perfect! Thank you also for working closely with us from the beginning, getting back with us promptly and always being so professional, courteous and personable. You guys are truly amazing! Let's not forget to mention my endless amounts of emails you returned so quickly and with such positive words of encouragement and thoughtfulness. Our families who attended were worried about having a beach wedding; however they cannot stop talking about how beautiful everything was. We wish you well and even more success in the future. If you feel as though you would like to use me as a reference, please don't hesitate to ask. Debra | Georgia
Sigrid & Tina Gebel,
Where do I begin?? You guys made the most important day in my life flawless! You guys had my mind at ease during the whole process…how you did that I am not sure, but it was wonderful. I am usually one that needs to be in control, but it was very easy to leave everything in your hands. I appreciate the option to change our date when the weather was not looking promising, your flexibility made things easier on me. The guests in attendance could not stop talking about how wonderful everything looked; they were impressed with your professionalism and how easily everything flowed. I was very happy with everything…Grace nailed our relationship on the nose with her ceremony; we will cherish those words forever! I am still getting compliments on the pictures that Andy took, people were amazed at how beautiful they were and they could not believe that we got them 2 days after the ceremony! My flowers were exactly what I wanted and added just enough to the pictures. You guys exceeded my expectations and I would do it all over again, in a heartbeat. I will not hesitate to recommend you to anyone looking to do a beach wedding! Thanks again for everything! I will send pictures when we get them unloaded! Crissy and Jason Conrad | OHIO
Dear Tina (Sigrid and Cristina); It is 10:45 pm on "The Day After"
Many in the house are in bed sleeping. Others are still out and about. The kids are at a condo on the beach, and I find myself alone in a quiet house finally, beginning to reflect upon the events of the last several days.I have had many wonderful comments from nearly everyone in attendance about how PERFECT this wedding and reception were. But, not until now have I had the time to turn over the whole experience for myself.And so, at this moment, I find myself typing this e-mail to all of you. It is important to me that each of you fully appreciates how your role in this wedding touched so many of us so deeply. Yes, it is always great to have someone compliment you for your work. But, most often, if you are truly good at what you do, you already know that. You are all clearly good at what you do. BUT, your performance and contributions to the process when far beyond professionalism; In our case, you demonstrated that you honestly CARE about those how you are assisting.This was one of the most important days of our parenting lives. Isn't it something that I can't think about the beauty of the experience without thinking about you! Cristina, you worked your butt off this weekend and we could not have done this without you. Tina? Tina. You were our blessing. You were not a wedding planner this weekend. You were the wind under our wings, the friend present in a time of need and the absolute difference maker in presenting my family with a parent's life-long dream come true. My daughter adored you, my wife leaned on you more than a dozen times in one day and I made eye contact with you and your presence assured me that everything is going to be alright. Thank you all, thank you, Tina. Please know that this father of the bride will never forget the gift you helped give me. Most sincerely, Keith, Father of the Bride | Venice, FL
"Thank you for organizing, coordinating and keeping me calm! Knowing that you both were there on Saturday to take care of it all allowed Blaise and me to enjoy our daughter's wedding, AND BOY WE DID!! Thank you again both for your warm attention!" Kathy, Mother of the Bride | Englewood, FL "Thank you all for your help in making Kim & Brad's wedding a HUGE SUCCESS. We heard all good comments on how smoothly everything went and how beautiful the wedding was – you all took a lot of stress away and helped us enjoy the wedding and reception." Senator, John K & Alia | Wheeling, WV "Thank you so much for helping to make our wedding day perfect! It was lovely and we appreciate all your hard work." Eric and Angi | Tennessee
"Also wanted to say how wonderful everything was! You all did such a great job. We were very impressed!" Stephanie and John | New York
"I just wanted to thank you for all your hard work and efforts for my upcoming wedding. I cannot tell you how much we appreciate all of your attention to detail and effort to make our wedding day spectacular. You have gone above and beyond for us and everyone is filled with excitement for this big event" Katy and Mike | Wisconsin "I could not have been happier with the way the wedding turned out and I definitely could not have done it without you!" Audrey and Barry | Los Angeles, CA "Thank you for all you did for my daughter's wedding. I could have never done it without you. From the moment I met you I knew I did not have to worry about a thing, and I was right. You took care of everything, you do a wonderful job" Janis, Mother of the Bride | Venice, FL
"Everything turned out PERFECT! The wedding was so BEAUTIFUL thanks to you! We really appreciate everything you have done for us". I would also like to say "thank you" again for helping me make my dreams come true with a beautiful wedding on the beach. I could not have done it without you. I am so thankful that I found you over the internet. You are wonderful and you never let me down. Thank you!! I hope you have a wonderful week and be careful. Take care. Tami Willard | Indiana I just wanted to thank you both for a beautiful wedding ceremony. The setting was spectacular. The words were beautiful. The staff was professional and courteous. I could not have asked for anything more! The whole event was PERFECT! Thank you so much from the bottom of our hearts for making our wedding day UNFORGETTABLE!" Tara and Anthony | Ohio
"We also wanted to thank you for the INCREDIBLY wonderful job you did on our wedding. You made it very special" Sue and Gunther | Germany
"We can't thank you enough for an extraordinary job you did for us. We never thought or worried of a thing on our wedding day, except of each other. Thanks to you both! You have an AMAZING way in making this most brilliant day of our lives sparkle a little brighter!" Brett and Courtney | Sarasota, FL "Bob and I were absolutely thrilled with the wedding! Everyone thought it was PERFECT!!" Bob and Cathy | North Carolina "We are delighted with your work! You captured our day as we would have wished!" Graham and Amanda | England
"The work you do is terrific and I would be more than happy to testify about your diligence in getting a wedding together. Maggie and Jim's wedding would have been almost horrific if not for your expertise! Peggy, mother of the bride | Nokomis, FL
"You two have such poise and elegance… it really added to the beauty and pageantry of the setting! You are certainly in the right profession!!" Nancy, Mother of the Groom | Sarasota, FL "Sarah and I had a "perfect day" as we celebrated or love and our new marriage, thank you for all you did to contribute to the creativity and coordination of our most treasured moments…." Lt. Nick and Sarah | Honolulu, HI "Tina was amazing! She put our wedding together in less than a week! Patryk and I are very blessed to have found her. She helped with everything and made our day come together. She was able to find us a wonderful officiant, and at the last minute on our wedding day found us a DJ. Thank you so much for everything SUN WEDDINGS!" Jessica and Patryk | NY
"I wanted to personally thank you for making Kaylah's Florida wedding a success. It was beautiful. I would highly recommend your company to anyone who wants a perfect wedding. Everything was set up when we arrived and just how the bride wanted it. Thank you so much for making Kaylah's day perfect" Karyl, Mother of the bride | Dubai
"Sun Weddings was amazing to my family and me on my wedding day (and the planning process as well). They took care of so much on the day of. Between weathering an impending storm and a summer day on the beach, Sun Weddings took it all in stride and ensured my sanity! They were so professional and detailed-oriented. Another great bonus is that they have a lot of their own equipment (chairs altar set-ups etc.) so we didn't have to worry about outside rental equipment. I strongly recommend Sun Weddings to ANYONE!" Madeline | Sarasota FL "Hiring Sun Weddings was the best choice I made all together in planning my wedding. From my first conversation I felt a level of personalization that carried all the way throughout my wedding. I would recommend them to anyone planning a wedding in West Florida. Although we ended up not having a beach wedding they accommodated all of our changes from venue to budget with no questions asked. They were absolutely FABULOUS. I don't know what I would have done without them."
Lauren
Tina and Sigrid, Thank you very much for all you did to make the wedding beautiful. I don't know how you go from wedding to wedding? People have not stopped talking about it. Thank you and God bless Drs. Satchi | Connecticut
The wedding planners (team) at Sun Weddings was absolutely above and beyond what I could have asked for from the moment I was put in touch with them to the very end. Our relationship started more than a year out. Tina and Sigrid are a mother/daughter team and are a class act from start to end. They are professional but do so in a most heartwarming way. They recommended all of the vendors we used and were so helpful in that respect. They recommended "tried and true" vendors that were exceptional and because of their relationship there were no surprises or mishaps on the wedding day. All of the vendors worked so well together and Tina and Sigrid and Cristina made sure everything stayed on schedule and all flowed so well. They were there at the rehearsal and then all day (it seemed) for the day of the wedding and through the reception and cake cutting. I was the mother of the bride and I felt that it was just as important for the mother of the bride to be relaxed and having fun as it was for the bride. Sun Weddings made that possible. I must have said to myself 20 times, "I don't know how anyone could have a wedding without the assistance and comfort of knowing that such wedding planners were there to make the day what it was intended to be". Which is wonderful and relaxing. At the very start, I thought the cost was a little bit high (as I felt it was "an extra") but I soon realized that this service was going to be the best money spent on the entire wedding. It starts with them and that is the important part of the entire wedding….the way it starts and the planning through the months prior to the wedding". I highly recommend Sun Weddings. It is not an expense as much as it is a gift! Judy Brinkley (Mother of the Bride) Meredith Brinkley (Bride)
What a wonderful group of people at Sun Weddings!! Tina was an exceptional wedding planner that was always helpful, professional, creative and organized. Planning our Florida wedding from Maryland would have been so difficult and stressful without Sun Weddings – instead it really was fun and a breeze. My wife constantly says our wedding day was her most beautiful day in her life; I attribute a large amount of this wonderful day to Sun Weddings' great work! Thanks,
Bob and Blair Z | Maryland
From start to finish, Sun Weddings were absolutely fantastic. Extremely responsive and professional. Even when we changed the time of our wedding 2 days prior to the event, nothing fazed Tina and Sigrid! We were arranging our wedding from Scotland and had complete faith in Sun Weddings to arrange everything in our absence. Highly recommended (if there were 10 stars, then they would all be gold!) We were concerned that we would have problems organizing our son's wedding from 4,000 miles away in Scotland. We need not have been. Their friendly and businesslike response to our requests was always prompt and set our minds at ease. Everything was done very professionally from inviting us to see how they conducted their preparations for a wedding through to having the marriage certificate recorded and delivered after the event. They gave us the impression they really enjoyed everything they did for us. As far as the cost goes, we have nothing to compare it with but we certainly felt we had good value for money. I gather Mum was an acrobat. The flexibility carries over. We did have to make late changes including asking to bring the whole ceremony forward by an hour. They immediately agreed and suggested that as the beach might be busier at that time they would do a shuttle service with their own transport to get guests to the service if the Car Park was closed. We did not just have a wedding. We feel we made new friends. George Barr (father of the groom) | Scotland
We worked with Tina and her and her team was absolutely amazing. We had the wedding that we always wished for and had to do little to no work. Every person at the wedding was impressed on how smooth the ceremony and reception went. Basically, we gave her our thoughts and wishes on what we wanted and she was extremely receptive and also had a lot of great ideas we didn't even know were possible. She had vendors for everything we needed and they too were all top notch. Plus she got in touch with all of them and had it all organized and ready for the big day. Tina went above and beyond and was affordable to any couple out there. Oh, and if you want a beach wedding there is absolutely no other direction you should go, they have the beach set up (chairs, alter, isle, tables, etc), the preacher, the permits, and most importantly the little details that make it perfect. Matt and Alison | Tampa, Fl
I recently was married on Venice Beach and would like to share how amazing of a job Tina and Sigrid with Sun Weddings did with planning my wedding. They were extremely detailed and in close contact the entire year leading up to the wedding. They were always more-than-friendly, sincere, and compassionate about the importance of my wedding to my family and I. They didn't skip a beat and the week of the wedding, everything was very smooth. They definitely kept me at ease with their quick responses to concerns. They are extremely professional and sweet and my family and I felt like we had known them our entire lives. We missed them upon leaving Florida! Since we are from the midwest, we had to trust their recommendations for cakes, ceremony sites, reception sites, hair/make-up, preacher, photographer, EVERYTHING! I was impressed with everyone they recommended, especially Linda with A Victorian Bride and her team. Her make-up artist was unbelievable. Sun Weddings really went the extra mile to make my wedding day a dream come true and keep me as comfortable and at ease as possible. We have such awesome memories thanks to their hard work and dedication. They even went as far as rocking the groom's nephew to sleep during the reception so the family could enjoy their time, helped me to the bathroom with my dress without me even asking, and wiped the groom's face when he was hot and sweaty :). These are just a few of the ways they went above and beyond. I have nothing but great things to say about them, both personally and the job that they did. Holly and Nick | Ohio
……What an amazing job you do and honestly wish I could get married all over again. I will never forget you, thank you from the bottom of our hearts. Nikki | Dallas, TX
Nochmals herzlichen Dank fuer die wunderbare Hochzeit wir werden Euch nie vergessen und dankbar sein Astrid und Sascha | Austria