Frequently Asked Questions
Planning a destination wedding, vow renewal or elopement ceremony on a Florida Gulf Coast beach? We are here to answer all your beach wedding questions.
Do you need a permit to get married on the beach in Florida?
Yes, getting married on any public Florida beach requires a permit – and we get it for you! The permit cost is included in our wedding package proposals.
Will there be other people on the beach during our wedding ceremony?
Yes, there will be other people on the beach as all locations are public Florida beaches. Some locations are less crowded than others depending on the time of year, day of the week, and events or holidays that are happening around your wedding date. Our experienced wedding planner team can help guide you through your location selection.
How do we get our Florida Marriage License?
Obtaining a Florida marriage license is a crucial step if you plan to have your wedding ceremony on one of Florida's beautiful beaches. Both individuals intending to marry need to visit a local courthouse in Sarasota County together, with the required forms of identification. During this visit, there will be a county fee that you'll need to pay in order to receive your marriage license.
Once you have your Florida marriage license in hand, you'll bring it to your wedding ceremony, where it will be filled out and signed by the officiant. Don't worry about the paperwork afterward; the Florida Sun Weddings team will take care of submitting your license to the county, where it will be stamped, sealed, and recorded, on the following business day. Then, the FSW team will mail you certified copies or you can pick them up at our office if you are still in town.
It's important to note that out-of-state couples can apply for and obtain their license on the same day. However, if you're a Florida resident, you'll need to plan ahead, as there's a mandatory 3-day waiting period.
Alternatively, if you prefer to simplify the legalities, you can choose to be legally married in your home state and treat your beach wedding as a beautiful civil ceremony.
For more detailed information on how to obtain a marriage license in Sarasota County, please visit the official Sarasota County website.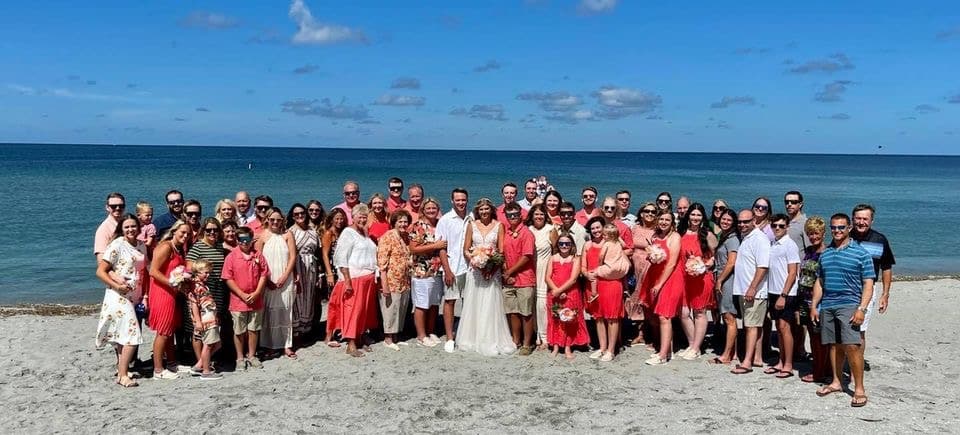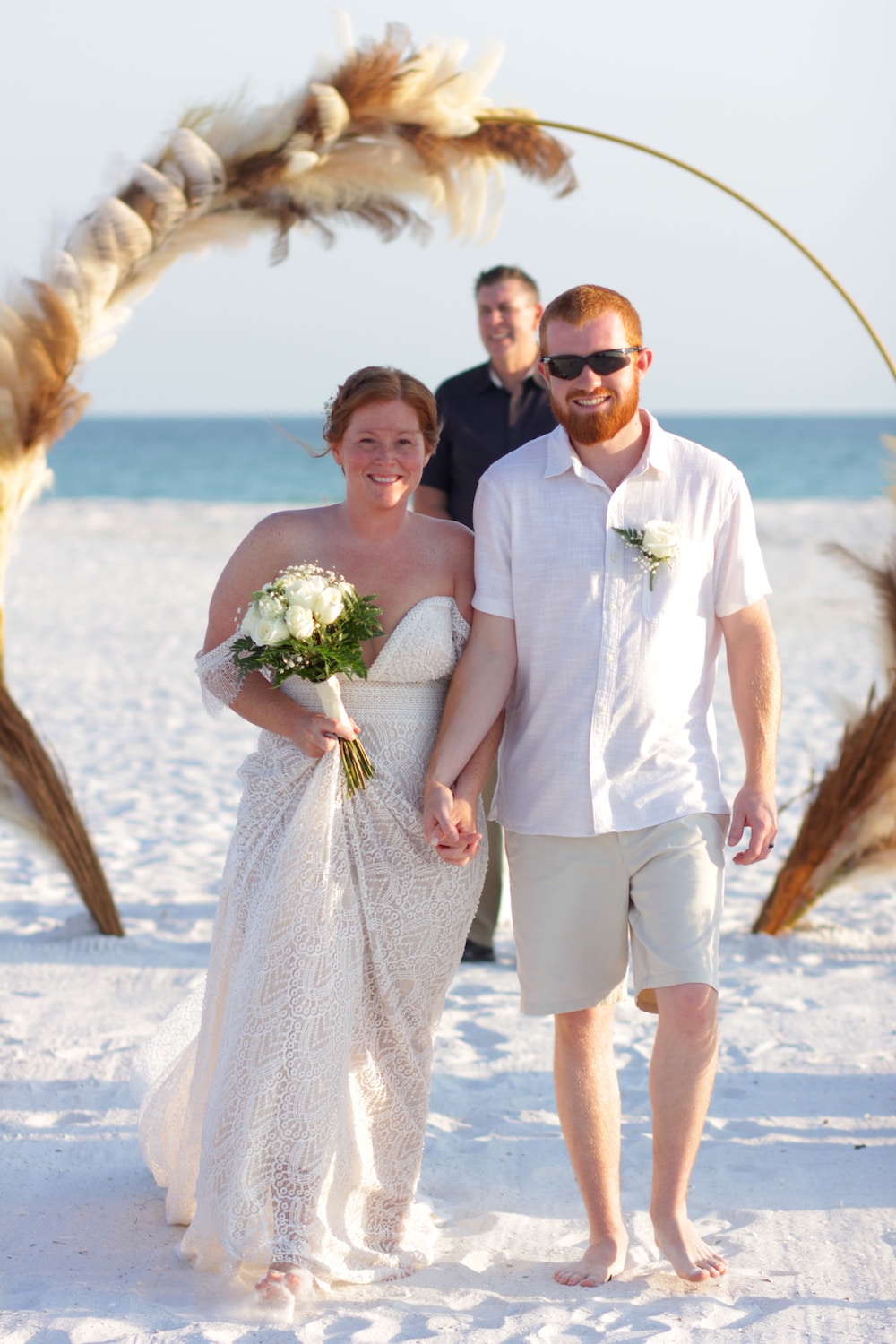 Wedding Packages & Reservations
How far in advance should we reserve our Florida Beach Wedding date?
For destination beach weddings, it's important to plan ahead and book your wedding date and travel plans as early as possible. We recommend reserving your location and desired ceremony set as soon as you can to ensure its availability for your desired wedding date.
That being said, depending on availability, the Florida Sun Weddings team can coordinate and plan weddings with as little as one week's notice if needed.
Please contact us online or call 941-320-3364 to start planning your Florida destination beach wedding.
Is a photographer included in your wedding packages?
No, most of our wedding packages do not include photography. However, Florida Sun Weddings has an in-house freelance wedding photographer, Cristina Gebel Photography, with add-on photography packages available at an additional cost. Cristina only takes a few days to edit the photos, which are then delivered via download link with the release of copyrights. All of the images are released, allowing you to print any or all of them without having to additionally purchase prints. See pricing and packages >
There are also other recommended photographers on our Preferred Vendors list. Please visit their website and contact them directly to book their services.
Is a rehearsal included in your wedding packages? If not, can it be added for an extra charge?
A ceremony rehearsal is not included in our wedding packages. On your wedding day, our experienced wedding coordinators will guide your party prior to the ceremony.
Rehearsals can be added to your package/agreement upon request and per availability, and are recommended for weddings with larger bridal parties. The fee is $150 for up to 1 hour of the coordinator's time.
Can we change our wedding package or ceremony design after making our reservation?
Yes, you can make changes to your wedding package or ceremony design set after making your reservation, depending on availability. Some changes may require an additional fee.
How do we reserve our Florida Beach Wedding or Vow Renewal?
Once you've selected a wedding package, contact us online or call (941) 320-3364 for a detailed proposal and pricing. To reserve your wedding date and ceremony design set, we request a non-refundable deposit which will be applied towards your final balance.
What types of payments do you accept?
Florida Sun Weddings accepts payment via check, PayPal or by credit/debit card.
Can we use our own officiant?
Yes, you may use your own officiant but they must be a Florida Notary, or a pastor affiliated with a church. When using an officiant other than our own, Florida Sun Weddings is not responsible for any aspect of the ceremony or filing of the marriage license after the ceremony.
What is the Sand Ceremony and the Blessing Shell Ceremony?
The Sand Ceremony is a touching addition to your beach wedding ceremony in which the couple will have two vases of different colored sand, symbolizing their separate lives before they found each other. The sand is then poured into one keepsake bottle. Once the sand is blended together, it can never be separated, just as the love between the newlywed couple. The sand color can be customized for the couple, and you may choose to include children or family members with multiple colors. The special and unique sand design created symbolizes the couple's future together.
The Blessing Shell Ceremony is a meaningful and exciting ceremony performed along the ocean shore. After your beach wedding ceremony, your guests are offered sea shells and encouraged to wish on it or say a prayer. The newlywed couple and entire wedding party then toss the blessed shells into the ocean. Not only is it a special photographic moment but it is a wonderful way for everyone in attendance to be involved in the wedding ceremony.
Can we bring our own decorations for our beach wedding ceremony?
Yes, you are welcome to bring any additional decorations for your Florida beach wedding ceremony.
May we include family, friends and children in the ceremony?
Yes, you can include family and friends in your beach wedding ceremony.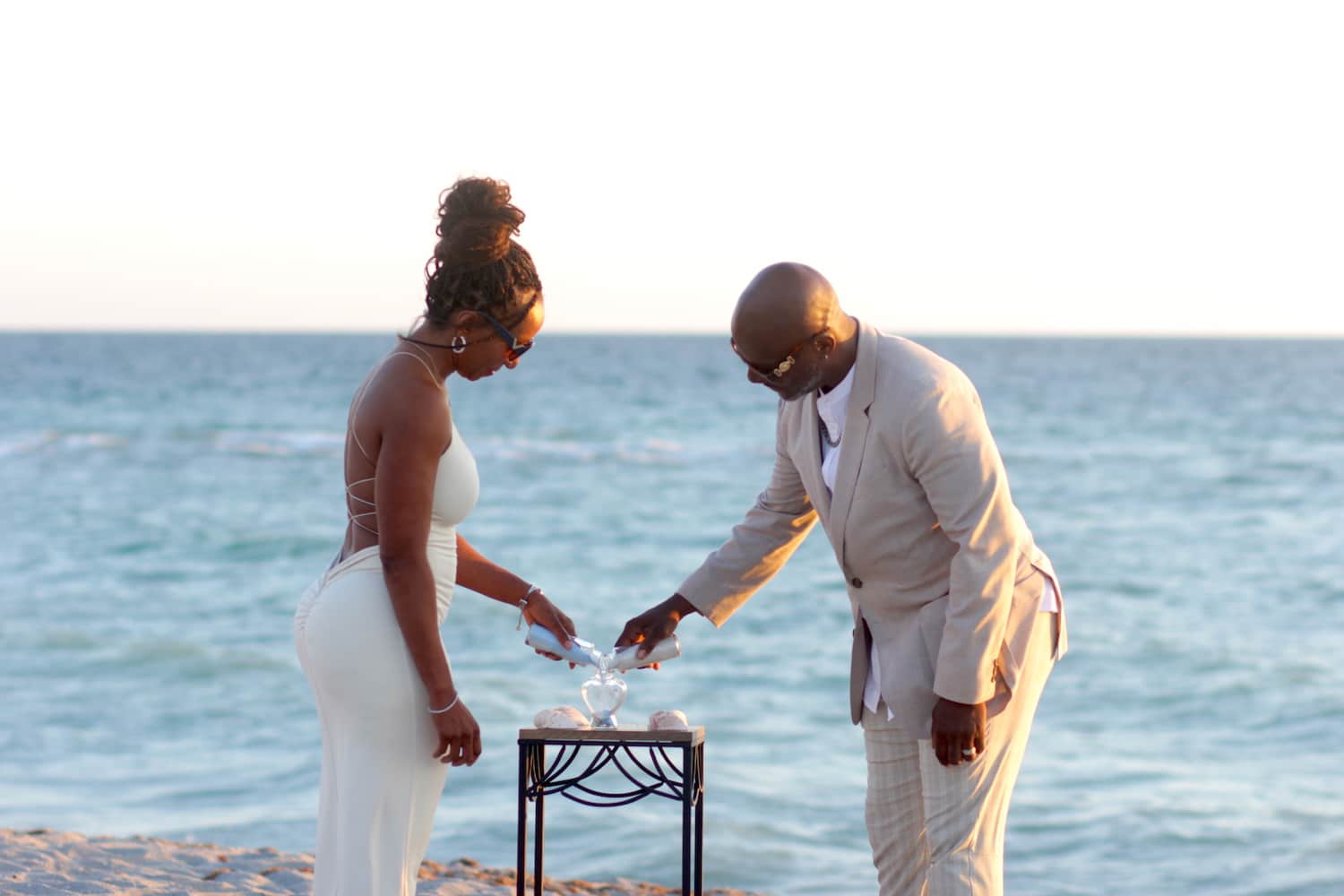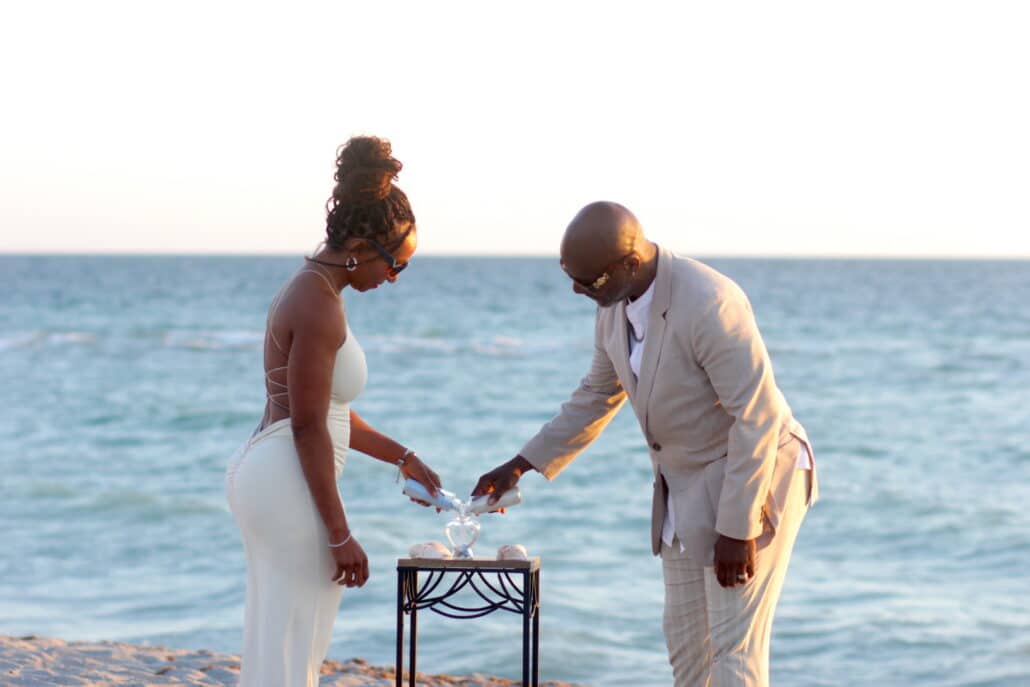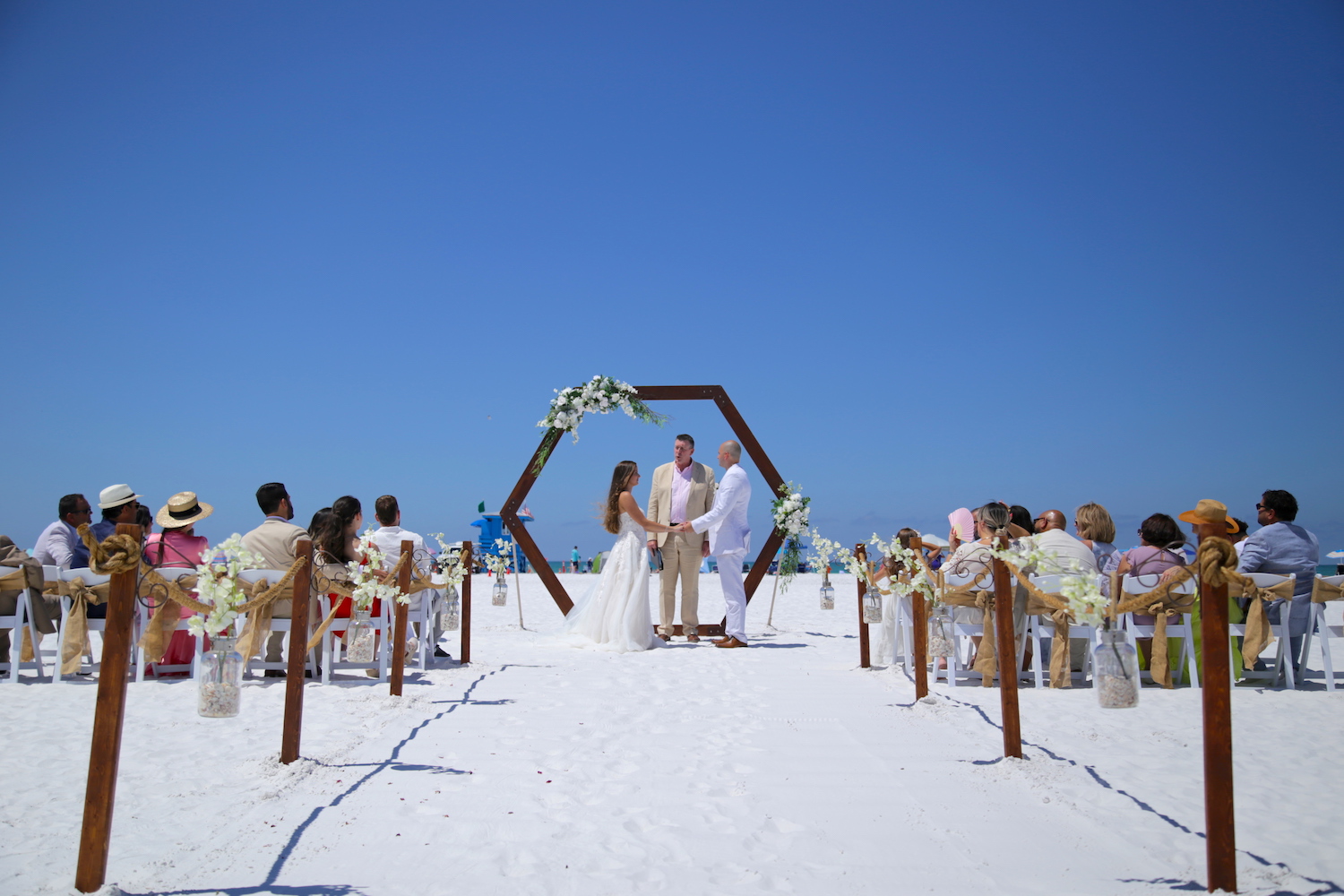 What Florida beaches can we get married on?
Florida Sun Weddings hosts beach weddings along the Gulf Coast in Sarasota County, including but not limited to: Siesta Key, Venice, Nokomis, Casey Key, Lido Key and Turtle beach. We also offer our services on beaches of private residences. This option needs review and approval for access for our equipment, as well as parking availability for our crew and vendors. See more information on our beach locations >
Can we get married at the location where we are staying?
This depends on the limits and requirements of the desired location. If the hotel or private residence allows wedding ceremonies on their beach, we would need to review the access entry for our equipment before a decision can be made. We also require the couple get approval from the manager or owner. Any additional fees for the location would be the responsibility of the couple.
Can we change our beach wedding ceremony location after making our reservation?
Yes, you can change your beach wedding ceremony location per availability, within the Sarasota county beaches we service. A new mandatory beach permit will need to be purchased and this fee would be added to your final payment.
Do we need to meet in person before the ceremony?
Florida Sun Weddings offers a complimentary initial meeting in our office. Servicing many out-of-town couples for their destination wedding, we can also successfully plan your beach wedding over the phone and via email. Additional on-location meetings are subject to a fee.
When and how can we reach the wedding planner team?
Do you coordinate and host wedding receptions?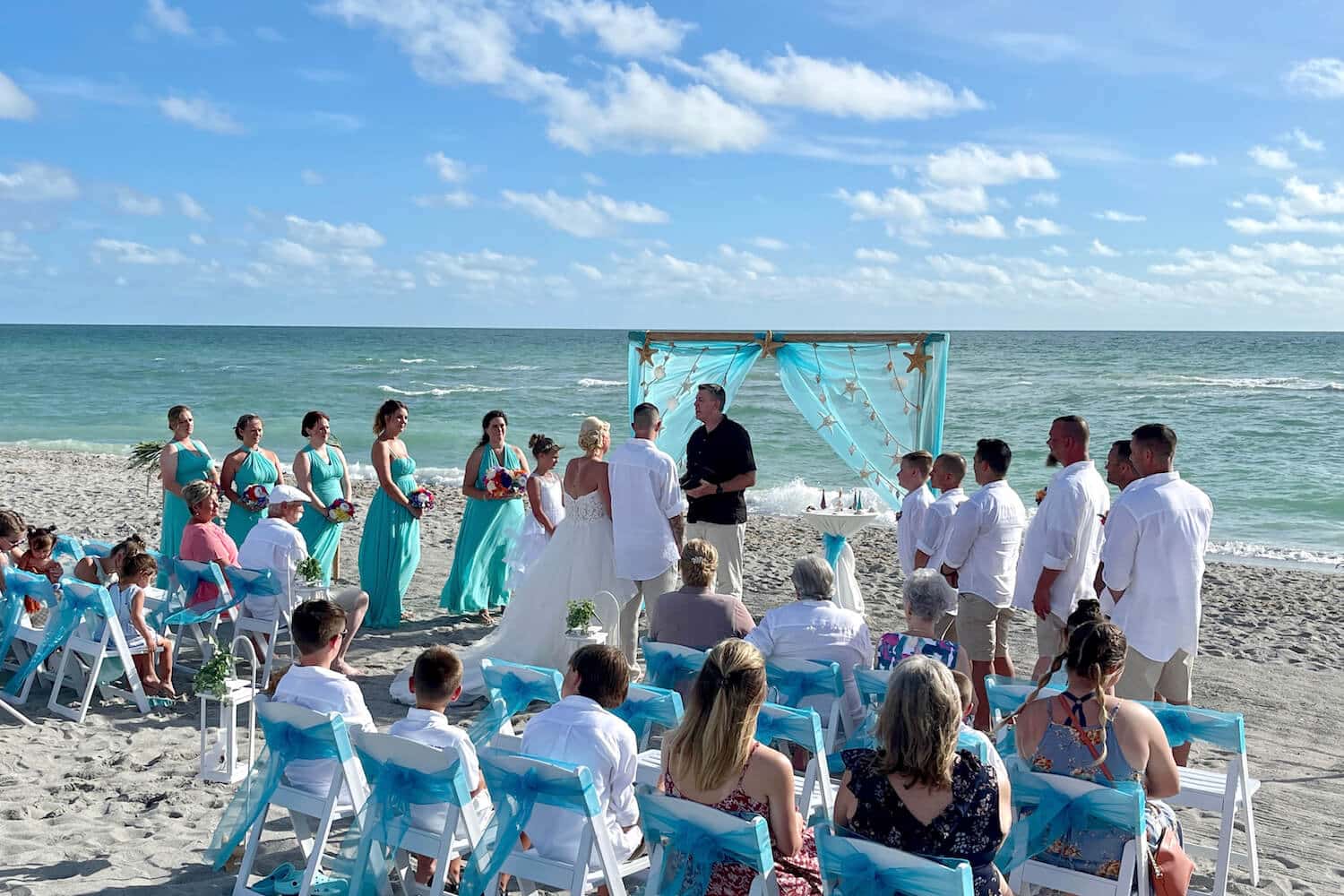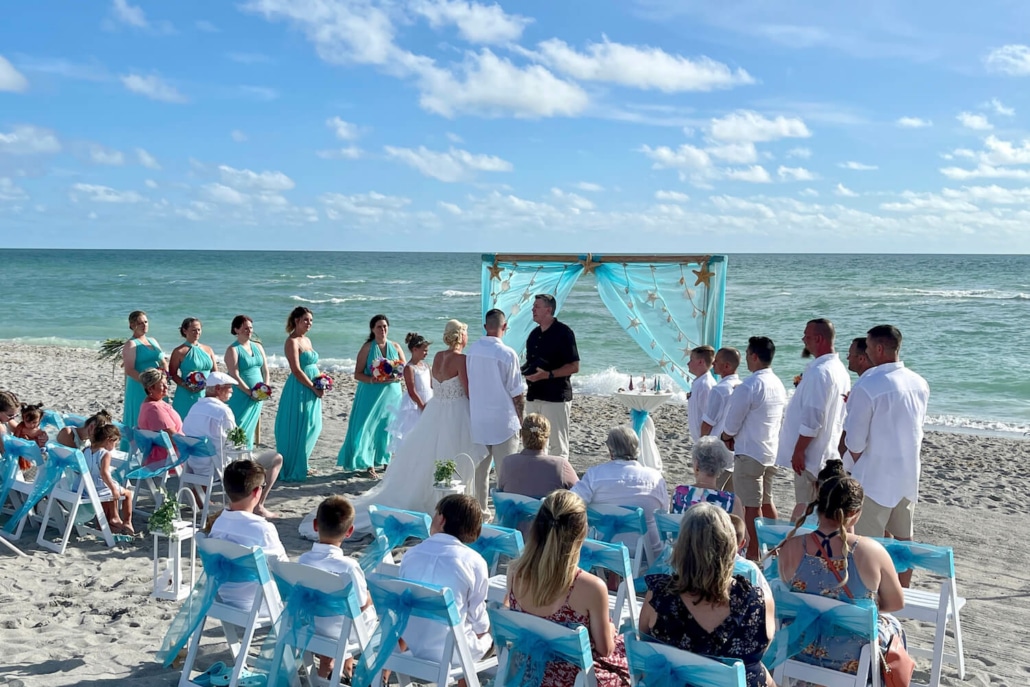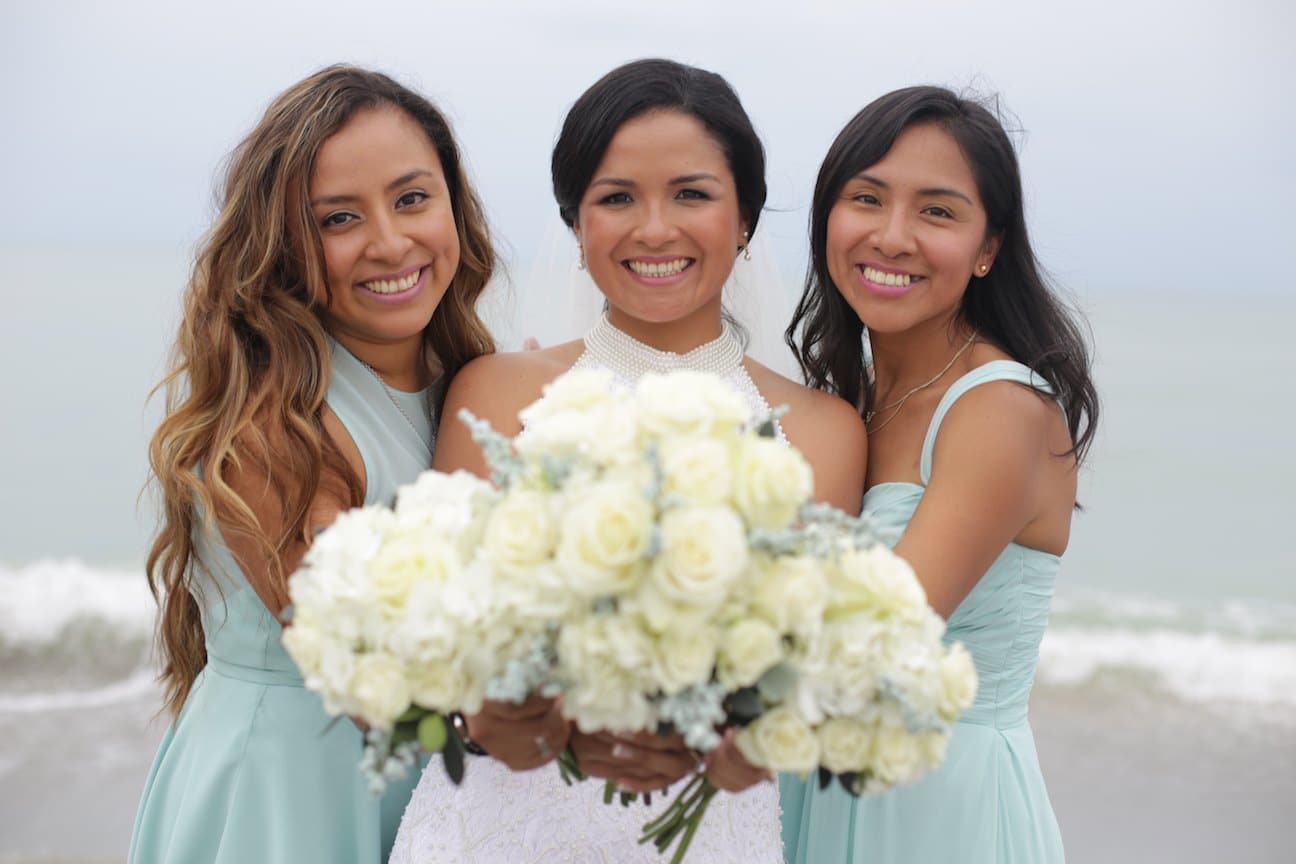 Can we book vendors that are not on your Preferred Vendors list?
Yes, you are welcome to book any vendors of your choice for your beach wedding ceremony. We are not responsible for services provided by any vendor booked or paid for directly, nor are we responsible for the quality of their services.
Can we provide our own photographer or videographer?
Yes, you can provide your own photographer or videographer, or choose from our Preferred Vendors list. We highly recommend choosing from this list of photographers and videographers because they are familiar with the locations and the flow of the ceremony.
Hosting a Destination Wedding
Are we able to stream our ceremony online for guests who can't attend?
Yes, you are allowed to stream your beach wedding ceremony online. Many couples have a family member or friend live stream the ceremony using their mobile device. We recommend confirming their signal strength in the area before the ceremony begins.
Do you have any tips for guests packing for a destination beach wedding?
For your Florida beach destination wedding, remind your guests to bring sunblock, sunglasses and hats to protect from the sun. It's also important to stay hydrated in the Florida heat.
What is there to do in the area before and after our wedding?
The Sarasota County area offers a variety of activities for your out-of-town guests visiting for your destination beach wedding, including beaches, museums, kayaking, paddle boarding, fishing, golfing and so much more. Just an hour away in Tampa, there is Busch Gardens, a theme park with thrill rides and animal-viewing areas, Adventure Island water park, zoos, aquariums and more. Orlando is only a 2-hour drive away from Sarasota and features many theme parks, and attractions.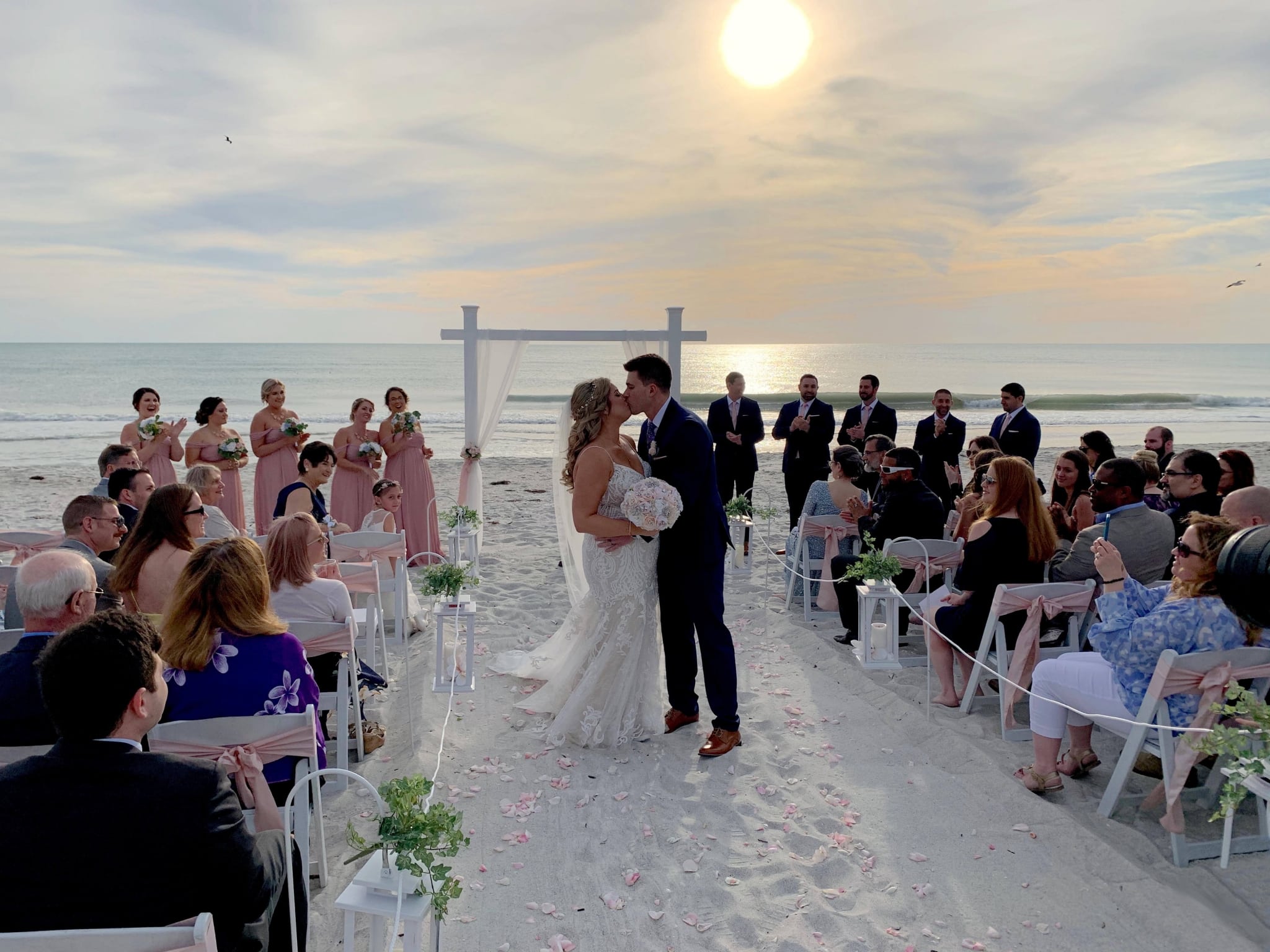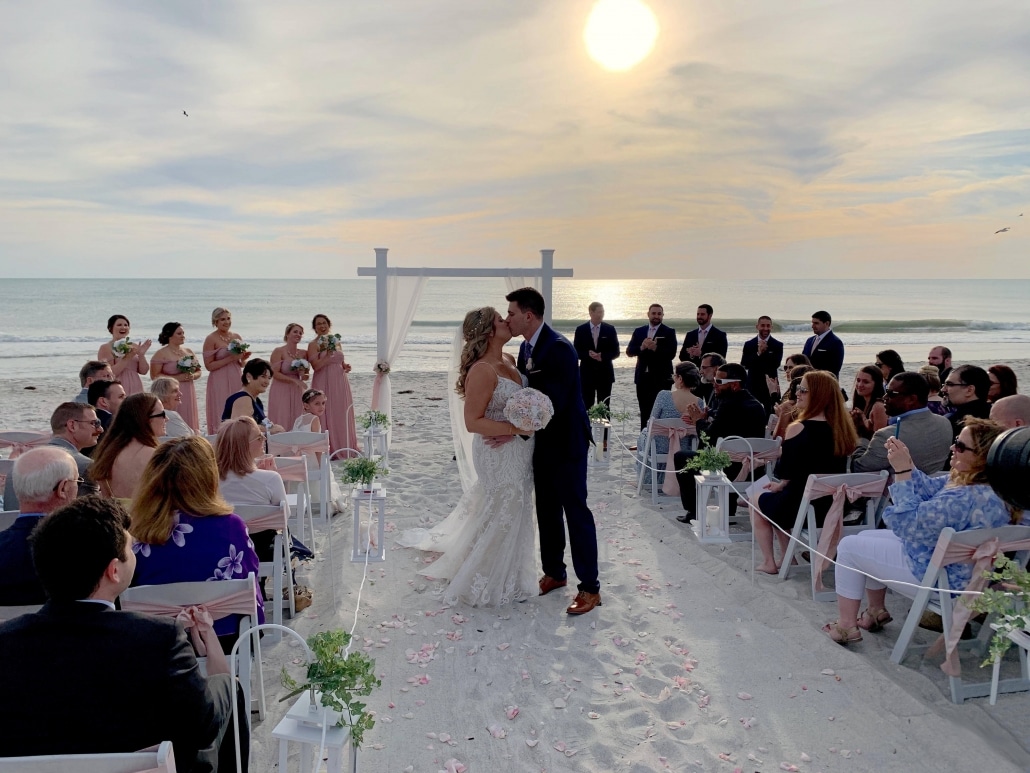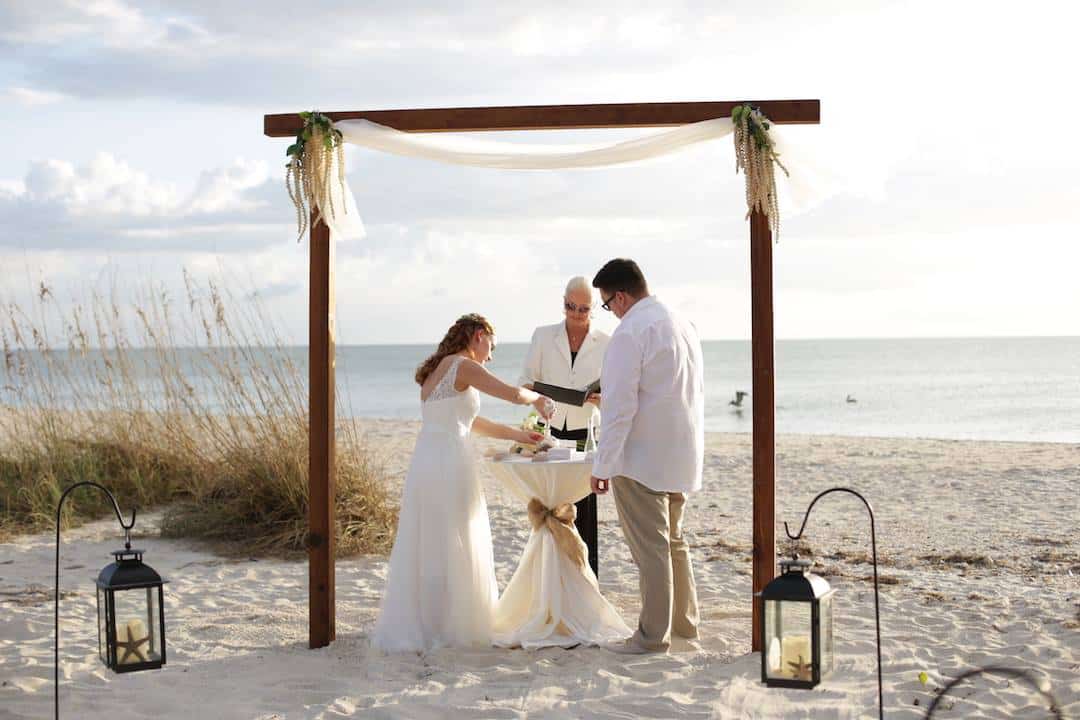 Cancelations & Postponements
Can we postpone or change our wedding date?
Yes, you can postpone or change your wedding date after making your reservation. Florida Sun Weddings allows a one-time date adjustment within six months of your original wedding date.
If the wedding is canceled, is the deposit refundable?
The wedding package deposit is non-refundable. The deposit secures your beach wedding ceremony set, the officiant, the mandatory beach permit and our services for your selected wedding date.
What are the best months to get married on a beach in Florida?
Sunny Florida is known for its beautiful weather year-round, but we do recommend avoiding the months of July and August for your beach wedding ceremony. The Florida summer storm season peaks in these months with rain and thunderstorms rolling in almost daily in the late afternoon. We recommend that you review the climate data in the Sarasota area before selecting your wedding date.
What happens if it rains on our wedding day?
In the event of inclement weather on your wedding day, we reserve the right to adjust the ceremony time in agreement with the couple, per availability. We also reserve the right to remove or replace items in the ceremony set-up to ensure the safety of all wedding participants and guests. Our wedding planner team will contact the ceremony and reception vendors to notify them of the changes, so they may adjust their times accordingly.
In the event the weather does not allow us to hold the ceremony at the agreed upon beach location, it is the couple's responsibility to provide a backup plan/location (within Sarasota county) with the additional costs to be paid by the couple, for room/rental fee, etc. This alternate location must be determined one month prior to the wedding date. The changes made will not affect the fee of the original agreement with Florida Sun Weddings. The ceremony sets available for an indoor location are Tropical Breeze, White Elegance, Arch of Love,  Paradise Point, or Bohemian Bliss adjusted to fit the backup location.
If the wedding is canceled because of a natural disaster, can we get a refund?
If your beach wedding is canceled or postponed due to a natural disaster like a hurricane or tornado, we will honor your payment for a new wedding date, time and/or location depending on availability (within 1 year of your original wedding date). The deposit plus any payments up to date are non-refundable.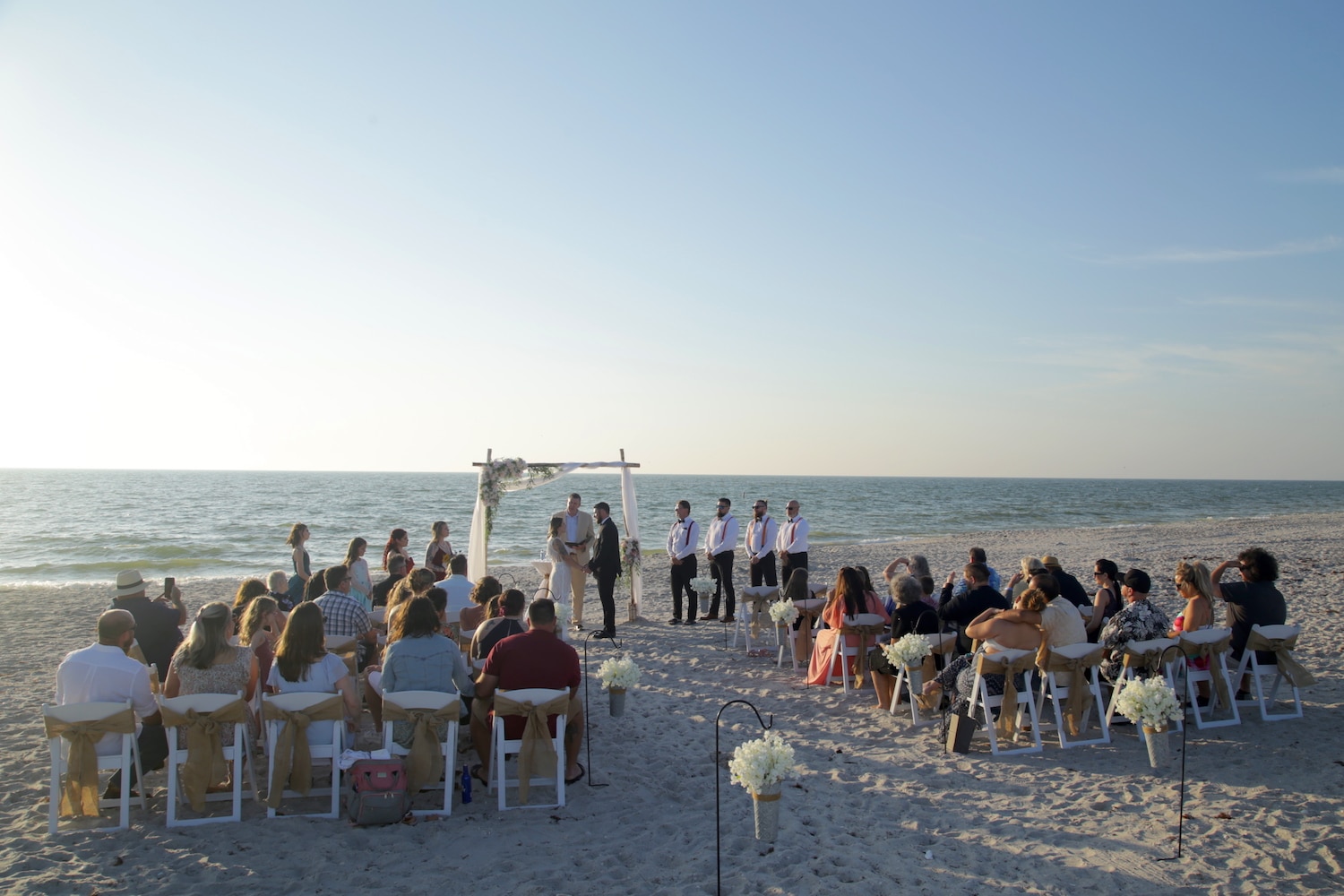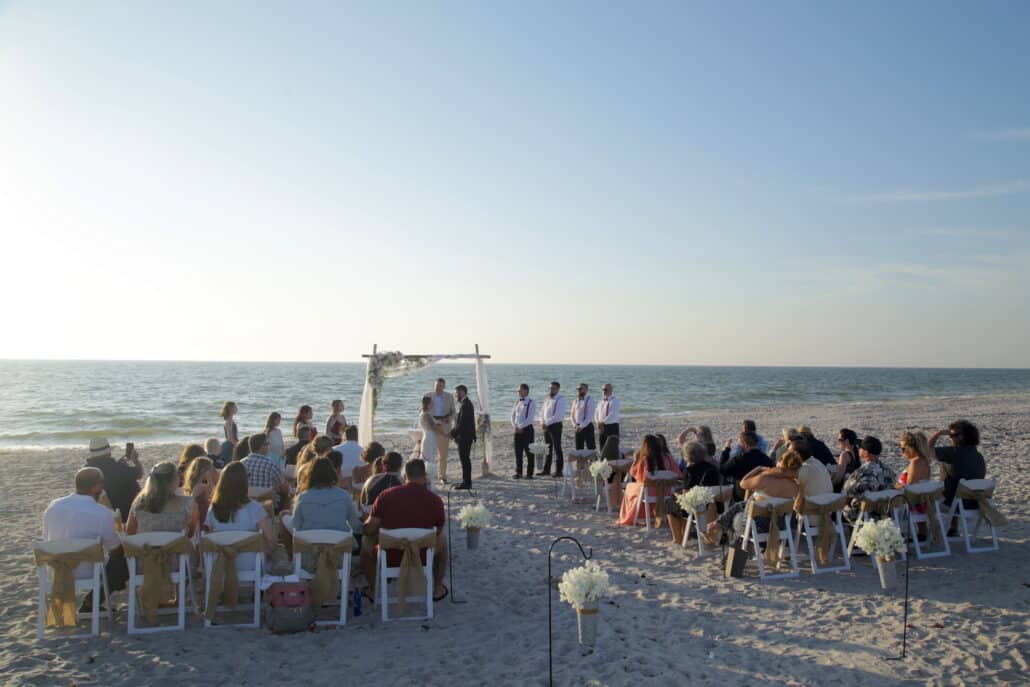 Let's Start Planning
Have more beach wedding questions? Contact our team of wedding planners or browse Florida's largest selection of beach wedding, vow renewal and elopement ceremony packages.
Contact Us
See All Packages
Let's Start Planning
Have more beach wedding questions? Contact our team of wedding planners or browse Florida's largest selection of beach wedding, vow renewal and elopement ceremony packages.
Contact Us
Call Now