Planning for Wind At Your Beach Wedding
At Florida Sun Weddings, we've seen it all – the good, the bad, the beautiful and the unfortunate. We do everything we can to help our couples prepare for their big day, and that includes advice on how to handle some common hazards of beach weddings. With over 20 years of wedding planning experience in Florida, we have plenty of tips and tricks up our sleeves. Our wedding planners are here to help keep your wedding ceremony stress-free and beautiful.
For Florida beach weddings, couples always think about the sun and heat, and rain during certain seasons – but it's important not to overlook the wind factor. Wind has the power to make for a stunning veil-flowing-in-the-breeze wedding portrait, but can also turn the bride's hair and veil into her worst enemy mid-ceremony.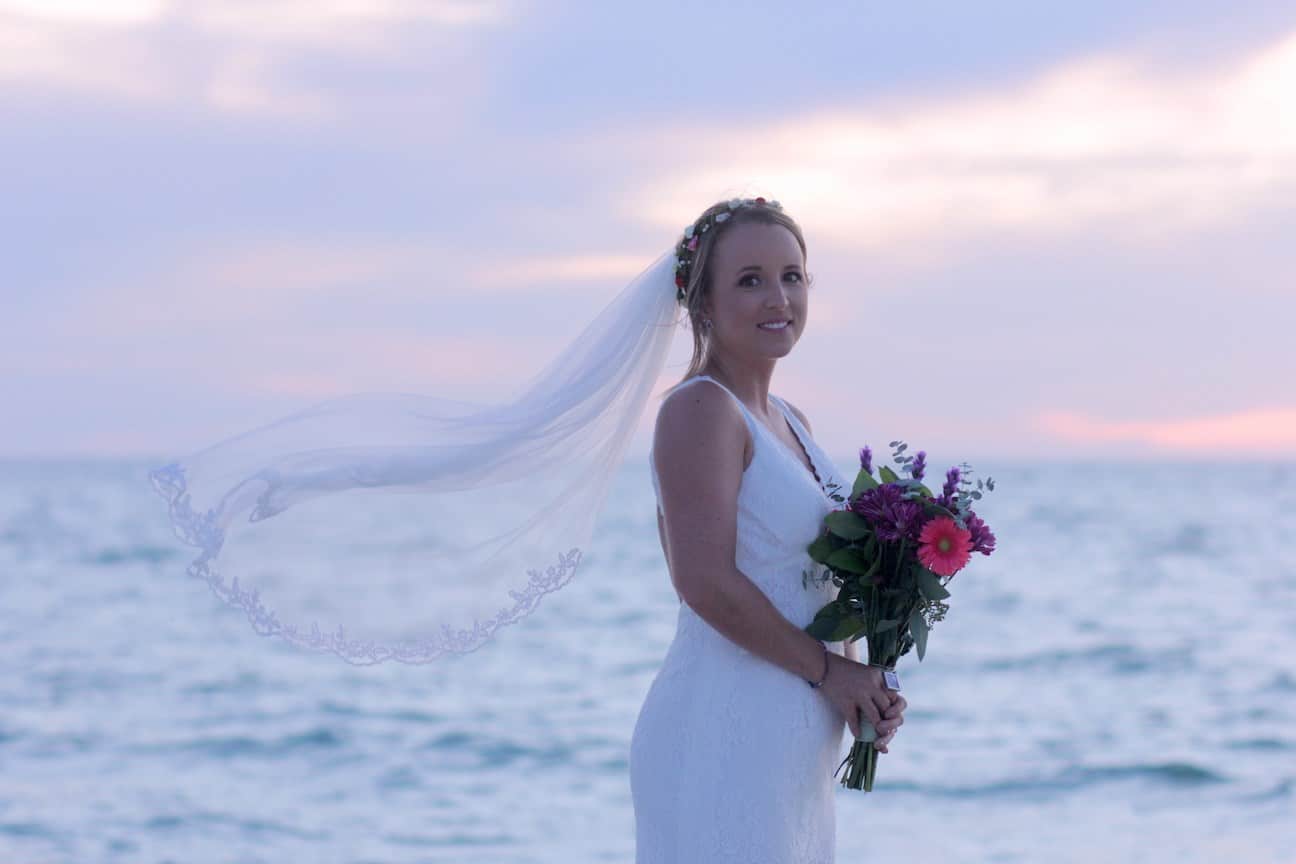 Here are a few of our favorite tips for dealing with breezy weather at your beach wedding:
Should I worry about the breeze at my beach wedding in Florida?
Florida Gulf Coast beaches set a romantic scene for weddings – sand at your toes, the tranquil sound of ocean waves, the stunning sunset backdrop, and, most likely, your hair and veil flowing in the breeze. The wind-swept look can be great for photos, but isn't ideal while exchanging your vows. You want to look into each other's eyes without having to wrangle your hair or veil throughout the ceremony.
If you are planning a beach wedding in Florida, you need to plan for the salty sea breeze. Even in the warmer months, it's safe to assume there will be a breeze on the beach. To most that sounds like a great reprieve from the heat, but as beach wedding experts we think it's a hazard that can be mitigated with proper planning.
Hairstyles for Windy Beach Weddings
For beach weddings, we encourage brides to wear their hair either up or pulled back. Chignons, braids, and even half-up, half-down styles tend to fare better at beach weddings. A breeze might send long hair styles into your face – and every couple should plan for that regardless of the season. And if you've always dreamed of wearing your hair down for your wedding, then make sure to have hairspray on-hand (the local hairstylist we recommend to brides always has hairspray at the ready).
To Veil or Not To Veil
When it comes to your veil, beach wedding brides may want to consider either short veils or alternative headpieces. There are limitless options for bridal hair adornments from beaded pins and fascinators to headbands and tiaras. At Florida Sun Weddings, we've seen enough weddings to know that wind is the last worry on a couple's mind for their wedding. But with proper planning, you can avoid having an out-of-control veil and still look as bridal and beautiful as ever.
Is your heart set on having a long dramatic veil? If so, look into veil weights. Made to blend in as rhinestones, beads or lace appliques, veil weights are a subtle way to reign in your windward veil. For longer veils at beach weddings, veil weights are a must-have item in the bride's wardrobe plan.
Avoid Dress Mishaps at Beach Weddings
Weights can be used for dresses too. If the bride or bridesmaids are wearing lightweight material, dress weights can save the day from any unfortunate mishaps. Dress weights are designed to stick along the inside of a dress or skirt hem, and help to keep the material from flowing in the breeze. Most dress weights are inconspicuous, lightweight, reusable and easy to remove.
Your wedding shouldn't be trial and error – work with experienced planners to make sure your planning is thorough and thoughtful. The wedding planners of Florida Sun Weddings bring a personal touch to the wedding planning process. We want your wedding ceremony to go smoothly just as much as you do, and we have the experience and knowledge to make that happen.