2023 Beach Wedding Trends, Ideas & Inspiration
With the pandemic behind us, gone are the days of the 'keep-it-simple' weddings with only a handful of guests. We're thrilled to see couples celebrating their love in big and meaningful ways. In 2023, everything from the location and dress to the aesthetic and guest list are bigger, better, and more intentional than in recent years. Our team of wedding planners is here to share some of the most popular 2023 beach wedding trends.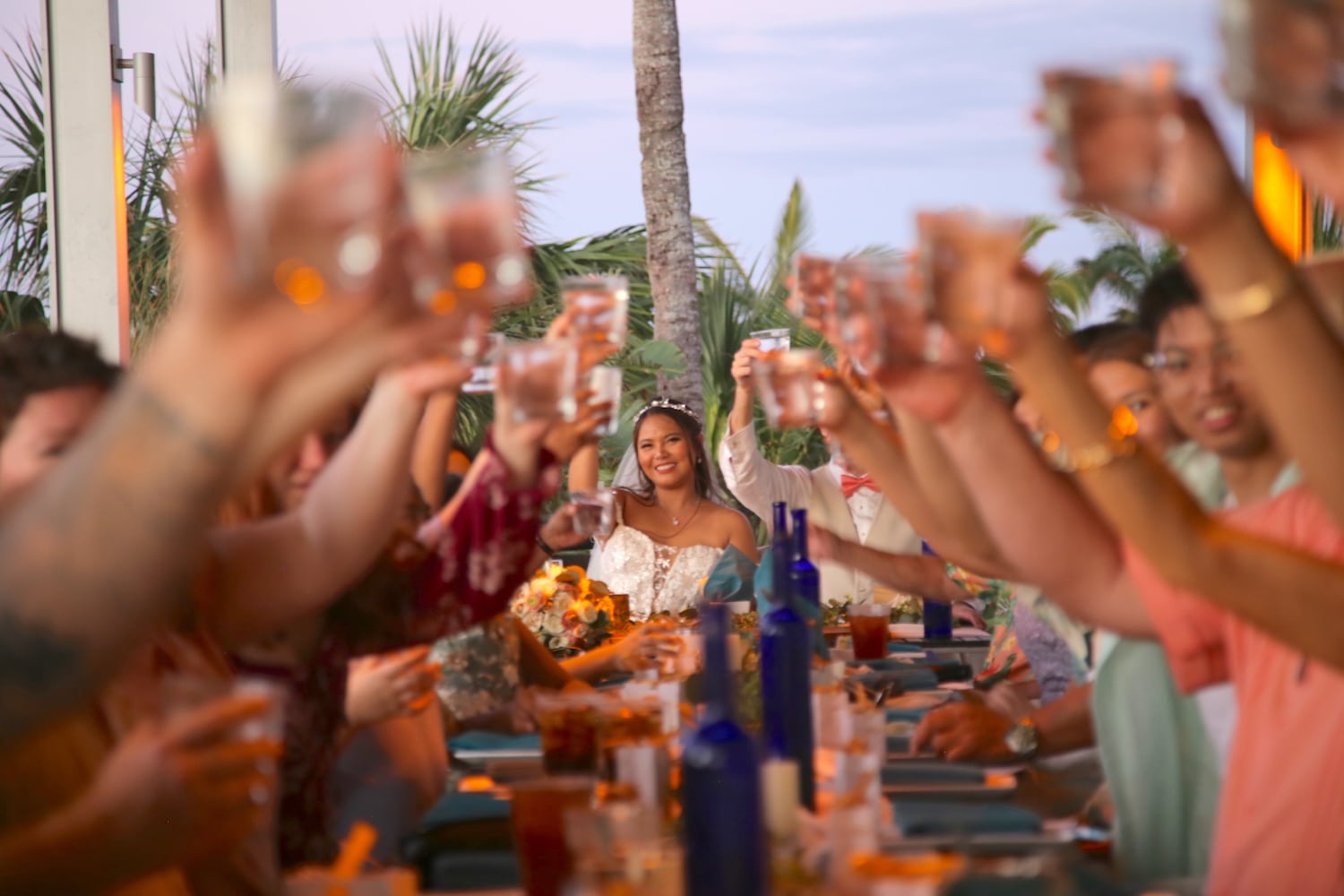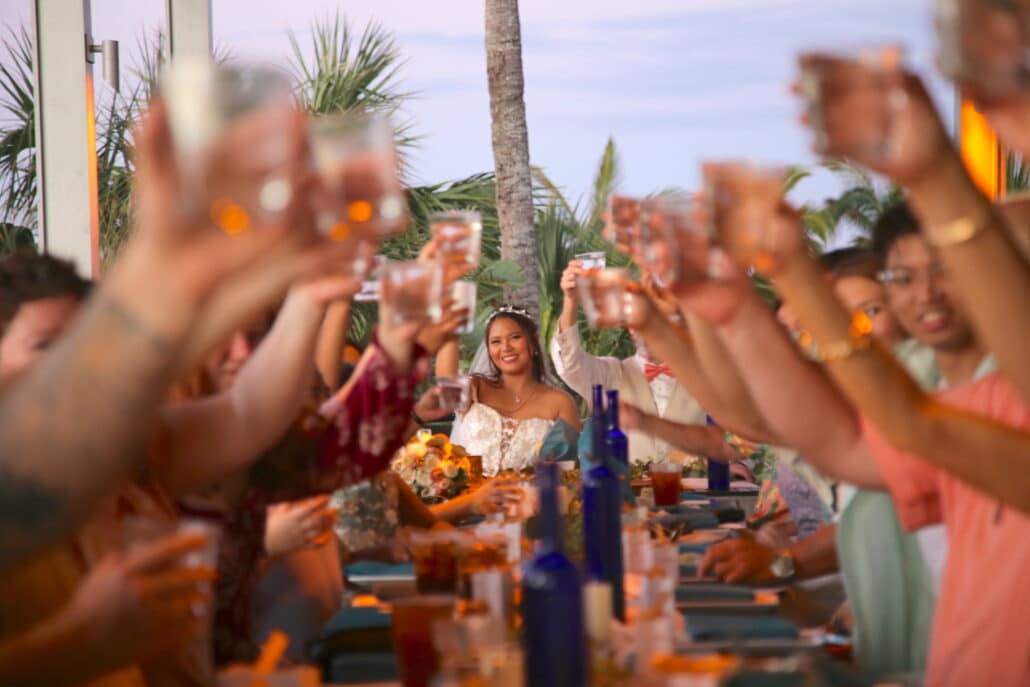 Beach Wedding Trend 1: Destination Wedding Vacations
Travel is rebounding back to pre-pandemic levels, and the same can be said for destination weddings. After years of travel restrictions, couples and their guests are excited to travel again for destination beach weddings. With many people working remotely, it's even more feasible for guests to travel for weddings now than they were able to before the pandemic. If you dreamed of planning a beach wedding vacation, this is your year to do it.
Florida beach weddings are ideal for couples wanting a destination beach wedding while staying within the United States. The Florida Gulf Coast beaches are consistently rated among the best beaches in the world, with their stunning sunsets, soft sand, and warm waters. In Florida, you and your wedding guests get the added benefit of world-class entertainment too. With a population eager to travel again, our wedding planners expect this beach wedding trend is here to stay.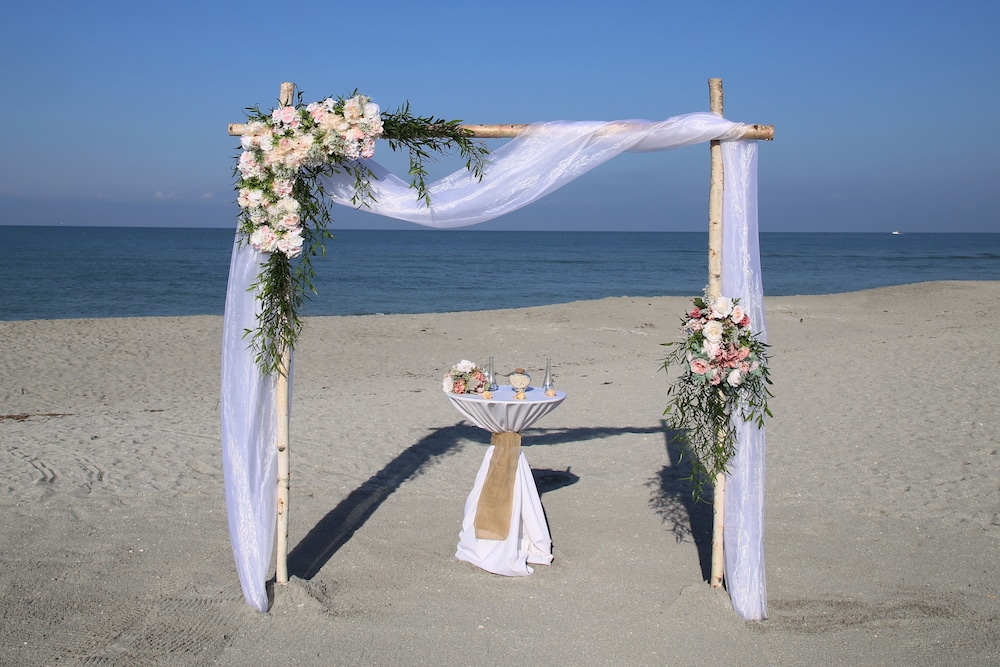 Beach Wedding Trend 2: Organic Wedding Aesthetic
When it comes to aesthetics, the 2023 beach wedding trends lean to the side of organic and natural designs. We are seeing a preference in our wooden ceremony set designs as well as the asymmetrical wedding arch elements. The main 2023 beach wedding trends we're seeing in ceremony designs include subtle florals, natural wood, and soft colors. This organic wedding aesthetic works beautifully with a beach setting. The soft sand at your toes and the waves crashing in the background set the stage for a stunning wedding ceremony.
Our Most Popular Beach Wedding Packages:
Beach Wedding Trend 3: BIG Celebrations
In recent years, people have been deprived of celebrating with all their family and friends due to the pandemic. Micro-weddings and minimonies became standard practice in recent years, but it's clear that couples have missed celebrating in big ways. This year, we are seeing couples excited to expand their guest lists yet again. This 2023 wedding trend is seen across all types of wedding venues, but beach weddings especially allow for a larger guest list in a vast open setting.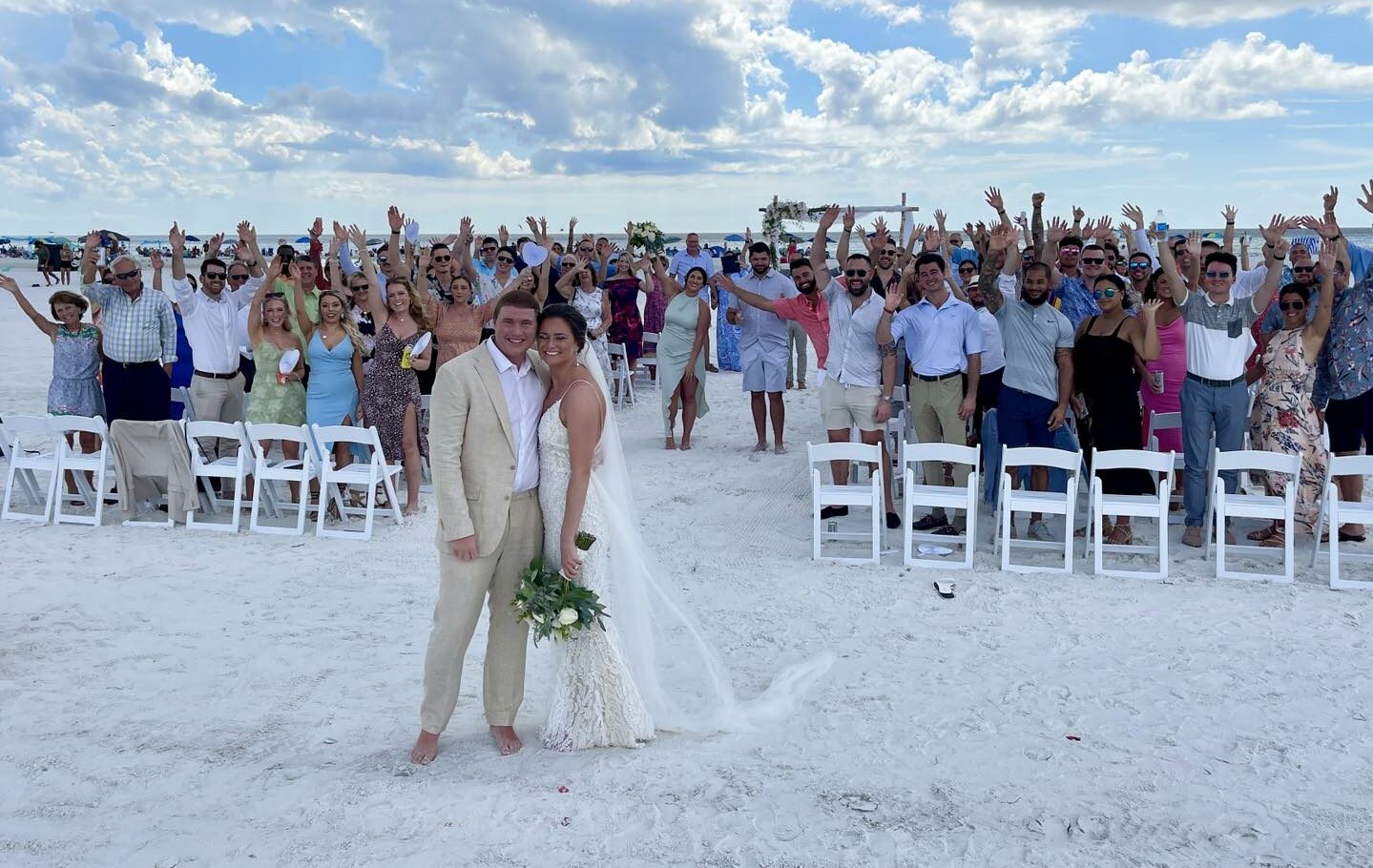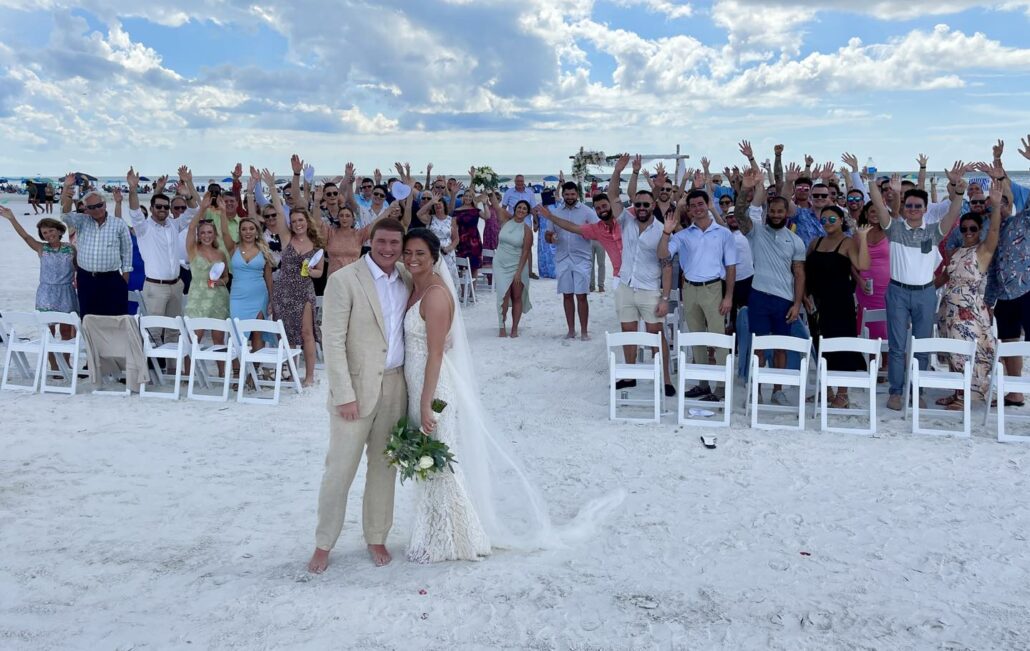 Don't mistake big weddings for less personal. 2023 and 2024 couples are looking at their wedding guest lists with genuine intention; inviting close loved ones instead of obligatory family members, co-workers, etc. Regardless of how many guests are invited, we love to see brides and grooms embraced by the people who have made a true impact on their journey together. 
Beach Wedding Trend 4: Ornate Beach Wedding Dresses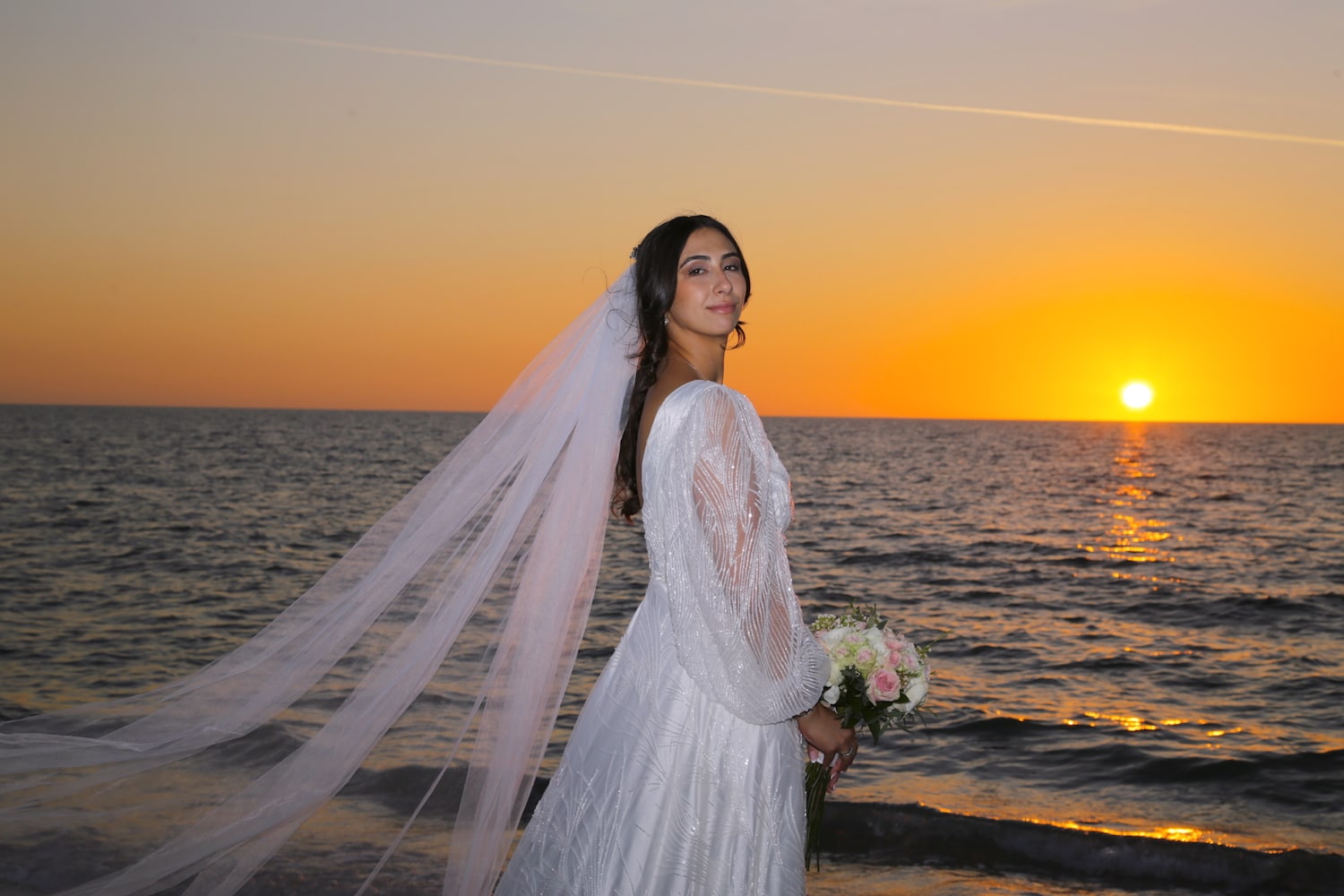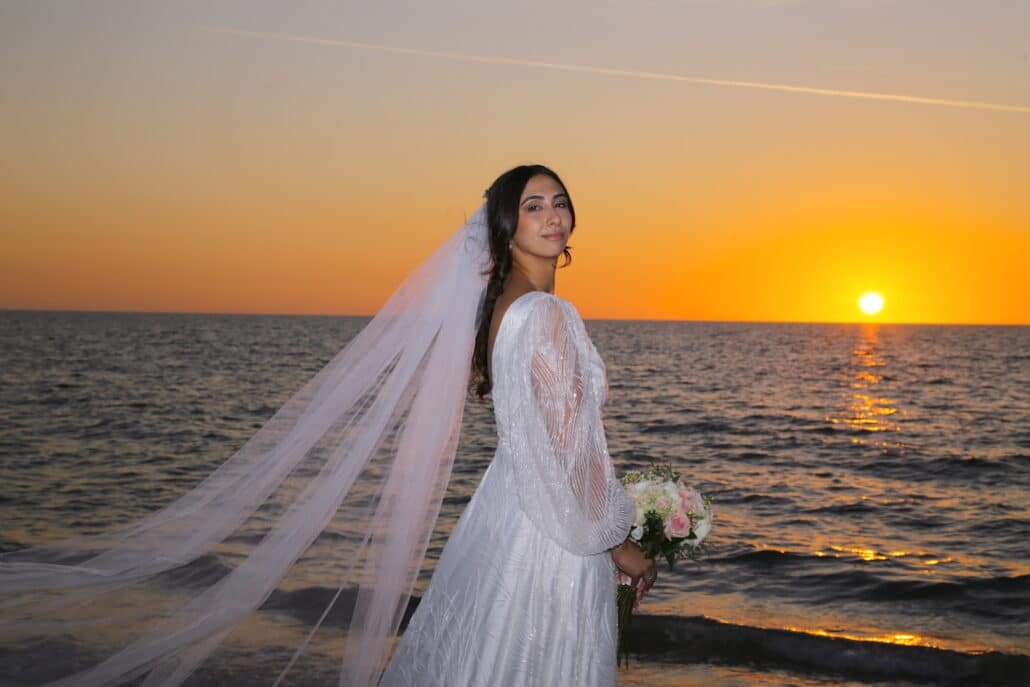 Celebrating in big ways means more than just how long your guest list is. 2023 and 2024 brides are also embracing more ornate and elaborate wedding dress designs. Beach wedding dress trends have historically been very simple in nature. Now, we are seeing more bridal gowns with decorative beaded detailing, intricate lace patterns, flouncy sleeves, and long trains. Brides are not holding back this year.