FLORIDA BEACH CEREMONY PACKAGE
This is the perfect beach elopement package for just the couple only, "no guests" looking for an intimate ceremony. Get married on a beautiful Florida Gulf Coast beach and commemorate your wedding with a Sand Ceremony and keepsake bottle, included in this package. If you choose to have guests (even unseated guests), please choose the next package which allows for up to 5 guests: Circle of Love. 
The "Two by the Sea" wedding ceremony package is offered Monday-Friday and Sunday on our Venice or Nokomis Beaches on the Florida Gulf Coast.
Photography by Cristina Gebel is included in this package (per availability). This photography package covers 30 minutes with 50-75 photos, including release of copyrights. Photos will be delivered via a download link within 10-14 business days. View Cristina's Photography >
Pricing starts at $690
(not including tax & beach permit)
This Package Also Includes:
Professional Officiant to perform your ceremony
Filing of your marriage license after your ceremony
Personal coordinator on site for your ceremony
RECOMMENDED CEREMONY PACKAGES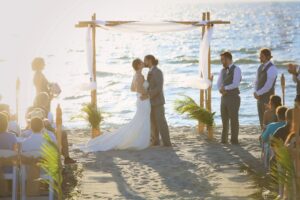 Lynn & Ryan
OHIO
What do I recommend about Florida Sun Weddings? …EVERYTHING. There is absolutely no way we would ever have been able to have the wedding we've always dreamed about in FL, from OH, without Tina and the rest of the FSW crew. My husband and I, and my family, have NOTHING but amazing things to say about Tina and Florida Sun Weddings. 100000/10 would recommend.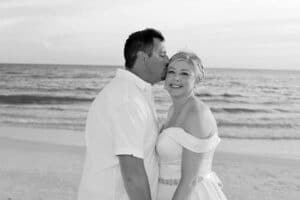 Paula & Ian
INDIANA
Tina was amazing to work with. I'm from Indiana and had her as my wedding planner and she was awesome! she kept in contact always and answered all my questions and have me great advice. She also provided me with names and numbers for all my vendors and from being out of town, didn't know what to expect, but everyone she suggested was awesome and I highly recommend her and her company to help with anything you need on your special day.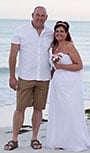 Kate & Tony
UNITED KINGDOM
What can I say, from the start of thinking of getting married, Sigrid and Tina were amazing! Their communication was outstanding. I live in the UK and emailed them regularly and they responded straight away. We met up with them when we arrived in Sarasota and it was very straightforward and very organized. We used Christina as our photographer and she was amazing! She took some fantastic pictures. I am so happy with everything Florida Sun Weddings did for us to make it a very special day.